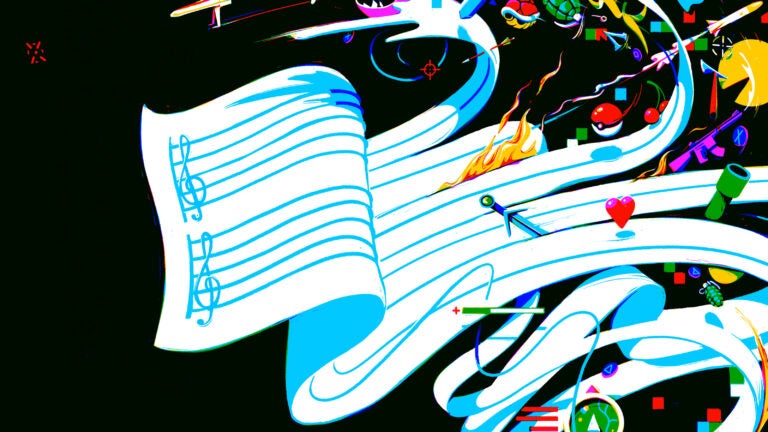 Gaming's Unsung Heroes
The USC Thornton School of Music has embraced and contributed to the growing industry of video game scoring.
People play video games to be somewhere else or to feel awesome. When you're Master Chief in Halo, you want to feel like Master Chief. In order to do that, you need an amazing soundtrack.
"People play video games to be somewhere else or to feel awesome," Kott says. "When you're Master Chief in Halo, you want to feel like Master Chief. In order to do that, you need an amazing soundtrack. That feeling people get when they play the game is heavily dependent on the vibe the music sets."
The industry's cultural capital is also rising: The 2023 Grammy Awards announced a new category for Best Score Soundtrack for Video Games and Other Interactive Media, recognizing the industry's "significant cultural impact." Of the five nominees, two are graduates of USC Thornton's screen scoring program, one of the few programs in the nation that lets students specialize in creating music for video games and learn from active composers in the industry.
"It's such a small program; the instructors are so involved and invested in all of us," Kott says.
"I came in and said I wanted to focus on video games, and because of the smaller program [size], we can focus on these individualized goals."
Early days of video game scoring
Though more students are now entering USC's screen scoring program — started in the mid-1980s — with the sole purpose of scoring video games, USC Thornton Professor of Practice Jeanine Cowen admits that this level of interest in the field didn't always exist. When Cowen started teaching at the Berklee College of Music in Boston in 2004, she says it was difficult to convince students that legitimate opportunities existed in the video game industry.
"The uninformed public perception was that games are all about violence, moral decay and teenage boys," Cowen, who also chairs the screen scoring program, says with a laugh. "But we learned that's not necessarily the case."
By 2007, Cowen had written her first course focusing on game audio. What started as a graduate certificate at USC eventually became a master's degree. Around that same time, there was a significant shift in public perception of video games, which Cowen credits to the release of the Nintendo Wii. The family-friendly system targeted the more casual gamer, making it one of the highest-selling game systems of all time.
"It had huge sales to households that had no gaming console or system previously, so it was selling to the families that saw it as a family entertainment," Cowen says. "And that kind of changed the game for the entire industry."
Cowen began her career in the video game industry in the early '90s, well before gaming had made its way into the mainstream. While Cowen was working for a game developer in quality assurance, one of the chief engineers approached her about her musical background. At that time, her department did not handle musical compositions, only the actual software and the occasional "bleeps and bloops" of the game.
"They were just like, 'Hey Jeanine, you know how to do this, so you do it,' and that was where I started," Cowen says.
"It was very basic, and I had absolutely no idea what the heck I was doing, but it opened my eyes and made me go, 'Oh, this is different than just writing music.'"
Learning from the best
Kott met Cowen as an undergraduate at the Berklee College of Music, where she asked Cowen to be a mentor. After Kott's graduation in 2022, the pair stayed in touch.
"Jeanine will probably never flex on herself, but she is so technically proficient," Kott says. "She can code; she can compose game audio; she is the gal that does it all."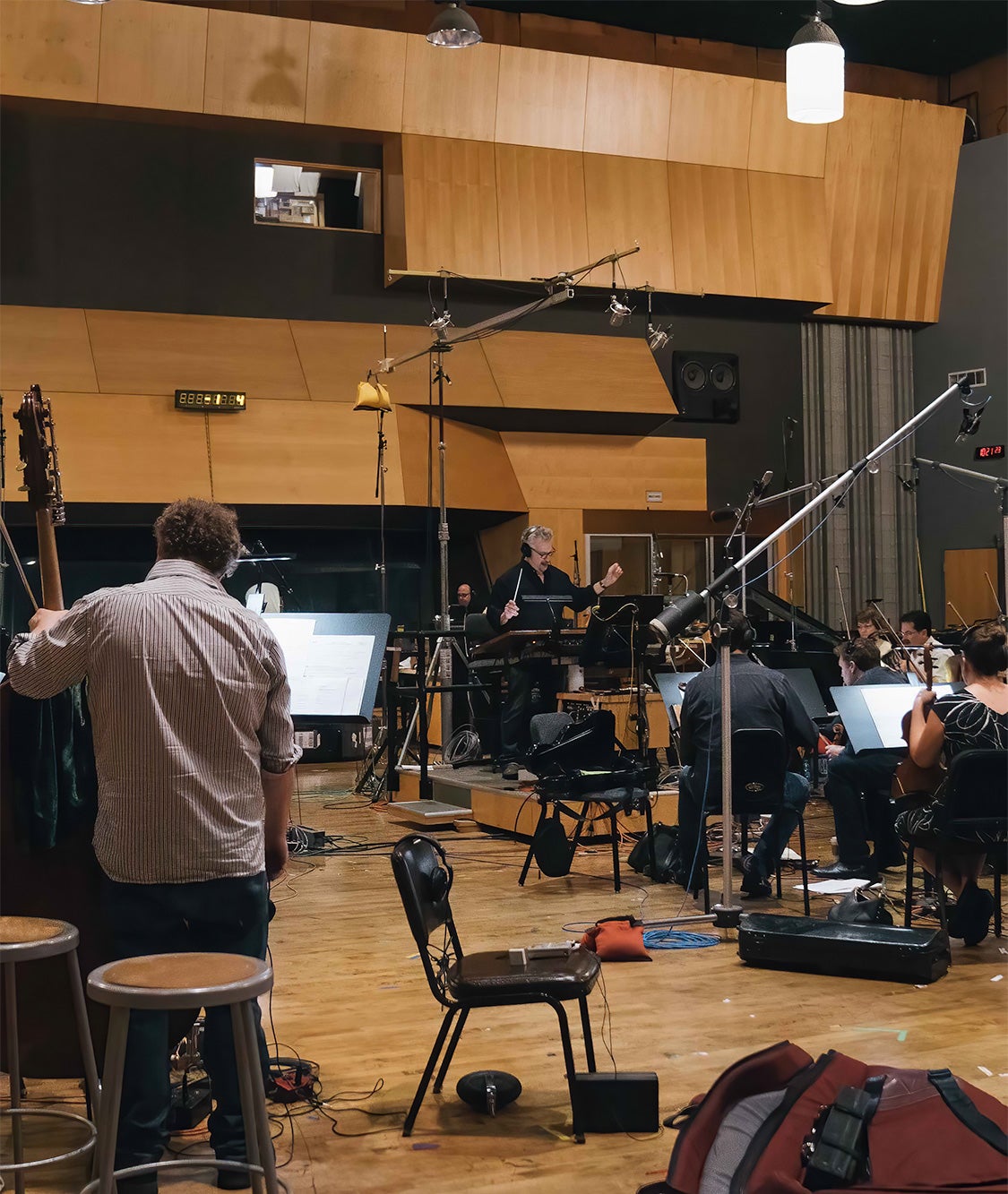 USC is also where Kott met Garry Schyman. An adjunct instructor at USC Thornton, Schyman has more than four decades of screen-scoring experience, with 30 years in the video game industry. Though he started in the film and television industries — scoring episodes of Magnum, P.I. and The A-Team — Schyman says that some of his favorite projects have been with video games.
"The most interesting music I've ever been asked to write is for games, by far — nothing in film or television can come close," he says.
Schyman, a 1978 USC Thornton graduate, got his start in video games in 1993. A friend had approached him about scoring a mystery game for Macintosh and Microsoft Disk Operating System (DOS) called Voyeur.
"I was not a gamer at all, but it was just really a cool opportunity," Schyman says. "I had one of those experiences where I was like, 'Oh, this is going to be big.'"
Since then, he has scored more than 20 games, including Destroy All Humans!, Middle-Earth: Shadow of Mordor and the BioShock series, the latter of which won him multiple awards.
"I'd like to think I've gotten better over the years," Schyman says. "I know how to do it, at least: I just try to look at what I'm scoring and find the right music for it."
Creating music for a player vs. a viewer
Two of the most significant differences between scoring a film or television series and scoring a video game are length and looping. A two-hour film will not need as much music as a game with 12 hours of gameplay. And a lot of that is done through a process known as looping, where a piece of music repeats itself.
"This makes a lot of sense when you think about how in a game the music needs to be interactive to what the player is doing: Two players might take a very different amount of time to get from point A to point B," Schyman says.
That interactivity — something that is not present in scoring to picture — combined with great storytelling, beautiful visuals and a great score are what Schyman says make for a truly immersive experience.
"I remember when BioShock came out, there was a story in The New York Times essentially asking: Are video games art? And they used BioShock as the main example [to say yes]," "I was very proud that perhaps my little contribution added a tiny bit to that conversation."
The future of sound and gaming
When asked about the new Grammy Awards category, Cowen, Kott and Schyman had the same response: It's about time.
For the longest time, there was that misconception that video game music was just 'bleeps and bloops,' but there is a lot of great music created for games.
"For the longest time, there was that misconception that video game music was just 'bleeps and bloops,' but there is a lot of great music created for games," Cowen says.
But for people like Kott, the fact that video game compositions and games in general still manage to fly under the radar is part of the appeal. Rather than a huge red carpet or a grand premiere covered extensively in the media, video games are simply released and played at home.
Platforms like Twitch, Discord and even YouTube have helped shine more of a light on the industry, but Kott says that gaming still has this underground feel to it that she enjoys. Even her one-year master's program was unknown to many USC students.
"Our cohort was basically 20 people in one room, and we all had projects off campus on the weekends, so we were kind of our own little family," Kott says. "I liked that small community feel."
For Cowen and Schyman, after years of video game scoring being considered a "niche" field, they're happy that students are seeing the opportunities that are available to them in the industry.
"It's really satisfying to see the success of our former students," Schyman says. "I can confidently say our program at USC is the best in the world."