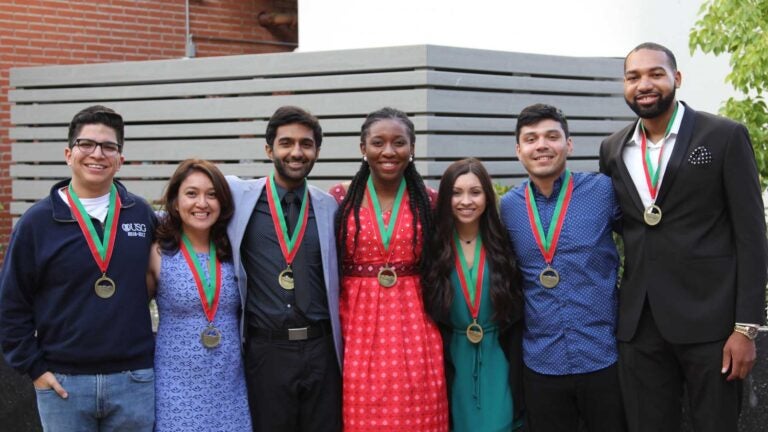 Gates Millennium Scholars commit themselves to service and leadership at USC
The university is a key partner in the national scholarship program, which has awarded more than $1 billion to 20,000 students since 1999
For as long as she can remember, Joy Ohiomoba has cared deeply about child and maternal health care. Her very name was a constant reminder: Her mother's high-risk pregnancy had ended well — hence, Joy — but it required monthly trips to a specialist in another Nigerian city to secure that happy outcome. Many women aren't so lucky. Worldwide, more than 800 die from complications related to pregnancy or childbirth every day.
That's down by 50 percent from 1990 levels, but Ohiomoba won't be satisfied until it approaches zero.
With her unique combination of drive, leadership and educational opportunity, she just might be the change-agent to make it happen.
Ohiomoba, 22, is one of 16 Gates Millennium Scholars to graduate in USC's class of 2017. She'll collect three diplomas on May 12: twin bachelor's degrees in biology and global health, and a master's in global medicine.
I have always had a passion for not just medicine but people, cultures and social justice issues.

Joy Ohiomoba
"I have always had a passion for not just medicine but people, cultures and social justice issues," said Ohiomoba, who credits her USC education with feeding her humanitarian ideals while connecting her to real-world resources for solutions.
Last semester, Ohiomoba traveled to New York with Maryam Farzanegan's "Global Health Field Study" course. She met with leading advocates for the world's most vulnerable populations at the United Nations and UNICEF headquarters. It was one of the highlights of her USC experience. The Keck School of Medicine of USC associate professor spent 20 years working for UNICEF before joining USC's clinical faculty.
"I love what Professor Farzanegan stands for," she said. "Even after years of working in war zones, natural disaster regions and seeing some of the worst of humanity, she is still so hopeful for a better world."
Medical school looms in Ohiomoba's future, but first she wants to try her hand at policy. She is interviewing with non-governmental organizations and public health agencies in Los Angeles, and she hopes to travel to Nigeria in the next couple of years to conduct independent research and educate women in resource-poor areas about pregnancy risk factors.
Hooked on African culture
Though Ohiomoba left Nigeria as a child, her heart is still there.
"What I love about Joy," said Mireya Saldaña, "is she is always sharing her culture."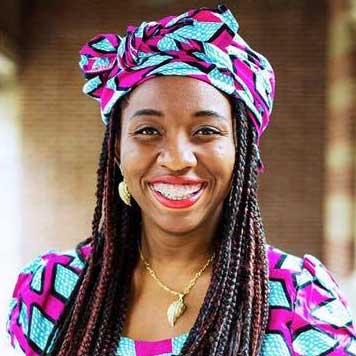 As the Gates Millennial Scholar campus engagement manager for Southern California, Saldaña oversees about 1,000 Gates Scholars attending a dozen or more institutions. Though she visits each campus several times a year, day-to-day contact with individual scholars happens mostly through social media platforms. But Saldaña got to know Ohiomoba rather well on a recent service trip to Houston, where 60 Gates Scholars spent a week building outdoor classrooms and a food pantry.
"During breaks, Joy would play Nigerian and other African music," Saldaña recalled. "You see her and you just have to smile. She's so positive."
Ohiomoba, whose family immigrated in 2004 and settled in Redondo Beach, never misses a chance to show off her traditional Nigerian clothes, share an authentic dish or speak her native Igbo. One of her proudest achievements at USC was founding the Pan African Student Association. The goal of PASA is "to have Africa seen, heard and celebrated on campus." In April, Ohiomoba had the satisfaction of seeing the club's AfroSCentric cultural showcase — now in its second year — fill the Ronald Tutor Campus Center ballroom.
Being Latino and Greek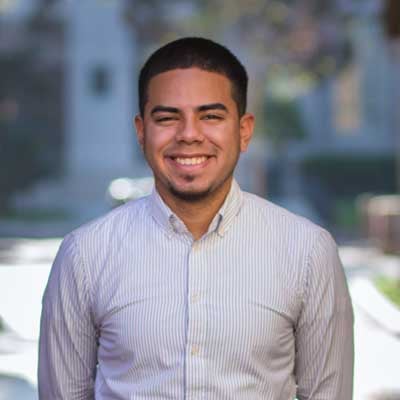 Christian Carrión is another Gates Scholar who will walk in Friday's commencement processional. Like Ohiomoba, he has taken on a lot in the last four years, including his current role as president of the Multicultural Greek Council and past president of Lambda Upsilon Lambda fraternity. He has served in student government, both in Diversity Affairs and on the executive board of the Latino Student Assembly. Summer internships have taken him to San Francisco and Hong Kong. Service-learning opportunities have taken him to Honduras and Australia. Though Carrión will receive his diploma in May, he needs one more semester to finish his electives. He'll spend next fall in England, studying at the University of Manchester.
It's been a life-changing four years for the South Bronx native, the child of Ecuadoran immigrants. Dad is a janitor for an apartment building; mom is a hair stylist. Both speak very little English.
Asked if his parents are proud of him, Carrión said, "Yes, and I'm proud of them, too. I think they did a good job raising us." The youngest of three children, Carrión and his siblings attended college as first-generation students.
Much is expected
Gates Scholars take leadership and service very seriously.
"From those to whom much is given, much is expected," Microsoft founder Bill Gates famously said in his 2007 Harvard commencement address, quoting his own mother quoting the gospel of Luke.
Each year, 1,000 scholars are selected from a pool of about 20,000 applicants. The grants are renewable and cover all undergraduate expenses, including room and board.
Candidates come from low-income families and are distributed across four ethnic groups: Asian Pacific Islanders, African-American, American Indian and Latino. The Gates Millennium Scholarship (GMS) program also funds up to five years of graduate school in seven disciplines where minorities are underrepresented: math, engineering, science, computer science, public health, library and information science, and education. USC has an unusually high number of Gates Scholars who opt to do just that, including Ohiomoba.
In addition to her GMS, Ohiomoba received a $10,000 Milken Foundation scholarship and several other awards. Carrion received a Posse Foundation Leadership Scholarship on top of his GMS funding.
Yet both students worked part-time jobs and internships throughout their college careers, as well as taking on leadership roles in student government and service organizations.
"Gates Scholars know how privileged and lucky they are," Saldaña said. "They're very conscientious and they always make the effort to pay it forward."
Looking back
Carrion didn't need the free room and board when he decided to spend his sophomore year as a residential adviser in Fluor Tower.
"I wanted to help out somebody who was homesick their first year," he said.
Looking back, he said, "I like all the choices I made, even the bad ones."
Overcommitting to too many leadership roles was stressful and hurt his grades, Carrion realized, "but I don't regret that. I love putting myself in a situation where I'm out of my comfort zone."
Ohiomoba worked three years in the lab of USC biologist Sergey Nuzhdin, studying the role of drosophila in the expression and evolution of yeast phenotypes. She also mentored high school students during three summers as a residential counselor with USC Summer Programs.
She volunteered in the neighborhood teaching Spanish-speaking preschoolers, tutored foster youth in math and reading, taught ethics and human rights to local high schoolers and gave English lessons to hearing-impaired children in Madrid during her semester abroad. She was also active in USC Keck Student Ambassadors, USC Helenes and the Saved by Grace Choir, to name just a few of her extracurriculars.
Though they don't need to, many Gates Scholars choose to work part-time jobs and send home the extra income to help support their families.
"All these students are leaders," Saldaña said. "It's a burden and a gift. They put a lot of weight on their own shoulders."