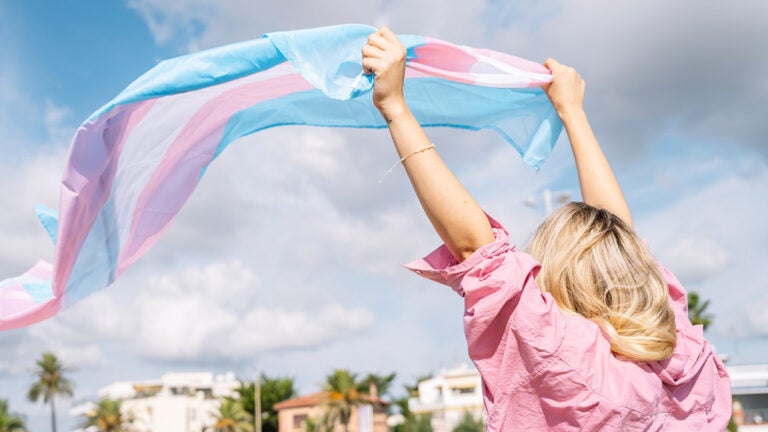 Gender-Affirming Care celebrates 10 years at USC Student Health
Current and former clinical providers recall the origins and differences that have helped make the team what it is today.
The Gender-Affirming Care team at USC Student Health, a group of providers who have created a holistic health and wellness pathway for gender-related care, has rounded out a full decade of service. In a look back on the past 10 years, current and former clinical providers had an opportunity to recall the origins and differences that have helped make the team what it is today.
Bryce McDavitt, who was a staff psychologist at USC Student Health in the group's beginning years, was facilitating an LGBTQ+ psychotherapy group for students. Through his work with clients, McDavitt came to realize a specific need for individuals who were exploring their gender identities.
"It became clear that transgender students were having a very different experience," McDavitt said. "There are different kinds of issues that they were working through: whether or not to take hormones, whether to transition, and how, with all the related emotions that come with it. Some were also grappling with decisions about coming out, and coping with families not wanting to acknowledge their gender.
"At that time, for example, USC had very few all-gender restrooms," he said, "so students were anxious about everyday needs like using public restrooms."
Gender-Affirming Care resources come together
In 2013, when the Engemann Student Health Center on the University Park Campus opened, the medical and mental health providers became more fully integrated as they were all housed within one physical location.
Later, services at the Health Sciences Campus were combined with the University Park-based team, creating one comprehensive organization under USC Student Health.
This allowed for closer working relationships and provided the backdrop for a cooperative Gender-Affirming Care team led by medical provider Patty Pinanong, with the support of McDavitt and others in Student Health. The team today includes more than a dozen clinical representatives in Student Health (counseling and mental health, registered dieticians, medical care providers); health partners from the Gender-Affirming Care specialty program at Keck Medicine of USC, who provide surgical and other non-ambulatory care; and campus partners including student government; the LGBTQ+ Center; and USC's Office for Equity, Equal Opportunity, and Title IX.
Patty Pinanong, who has remained a cornerstone of the Gender-Affirming Care provider team, recalls the training and guidance of leading figures in the field.
"We were fortunate to have the experience of some of the most knowledgeable people help start our program," Pinanong said. "Maddy [Madeline] Deutsch was someone who I trained with, and she was really influential in helping us create a patient-centered approach that included sensitivity around the person's experience." Deutsch is the director of the Gender-Affirming Health Program at the University of California, San Francisco, and was the chapter lead for primary care for the eighth revision of the World Professional Association for Transgender Health, the leading professional standards authority in health care for transgender people.
McDavitt echoes the sentiment of having the benefit of experts in the field.
"When we started the first transgender therapy group, Aydin Olson-Kennedy provided guidance and co-led the support group," McDavitt said. "It was a safe space for students to talk about the common things they were experiencing. It can be very validating to be in an environment where others understand what you're going through, to not have to deal with these feelings on your own."
"We were fortunate to have the experience of some of the most knowledgeable people help start our program."

— Patty Pinanong, Gender-Affirming Care provider team
Olson-Kennedy, a licensed social worker in Los Angeles, continues to provide mental health care to transgender and nonbinary communities as he has for more than 15 years, and is considered one of the leading figures in the field.
Gender-Affirming Care services expand
Now, the services and support for transgender and nonbinary students have greatly expanded, from the Gender-Affirming Care Program at Keck Medicine of USC, under the direction of surgical director Roberto Travieso, to the interdepartmental campus committee addressing gender identity and sexual orientation systemic barriers and working to enhance housing, enrollment and registration systems to make them more welcoming for people of all genders. That committee is led by the Equity, Equal Opportunity and Title IX office and the LGBTQ+ Center.
"For a lot of LGBTQ+ students, college can be a space to redefine yourself independent of the influence of where you grew up," said McDavitt, who currently works in private practice. "It's a wonderful opportunity, but it can be hard if you don't have emotional support."
Looking back on the experience of working with students at USC, he acknowledges how much professional fulfillment it brought to him.
"For me, those relationships working with the students were some of the most meaningful experiences during my time at USC, and I still have very fond memories," McDavitt said. "Sensing that there was this need for emotional support, and the amount of gratitude from clients in providing their care — it was a privilege to see them become more hopeful in their adult lives."
The work isn't over, both at USC and in the wider community, as changing systems is an ever-evolving project and commitment, but the first 10 years give a glimpse at changes that are possible: to build a more inclusive campus environment for all people to feel they belong at USC.