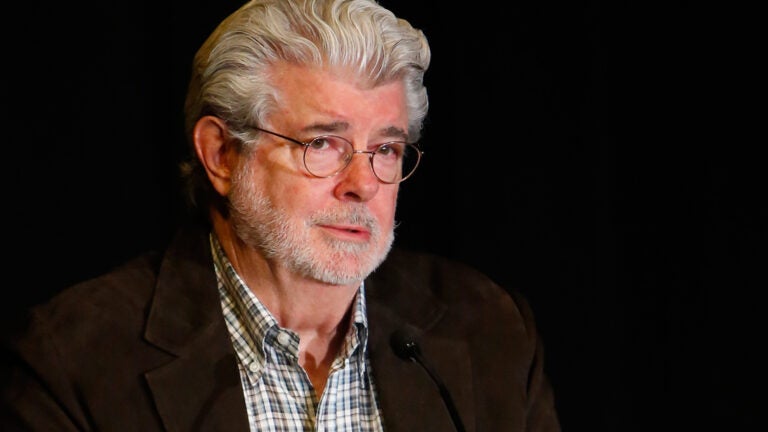 George Lucas Family Foundation increases support of diversity at USC School of Cinematic Arts
New $10 million gift will provide scholarships for African-American and Hispanic students in undergraduate and graduate programs
The George Lucas Family Foundation has expanded its support of student diversity with a second $10 million endowment to the USC School of Cinematic Arts.
The new gift, announced by Dean Elizabeth M. Daley, raises the foundation's student diversity support effort to $20 million.
The George Lucas Family Foundation Endowed Student Support Fund for Diversity was established at the school in fall 2016 with an initial $10 million endowment for students from underrepresented communities who qualify for financial support. African-American and Hispanic students in both undergraduate and graduate programs receive priority consideration for support from the Fund. Students are known as George Lucas Scholars or Mellody Hobson Scholars.
"We are grateful that Mellody Hobson and George Lucas continue to provide visionary leadership on issues of diversity in our field," said Michael Renov, vice dean of academic affairs at the School of Cinematic Arts. "This endowed fund allows us to recruit storytellers whose voices are underrepresented in cinematic media, and whose inclusion benefits all of us."
Jonathan Curtiss, a production student at the School of Cinematic Arts who was among the first George Lucas Scholars, said: "The George Lucas Scholarship really opened the door for me because I wouldn't have been able to attend USC without it and my acceptance letter would have just been decoration in my room. Filmmaking is what I was created to do and this scholarship means I have fellowship, opportunity, and the ability to inspire younger filmmakers in my community to dream without limits."
In addition to the George Lucas Family Foundation Endowed Student Support Fund for Diversity, the School of Cinematic Arts has several other endowments that are specifically earmarked for student support, including" the Hollywood Foreign Press Association Endowed International Student Support Fund, which supports students with financial need who came to SCA on student visas; the Steven & Alexandra Cohen Fund for Student Support, which supports any undergraduate students with financial need; the Shriram Family Graduate Student Support Fund, which supports graduate students with demonstated need; and the Kelly and Ron Meyer Family Fund for Student Support, which supports a deserving undergraduate with significant financial need.
Endowments earmarked for student support enhance USC's commitment to access and affordability by ensuring that qualified students are able to enroll, regardless of their financial circumstances. With more than two-thirds of USC students receiving some kind of financial assistance, the university is committed to enabling every admitted student the option to attend. About 70 percent of USC students receive a grant or scholarship to help fund their education.
---
ABOUT THE USC SCHOOL OF CINEMATIC ARTS: The USC School of Cinematic Arts is one of the leading media schools in the world. Founded in collaboration with the Academy of Motion Picture Arts and Sciences in 1929 over 87 years ago, the school has fueled and mirrored the growth of entertainment as an industry and an art form. The school offers comprehensive programs in directing, producing, writing, cinema and media studies, animation and digital arts, production, interactive media and games, all backed by a broad liberal arts education and taught by leading practitioners in each field. Its more than 13,000 alumni are among the world's most distinguished animators, scholars, teachers, writers, directors, producers, cinematographers, editors, sound experts, video game designers and industry executives. Since 1973 not a year has passed without an alumnus or alumna being nominated for an Academy Award or an Emmy.