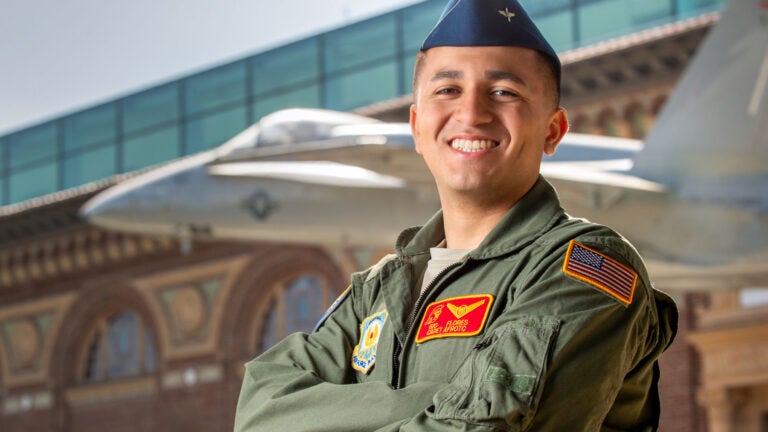 First-gen engineering grad ready to land Air Force career
Despite early setbacks, graduating USC student Giovanni Flores is gaining momentum as he aims for a post-graduation pilot slot.
For USC Air Force ROTC graduates, there are two ceremonies at the end of college: commencement and commissioning. The first seals a degree. The second marks the transition from cadet to officer. For 21-year-old Giovanni Flores, it's the last step before flight school, where he'll take his pilot skills from Cessna to top-flight aircraft.
"I don't know how it came together, but it did," he said. "I played my cards and I'm headed exactly where I meant to go."
Flores often looked to the skies above the San Fernando Valley growing up, an early vestige of a fascination with the skies that would lead to Air Force ROTC and a degree in astronautical engineering from the USC Viterbi School of Engineering. His mother, Eloisa, worked as a housekeeper while his dad, Vidal, made a living as a mechanic. Vidal Flores died last November in an accident, leaving Giovanni and four older siblings to grieve in the midst of a pandemic.
"It's been one of the most difficult times my family's had," Flores said. "It was hard to find that balance at times, but this is the ethic my family — including an older brother who's in the Navy — taught me: Never give up and always find a way to keep going."
Giovanni Flores overcomes adversity to achieve Air Force dreams
Through his last year at USC, Flores pushed through a rigorous engineering curriculum, maintaining a 3.6 GPA and leading the Airmen of Troy student organization. He also piloted the USC Air Force ROTC Operations Group as commander, a job that requires planning, organization and execution for all of Detachment 060, which grew 24% during the last academic year to 105 cadets — the biggest in decades. Just under half of the detachment's cadets are female, 70% are persons of color and nearly a third come from homes where the primary language is not English.
Flores' attachment to the detachment started four years ago when Lt. Col. Olivia Nelson, who was then commander of Detachment 060, helped him overcome an early roadblock to his Air Force career when a medical records snafu blocked admittance.
I get a lot of satisfaction out of doing things that are hard.

Giovanni Flores
"When I was a kid I had an allergy, but that cleared up and I haven't had an issue with it since I was about 8," Flores said. "At some point, 'history of asthma' was put on my medical record, so the Air Force pretty much booted me. Lt. Col. Nelson fought for me, and I ended up taking a series of tests so I could get a waiver."
Flores will be trained to fly fighter jets but helicopter piloting could also be in his future, as he is drawn toward rescue missions. With his undergraduate academic career behind him and a gap ahead before flight training, he is weighing his options.
"I just get a lot of happiness out of figuring stuff out," he said. "I get a lot of satisfaction out of doing things that are hard."