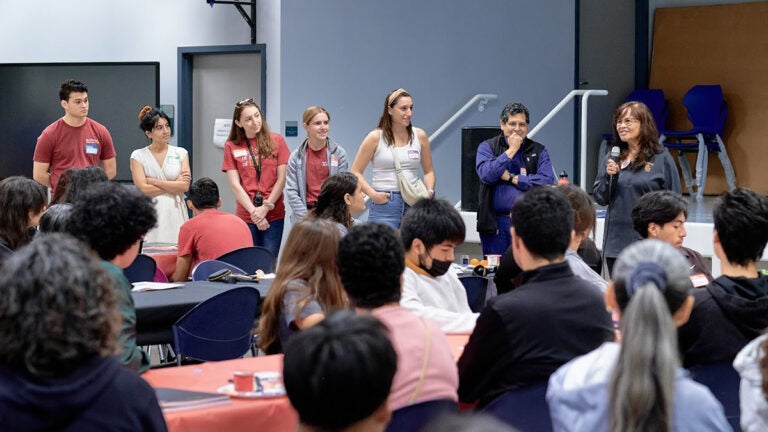 Good Neighbors Campaign hopes to fill the gaps in health care worker shortages
PUENTE Learning Center, a Good Neighbors Campaign grantee, is showing high school students that there are careers in health care beyond the traditional roles of doctor or nurse.
The United States is facing an alarming health care workers shortage, but PUENTE Learning Center, a Good Neighbors Campaign grantee, is working to change that.
Through its College and Success Program, PUENTE Learning Center is introducing high school students to the vast number of opportunities in health care beyond the traditional roles of doctor or nurse.
"[Our] students are interested in STEM. They want to pursue majors and careers in STEM and health care," said Jasmine Medrano, college and career program manager at PUENTE Learning Center.
Medrano, who created the program in 2017, discovered most students were only familiar with two career paths in the health care field — nurse or doctor. She worked with a team to create a 10-year roadmap and pipeline program supporting students with getting into college, obtaining their degree and successfully entering the workforce. The program aims to support to over 500 students, ages 15 to 24, from low-income communities of color.
She also saw the potential for collaboration with the Keck School of Medicine of USC, noting that PUENTE Learning Center is less than two miles away from the university's Health Sciences Campus.
But she needed a partner, so she cold-called Keck School of Medicine Associate Professor Greg Harlan, who was running the Walk with a Doc program, in the hope that he would volunteer to speak about health care opportunities. Not only was he up for the task, but he also got medical students in his network involved in the program.
"He welcomed medical students to come and join him because they are a lot more relatable to our high school students," said Medrano. That handful of medical students has now grown to over 30 volunteers.
It was with Harlan's support that the College and Success Program applied for and received a Good Neighbors Campaign grant in 2021. The funding has opened new doors for the program, allowing the team to spotlight other health care fields and career paths.
"We were able to invite dentistry, physician assistants, dermatologists and other health care fields," said Medrano. "This exposed our students to different fields — it's not just nurses or doctors."
The program is "debunking myths of career opportunities in health care," according to Michele Wolfe, vice president of programs at PUENTE Learning Center.
Through the College and Success Program, students are learning that it is possible to have a successful career in an in-demand field by taking nontraditional routes. Many of her students believed the only path was to attend a four-year university.
"Low-income [students] or students that come from a disadvantaged background don't end up in these careers that might seem intimidating, or they hear how expensive school can be," said Medrano. She points out that students who have finished the first phase of the program are going to college with a new mindset. "The majority of them are going to be pursuing a hard science: microbiology, biology, chemistry — the influence has been because they are going on to pursue medical school."
An additional aspect of the program is its "College Saturday," a collaboration with Keck School of Medicine in which doctors and other health care professionals discuss their personal career paths, answer questions about academics and offer career advice.
"Since ninth grade, I have been guided by mentors, people in the medical field, incredible people at PUENTE Learning Center and USC. They've put me one step closer to achieving my goal of going to college and a future in health care," said Breanna Martinez, a College and Success Program participant.
To date, there have been over 24 workshops. More than 450 students have taken part in the program, which has partnerships with two local high schools: Felicitas & Gonzalo Mendez High School and the Edward R. Roybal Learning Center.
PUENTE (People United to Enrich the Neighborhood Through Education) Learning Center was founded in Boyle Heights in 1985. It assists over 2,000 people annually with tutoring, English as a second language (ESL) courses, health screenings and financial literacy workshops.
Since 1992, the Good Neighbors Campaign has awarded nearly $30 million to community organizations surrounding the University Park and Health Sciences campuses. This year, the staff- and faculty-driven campaign has awarded over $1 million to 57 community organizations.