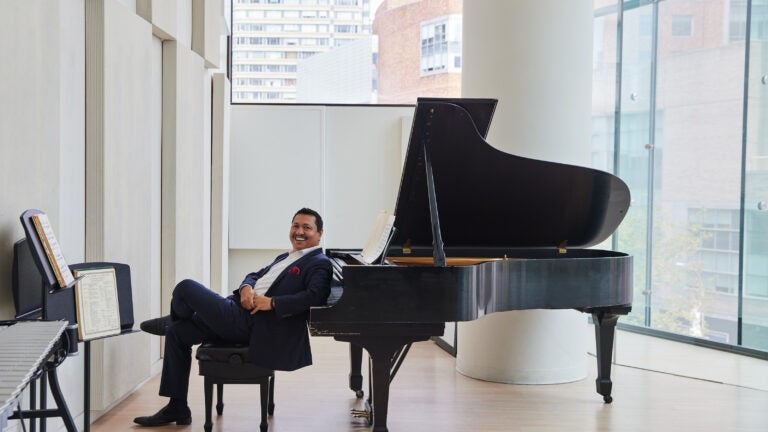 Grace Notes
Jazz pianist Donald Vega '99 talks about working on a very personal album — and his Guggenheim Fellowship in Music Composition.
An accomplished jazz pianist, composer and instructor with multiple recorded albums released in the past 20 years, Donald Vega '99 is preparing to release his most introspective collection of songs, As I Travel, on October 27.
Recorded with several Grammy Award-winning musicians, the album is funded in part by the 2023 Guggenheim Fellowship that Vega recently received. The award recognizes his talent, helps to further his research and supports his work within the field.
As a composer, he says that most often the melodies just come to him. "Sometimes, they come complete and I'm able to write everything down," he says. "Or it comes only as an idea. So, I let it rest and later develop it. I'm just trying to figure out what sounds like me."
As he reflects on the immense challenges he's navigated and opportunities seized while nurturing his talent, he says: "I call my personal journey a miracle." Growing up in a musical family in Nicaragua, he was able to play by ear at 3 years old and began classical piano training when he was 8. However, political conflict in his home country caused his mother to immigrate to the United States, and four years later, 14-year-old Vega joined her. His passage across the border was precarious but successful — one of the miracles, he says — and they both were granted political asylum and settled in Los Angeles, not far from USC.
Without a piano of his own, Vega practiced on the Crenshaw High School choir room's piano, rather than eat lunch. At home, he says, "I loved the music so much that in my mind I saw the piano, and I could 'play' it on the wall."
His self-discipline and innate talent brought many accolades, including The Music Center's Spotlight program, where he won $5,000 and was gifted a piano by the late piano dealer David Abell. The award also connected him with philanthropist and benefactor Helen Bing, who supported another need that Vega had.
Born with a cleft palate that affected his hearing, Vega had numerous surgeries, the first just days after birth. As he got older, the earaches grew more worrisome. "You can imagine that I'm a musician, and I couldn't hear — it got to the point that I was reading lips," he says. Bing facilitated the advanced medical treatment to greatly improve his hearing.
While living in South Central L.A., Vega studied at The Colburn School and was also welcomed by the storied musical art space The World Stage in Leimert Park Village. "A lot of my Leimert Park friends were going to USC," he says, so he knew where he was headed. After Vega enrolled, he found that the university's reputation for music instruction lived up to the hype.
"The faculty were my mentors, including John Clayton, Shelly Berg, John Thomas and Neal Desby," Vega says. "All these people really shaped me." One of the highlights during his school years was playing for Quincy Jones' birthday.
His USC and jazz musician families also stood with him when the laws changed for those granted political asylum from Nicaragua. "I was facing deportation, but I had a lot of support from the USC faculty and fellow musicians," Vega recalls. "They all wrote letters, including Quincy Jones. So, that was incredible. I got the help I needed, and I was able to get residency, and later, I became a citizen." He went on to earn a master's at the Manhattan School of Music and an artist diploma at the Juilliard School in New York where he is now an instructor.
The most intimate of his many recordings, As I Travel, reflects this life story. "The goal of an artist is to be vulnerable, to be free and able to talk about yourself," says Vega, who is headed to Japan in November to tour with his Donald Vega Trio. "I've done that a little bit in all my recordings, but this time, I'm ready to show who I am."