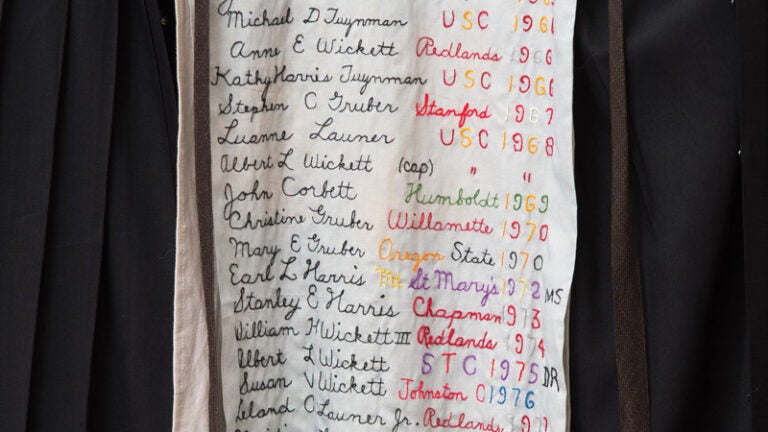 Graduation Gown Marks a Century-Old Trojan Family Tradition
Worn more than 45 times, the garment has the names of every college graduate in the family stitched inside.
When Ruth Launer '16 decided to buy a wool graduation gown instead of renting it for her USC graduation, she could never have guessed the gown would go on to grace the commencement stage 45 times over the next 100 years. The 1916 graduate, a botany major, had married that March, and by the time she was walking across the stage to pick up her diploma, she was two months pregnant.
"I'm pretty sure she was already thinking about the baby, my mother Eunice, wearing the same gown in the future," says Launer's granddaughter, Kathy Harris Tuynman Windsor '66. Thus began a tradition.
When it was time for Ruth Launer's daughter, Eunice Launer Harris '39, to don the gown, she embroidered her name on a scrap of fabric sewn inside it. The names of 45 more family members, all meticulously hand stitched, have since followed. Each name accompanies a graduation year and alma mater (most attended USC, but other schools include University of California, San Diego and University of Oregon).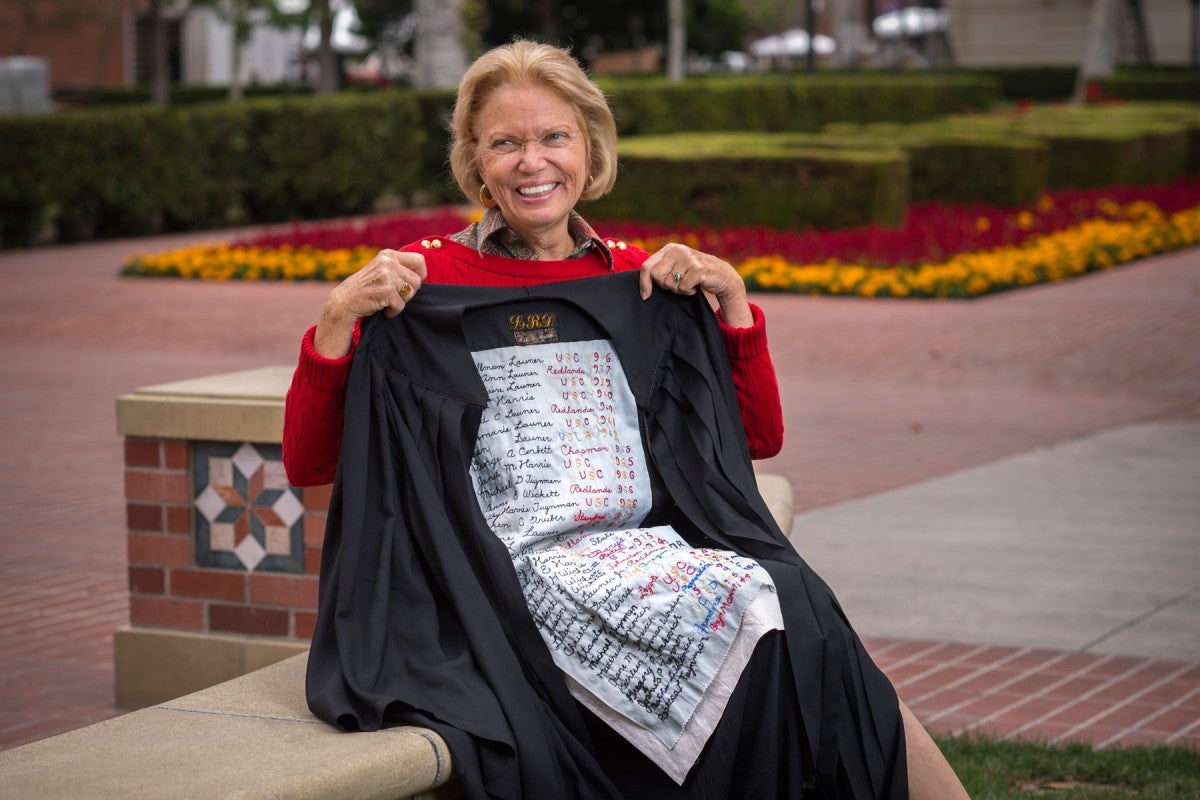 "The family always talked about USC and the Trojans," recalls Windsor's older sister Janet Harris Tonkovich '64. "When my eighth-grade teacher asked the class to write about our futures, my essay said I'd be attending USC, majoring in physical education with a specialization in dance. That's exactly what I did."
As for Windsor, "The minute I was born, my grandmother had already figured out my graduation would be 50 years after hers," she says. But by her 1966 commencement, the wool gown was showing some wear. "Mother wrote the gown's manufacturer — E.R. Moore, which still provides USC's gowns today," Eunice Harris says. "They put in a new braid."
The refurbishment has served the gown well. Last May, Windsor wore it once again to proudly march in USC's 133rd commencement, celebrating the 50th anniversary of her graduation. As she marched with the other Half Century Trojans, her mind was on Ruth Launer, the woman who started a cherished family tradition a century ago.
Lately, the sisters have discussed the gown's future. Can it withstand another 50 years? One hundred? "We're limiting it to our grandchildren," Windsor says. Time will tell. Either way, the gown may be making its way to Alumni Memorial Park for years to come.