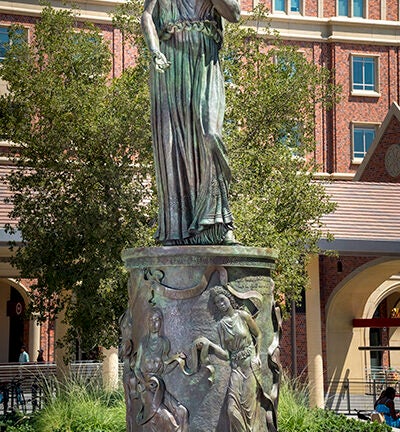 Hecuba, Queen of Troy, Takes Place of Honor at USC Village
The 12-foot-tall bronze sculpture welcomes visitors to the complex.
HECUBA
At USC Village, all paseos lead to the Central Piazza, which features a uniquely Trojan landmark that celebrates the women of Troy: a sculpture of Hecuba, the majestic queen of Troy. Wife of King Priam, Hecuba took a stand to preserve and protect her family and beloved city.
Her story lives on in classic works by Homer, Virgil and Euripides. "In times of great grief and great joy, in times of trial and tribulation, in times of tragedy and triumph, it was Hecuba whose courage and compassion embodied the strength of spirit that is found within every Trojan," USC President C. L. Max Nikias says.
The Hecuba statue rises gracefully more than 20 feet into the sky. Her figure stands atop a base sculpted with reliefs of six female figures who depict the ethnic diversity of USC in the 21st century. They are African, Asian, Caucasian, Hispanic, Middle Eastern and Native American. The figures also represent the diversity of USC's wide array of disciplines, including medicine, technology, and the humanities, sciences, arts and social sciences.
Renowned California-born artist and Trojan parent Christopher Slatoff, who previously created the Judge Robert Maclay Widney statue that stands at Widney Alumni House, designed the regal bronze sculpture. The towering figure weighs nearly 2 tons and matches the grand scale of the Central Piazza. While Tommy Trojan stands proudly in Hahn Plaza representing the spirit of Troy and the traits of the ideal Trojan, Hecuba warmly welcomes everyone into the Trojan Family, as she represents strength of spirit and celebrates the women of Troy.