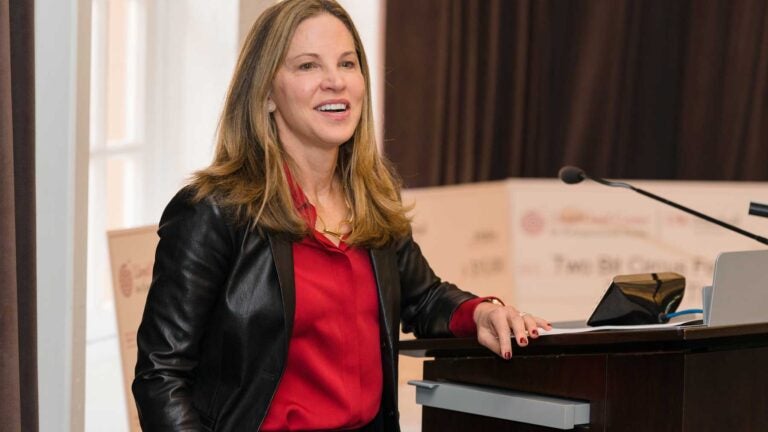 Teachers give students $60,000: How did they spread the wealth?
USC Marshall social enterprise class decides which business models deserve financial backing
What if your instructors gave you $60,000 of their own money to award to local social enterprises? Would you learn more knowing there was a real stake at hand?
An unusual — and generous — value proposition, but one the USC Marshall School of Business and its Brittingham Social Enterprise Lab decided to take a chance on.
"The minute I heard about the concept, I knew it would be an incredible opportunity for a deep hands-on learning experience," said Adlai Wertman, David C. Bohnett Professor of Social Entrepreneurship and the founding director of the lab. "And of course, with the focus on social enterprise, it was another example of Marshall being willing and able to facilitate something that's a little bit different, all for the sake of its students."
Laura Fox, an attorney and former entertainment industry executive, had been working with a similar class focusing on philanthropy at UCLA. When she and her husband, attorney and serial entrepreneur Ben Van de Bunt, created their family foundation, they decided they wanted their first project to focus on engaging students in an entrepreneurial approach to social enterprise. They pitched the idea for just such a class to USC Marshall Dean James G. Ellis.
We wanted to create a class which would give students the opportunity to learn about all aspects of social enterprise while deciding how to invest funds for maximum social impact.

Laura Fox
"We wanted to create a class which would give students the opportunity to learn about all aspects of social enterprise while deciding how to invest funds for maximum social impact," she said. "And we knew that USC Marshall had a very entrepreneurial approach to teaching."
Ellis was quickly onboard, and introduced the idea to Wertman, who, together with his team at the lab, created a class that was focused on social enterprises with sustainable business models.
The big question
"Philanthropy and Social Impact" filled up quickly. Over the course of the semester, students listened to guest lecturers from high on the roster of giving: Rachel Levin of the nonprofit consulting firm Fundamental, Robert Egger of L.A. Kitchen, Bobby Turner from Turner Impact Capital, Victoria Jackson from the Jackson-Guthy Foundation, John Kobara of the California Community Foundation — even Steve Ballmer, the L.A. Clippers owner, former Microsoft CEO and a leading philanthropist. The students got a sense of how these philanthropists and entrepreneurs made their giving decisions.
Students also researched a roster of 48 local organizations with a social impact. Through site visits and financial analysis, they narrowed the list to 21. But their goal was to whittle it down to three.
Cases and presentations were made and due diligence was done. So many worthy groups. How to identify the best ones?
"That's the $64,000 question," Van de Bunt told the class mid-semester. "Prioritization is hard, and it is a learned skill. You are living it in this class."
When the students had their three final organizations, their work was not yet done. The rules of the class prohibited giving the money in equal amounts, so they had to convene and convince a "board" made up of fellow classmates how to divvy up the money.
The contenders
Each of three student groups brought final presentations with a breakdown of their organizations' formal ask.
GrowGood, an urban farm working with the Salvation Army in the city of Bell, and in conjunction with a homeless shelter servicing nearly 500 men, women and veterans, needed $30,000 to install a greenhouse that had been donated to them. With the greenhouse up and running, it could extend its growing season, providing more specialty produce for sale to area restaurants and increasing its revenues, job training and garden therapy programs.
Two Bit Circus Foundation, the nonprofit educational arm of the engineering entertainment company Two Bit Circus, finds fun and innovative ways to teach kids about STEAM (science, tech, engineering, art and math) with the goal of creating the next generation of inventors. It needed $25,000 for a dedicated mobile STEAM van, taking teaching innovations to underserved schools across the region.
Human-I-T serves low-income households in the Greater Los Angeles area by acquiring out-of-date computer equipment from institutions including USC, selling them and providing refurbished technology and training to households without internet or other technologies. It required $30,000 to improve its warehouse infrastructure with holding racks, which would improve its capacity and increase the audience it could serve.
The decision
The final class was frenetic. Numbers and questions were tossed around. The proposals for the final three companies were voted on twice. And then once more. The entire process was run by the students.
What was more valuable to low-income students? A traveling STEAM van or one static room? How much more income per year would GrowGood make if it had that greenhouse? How would they transport all that extra produce? Couldn't human-I-T make due with 15 additional racks instead of their desired 30?
Through it all, the teachers sat in the back watching their students interact, weighing in only when necessary.
"Even if these companies don't get the full grants, your gift will still be impactful," Fox reminded them. "They will make these projects work."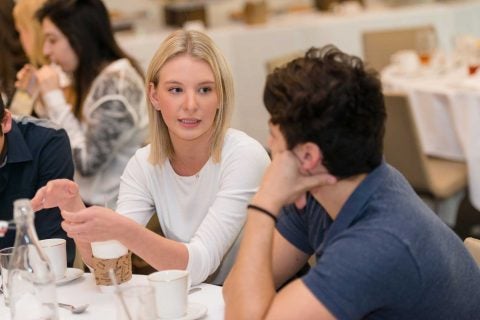 In the penultimate class, students agreed early on that GrowGood should get all of its requested $30K, to install its greenhouse. But over the course of the class, as heated discussions continued, they suddenly pivoted: They could spread the wealth a bit more evenly, they decided.
GrowGood would get $25K, Two Bit Circus Foundation $20K and human-I-T $15K.
Fox and Van de Bunt nodded their approval.
"What you did in this class, even if it felt unruly, was come to the best outcome, and you did it with a process that was open and respectful," said Van de Bunt, a former CEO and, as with his wife, a veteran of many nonprofit boards. "In the board room, if you can allow healthy tensions to exist, you will do your best work."
"You did this and accomplished a fantastic outcome," he told his students. "Well done!"
Fox smiled. "Are you guys comfortable messaging the results to your groups?"
"I already texted mine with the good news," said Ting Lee, who went to the mat for Two Bit Circus Foundation. He admitted he'd signed up for the class by mistake. "I thought I was enrolling in something else, but I am so glad I stuck it out," he said. "This was awesome. The speakers they exposed us to and the level of involvement they expected of us, I think all of us agree this wasn't an ordinary class."
At the final class, as students presented their donations to company reps and took the obligatory groups shots with the giant check, Van de Bunt had one final takeaway.
"We loved teaching this class," he said. "The students are amazing and we hope the skills they learned in this class will have some of their future shareholders and employers thanking us."