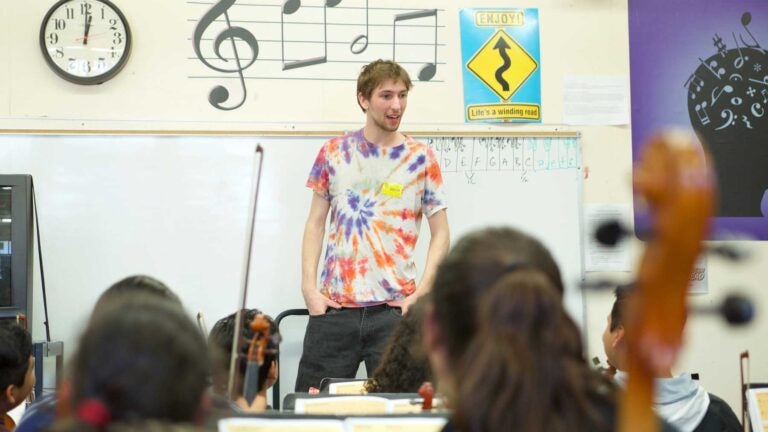 The bank that pulls strings for a good cause: music education
USC Thornton musicians create a nonprofit that gives strings to underprivileged students
As if on cue, a violin string broke in Barin Butler's music class at the 32nd Street School. The D string. New strings are so expensive — a set of four for a bass can cost upwards of $200 — that Butler doesn't let students tune stringed instruments for fear of an explosion of popped strings. Always mindful of his budget, he tunes each violin, cello and bass himself at the beginning of each class.
But on March 1, Butler's string inventory got a welcome infusion. At noon, USC Thornton School of Music performance students John Mietus and Jonathan Sussman showed up with a boxful of strings for the school. It was the first donation by their new nonprofit, The String Bank, which seeks to collect high-quality strings, both new and gently used, from top-level orchestras, universities, conservatories and professional musicians, and distribute them to underprivileged students.
Mietus, a sophomore earning a degree in double bass performance, and Sussman, a sophomore majoring in flute performance and biomedical engineering, had the idea a year ago and applied for a Young Artists Grant from Tarisio, a London-based company that specializes in auctions of fine stringed instruments and bows.
The students were among four 2016 winners (another was cellist Michael Kaufman MM '12, DMA '15), and they spent their $5,000 grant legally setting up the nonprofit, creating a website and seeking donations. The third founder of The String Bank, Richard Xu, a high school friend of Sussman who studies violin performance at Indiana University, was especially helpful in handling the red tape associated with becoming a nonprofit.
The String Bank already has received donations from musicians at USC Thornton, The Cleveland Institute of Music, Northwestern University, the University of Iowa, UCLA and The Colburn School. Their first big donation from a professional musician came from famed violinist Sarah Chang, an American soloist who performs with major orchestras around the world. She sent them 134 strings, worth hundreds of dollars.
Mietus said that when he had the idea for the nonprofit, he and Sussman (who plays the violin and flute) did research and found that such a bank did not yet exist.
"We can't really travel the world or explore space or create anything new, so providing a service that isn't provided efficiently was the next goal for us," Mietus said.
Dangling strings
He had worked at 32nd Street School last year as a sectional coach in Butler's music program and noticed cellos waiting for strings. He and Sussman delivered 30 violin strings and four bass strings to USC and said they would return when they had cello strings.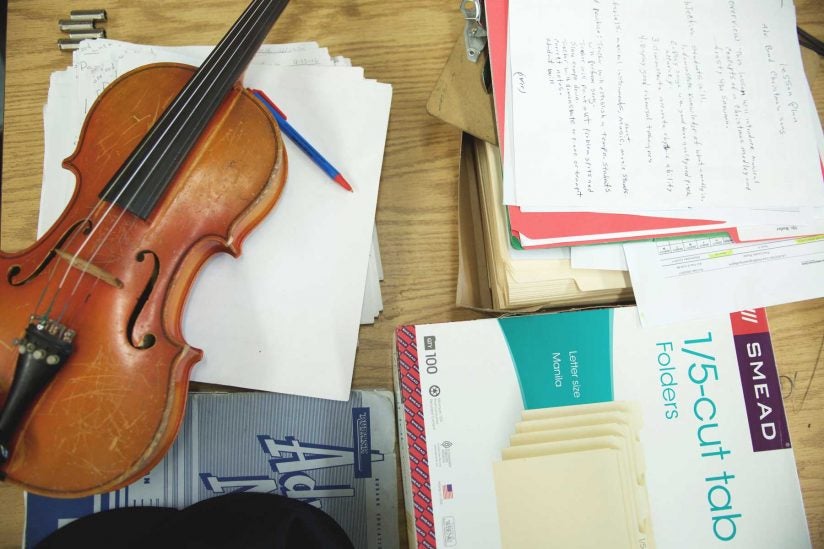 As Sussman worked on replacing the damaged D string, Mietus told the assembled 26 sixth-, seventh- and eighth-graders in the strings class that "Sarah Chang tours around the world and now you'll be playing on the same strings that she is."
Butler said he was grateful for the quality strings, adding that this initial donation could last as long as one year. Noting that his school is financially supportive of the music program, he said there is always a great need for updating instruments and keeping them in good repair.
"I know many schools struggle with that," he said.
Mietus said The String Bank founders fully intend to continue — and expand — the project beyond their college years. They would like to expand donations beyond Los Angeles and then look at instrument donations as well.
Sussman said the experience is having the additional benefit of creating a network of donating musicians while simultaneously making a difference in the community.
"I hope to be involved in The String Bank for a long time and watch the organization grow," he said.