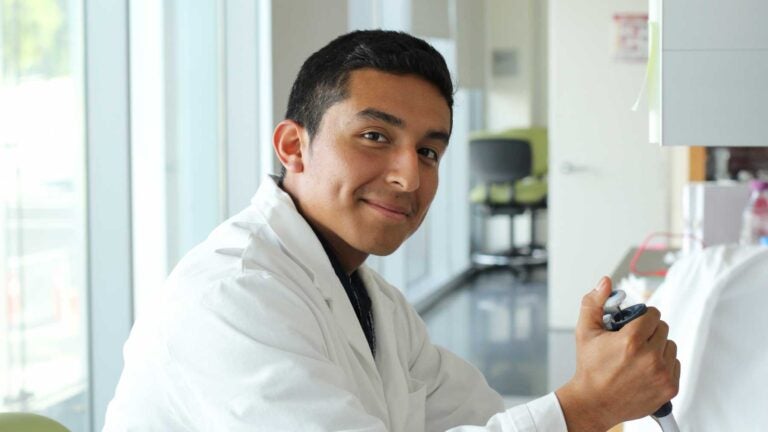 High school student gets an early start in stem cell research at USC
At 17, he's learning about kidney research and more as a summer intern in the lab of scientist Andy McMahon
Even though Richard Lopez is still in high school, he can already tell you a thing or two about the ureteric bud, the metanephric mesenchyme and the developing kidney.
More impressively, he was familiar with these terms before starting his summer internship in the lab of Andy McMahon, kidney researcher and director of the Eli and Edythe Broad Center for Regenerative Medicine and Stem Cell Research at USC.
"I knew I was going to come here," Lopez said. "So from December on, I was just reading papers that were written by Dr. McMahon's lab. And so I read about the development of the kidney, kidney organoids, experimental methods like in situ hybridization, immunohistochemistry, all that stuff. I'm really glad I did all of that because now that I'm here, I understand what's going on."
Molecular biology
Lopez undertook this intense preparation as part of the Science Research Program at his Connecticut boarding school, Choate Rosemary Hall. In addition to familiarizing him with the McMahon lab's research, the program provided experience with useful molecular biology techniques, ranging from gel electrophoresis to polymerase chain reaction.
Lopez didn't start his high school career at Choate. Growing up in Lennox near the Los Angeles International Airport, he attended local public schools until his sophomore year in high school. At that point, his exceptional scores on the California Standardized Test attracted the attention of the Young Eisner Scholar program, which empowers underserved students to fulfill their potential.
As an Eisner Scholar, he earned both admission and a full scholarship to attend Choate. But the decision to leave home wasn't easy.
"I was terrified at first, leaving everything behind," he said. "I talked to my mom about it, and at first she was hesitant because I was born and raised here, and I'm the only child. But then she realized that this is an amazing opportunity, and I can't let it go by."
Culture shock
Lopez recalls that Choate was initially in "a huge culture shock" — from the occasional Maserati to the international student body to the exceptional academic opportunities such as the Science Research Program that brought him to USC.
In the McMahon lab, Lopez has learned about the molecular signals that drive the branching development of the kidney, and he has practiced a wide range of lab techniques.
I'm really excited about science because I know its potential.

Richard Lopez
"I'm really excited and passionate about science because I know its potential," he said. "If you pair that with math, you have no boundaries. If you look at the lab where I'm working right now — creating kidney organoids, learning about kidney development, these kinds of things can solve really burdensome illnesses that are fatal to some people, like end-stage renal disease and polycystic kidney disease."
To get to the lab every day, Lopez bike commutes a total of 32 miles from his home in Lennox to USC's Health Sciences Campus. He's run the Los Angeles Marathon once and the San Francisco Marathon twice. In November, he's planning to travel to Florida to celebrate his 18th birthday with his first Ironman Triathlon — a 2.4-mile swim, 112-mile bike ride and 26.2-mile run.
He's participating in these events not only for fun and fitness, but also as a way to give back. He's currently raising sponsorship money for the Partnership Scholars Program, which provides underserved junior high and high school students with educational and cultural experiences, ranging from theatergoing to restaurant outings to college tours. His goal is to raise $54,000 to fund three new scholars.
"I was very lucky," he said. "So I want to raise money for the scholarships that have helped me out along the way."