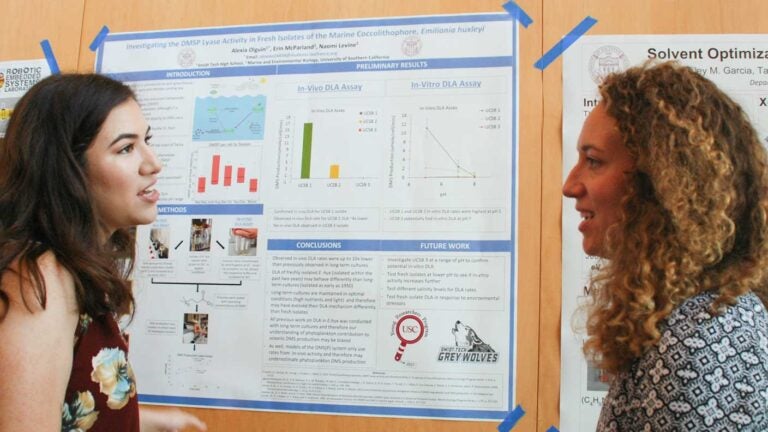 High schoolers get early glimpse of a career in science
USC grad students give juniors and seniors hands-on research experience and a taste of what a career in STEM fields could bring
Cindy Castellanos' face held a mixture of pride and awe as she watched her daughter speaking just a few feet away. Alexia Olguin, 17, was explaining how her research could help scientists understand why sea microbes called phytoplankton produce a gas that's important to Earth's climate.
Olguin was one of 15 students from high schools near USC's University Park and health sciences campuses participating in USC's Young Researchers Program this past summer. Mentored by graduate students, the high schoolers gained hands-on practice performing scientific research in USC laboratories.
"I really like the experience that she's [getting] in this," Castellanos said. "She's going to be able to use this later on."
Olguin was presenting her project at the program's poster session. The research at the USC Dornsife College of Letters, Arts and Sciences focused on a compound called DMS (short for dimethysulfide).
"DMS is important because it promotes cloud formation, blocks the sun's radiation and potentially cools the oceans' temperatures," said the junior, who attends Alliance Susan & Eric Smidt Technology High School in the Lincoln Heights area of Los Angeles.
Olguin was first drawn to STEM fields — science, technology, engineering and math — after taking an advance placement biology course. It was one of the few advanced science courses available to her. Smidt Tech is relatively small. With about 350 students, it is roughly one-quarter the size of an average California public high school.
"We don't get too many options with science classes," Olguin said.
When she heard about the USC Dornsife Young Researchers Program — and that it works to place participants on projects that align with their interests — she was hooked. The program, which is free to participants and pays them a small stipend, matched her desire to learn more about microbiology with a project headed by fourth-year PhD student Erin McParland.
Graduate student mentor
McParland is studying phytoplankton to understand why they make DMS, a compound that, when oxidized, acts as a natural cloud seeder. Scientists have known about naturally occurring DMS since the 1980s, but they still aren't sure what prompts the microbes to make it. Stress seems to be the most likely culprit.
"That's what my whole thesis is focused on," she said, "trying to get at what that stress mechanism is and what causes them to make more of the sulfur compound."
McParland, who became involved with the Young Researchers Program during her first year at USC Dornsife, is enthusiastic about giving the participants a leg up on a career in STEM — or not.
"The goal is to get them excited about science and doing hands-on research," she said. "They all have told us they have an interest in STEM, so we're trying to foster that. Almost none of them have had an opportunity to participate in a program like this."
But, she said, the experience might also help some decide science isn't for them, and that's OK.
"If you don't like science, that's totally fine," McParland said. "We want you to go to college and pursue something else that you do enjoy and can be successful with."
Castellanos sees the program bringing her daughter one step closer to becoming the first in her family to attend college, and to pursuing her dream of becoming a doctor.
"That would be amazing," Castellanos said. "That would really make me proud."