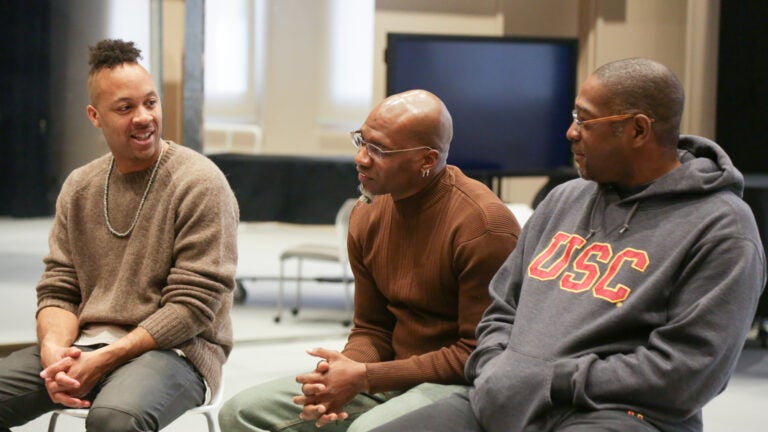 Hip-hop artists convene at USC Kaufman
Faculty members share stories with an award-winning dancer and an artist in residence
Five hip-hop dancers and educators at the USC Glorya Kaufman School of Dance shared stories and insights on the evolution of the art form. Visiting artist and award-winning breaker Raphael Xavier discussed the topic with faculty members Tiffany Bong, E. Moncell Durden, d. Sabela Grimes and faculty artist in residence Victor Quijada.
The speakers talked about the opportunities emerging dancers have if they master a wide array of dance languages.
"As choreographers, we know that dancers who don't have this information have more limitations to both train and create," Durden said.
Quijada, founder and director of the RUBBERBANDance Group, added: "For this generation of dancers, hip-hop is entering the world of established dance, just like jazz did in the '70s. You have the advantage of being exposed to this point of transformation. It makes you more hirable, even if you want to go into classical dance."
New steps
While working on new choreography as a visiting artist at USC Kaufman, Xavier reconnected with former colleagues.
Before becoming a professional dancer, he would visit Philadelphia to see Durden and Grimes perform. In 1997, he joined Grimes in the Rennie Harris Puremovement company. Five years later, Xavier founded his Olive Dance Theater, the same year that Quijada launched his current company. Quijada and Xavier have been sharing venues for nearly 20 years.
Xavier currently produces multifaceted works that include original choreography and music, and which are influenced by literature and theater. His new piece for USC Kaufman, which remains untitled, is set to the music of his own creation.
"I'm teaching the students the elements of breaking, but I'm not teaching them how to break," he said. "I'd like them to use that movement to expand their own thought process and actually create a hybrid form."
Spring performance
The piece that Xavier prepared with students grew organically, as his choreography was adapted to the body of each dancer. After teaching the movements, he evaluated the students and designed steps around their strengths.
"I would never have intersected with someone who would teach me how to break," said BFA freshman Rae Srivastava, whose main training has been in modern and contemporary ballet. "Learning his technique has helped me reshape the relationship that I have to the floor while dancing, finding avenues to twist my body over new points of support such as my hands, elbows, shoulders or back."
Xavier and Quijada will present their new work in the BFA Spring Dance Performance Apr. 26-28 at USC's Bing Theatre.