Imagery and remembrance: photos and artworks that define the Holocaust
USC experts consider the importance of these photographs and paintings — bringing immediacy to history and conveying the human cost.
Since 2005, the United Nations General Assembly has designated Jan. 27 an annual day of commemoration to honor the 6 million Jewish victims of the Holocaust and others who died at the hands of the Nazi regime and its allies.
"Part of the purpose of this day is to think about the actions that one can take to prevent genocide, and how to intercede in a timely way," said Stephen Smith, executive director emeritus of USC Shoah Foundation — The Institute for Visual History and Education and a visiting professor of religion.
The genocide was well documented, with images of concentration camps created by Nazi photographers emerging as early as 1933.
Scholars and artists use imagery to remember the trauma and bring a sense of immediacy to convey the human costs. At times, they also use the images to gain insight into the minds of perpetrators.
"If you teach human rights, the Holocaust is where you start. It's the paradigm of what constitutes a violation of human rights," said Alison Dundes Renteln, an expert on imagery in human rights and professor of political science, anthropology, public policy and law at the USC Dornsife College of Letters, Arts and Sciences. "People were so shocked by its atrocities that the world wanted to create standards to prevent this from ever happening again."
Holocaust photos provide important base for discussions
She added: "There are always images that accompany these discussions, whether it's in teaching a class or in documentaries, there are always images of people in the camps. The impetus for disseminating these images is to try to get people angry or disgusted or to elicit some sort of emotional response so they'll speak out or be mobilized to act."
Although much time has passed since the Holocaust, the hatred that led to the genocide never seems to fully recede.
This year's International Holocaust Remembrance Day comes just two weeks after Jewish worshippers were taken hostage at a synagogue in Colleyville, Texas. In the fall, the FBI reported the highest number of hate crimes in 12 years. Jews were targets in more than half of religious bias crimes in the U.S. in 2020, the last year for which FBI data is available.
Educators, activists and experts continue their efforts to educate and hopefully prevent further actsby providing art, imagery and testimonies that will resonate with people, evoke their empathy and a sense of moral obligation. "In a society that is increasingly divided, where siloed views can quickly escalate to violence, testimony is a transformative reminder of the power of listening," said Kori Street, interim executive director of USC Shoah Foundation.
The foundation's Visual History Archive preserves more than 55,000 accounts from Holocaust and genocide survivors and witnesses. Its evidentiary recollections are being augmented by a multi-dimensional, interactive experience. Dimensions in Testimony is a virtual reality experience currently available for visitors of the Museum of Jewish Heritage in New York to ask questions of Holocaust survivors that are interactive virtual reality versions of actual survivors. David Traum, director for Natural Language Research at the USC Institute for Creative Technologies, helped create the experience.
"The visitor has to put in effort to understand what is said, to think about the implications and come up with their own questions of what more they'd like to know," Traum said. "That can lead to the visitor being more invested in interpreting the answers to their own questions. We've seen visitors from young adults to seasoned journalists tear up with empathy for the survivors, even after asking them only a few questions."
Artworks join Holocaust photos in documenting the atrocities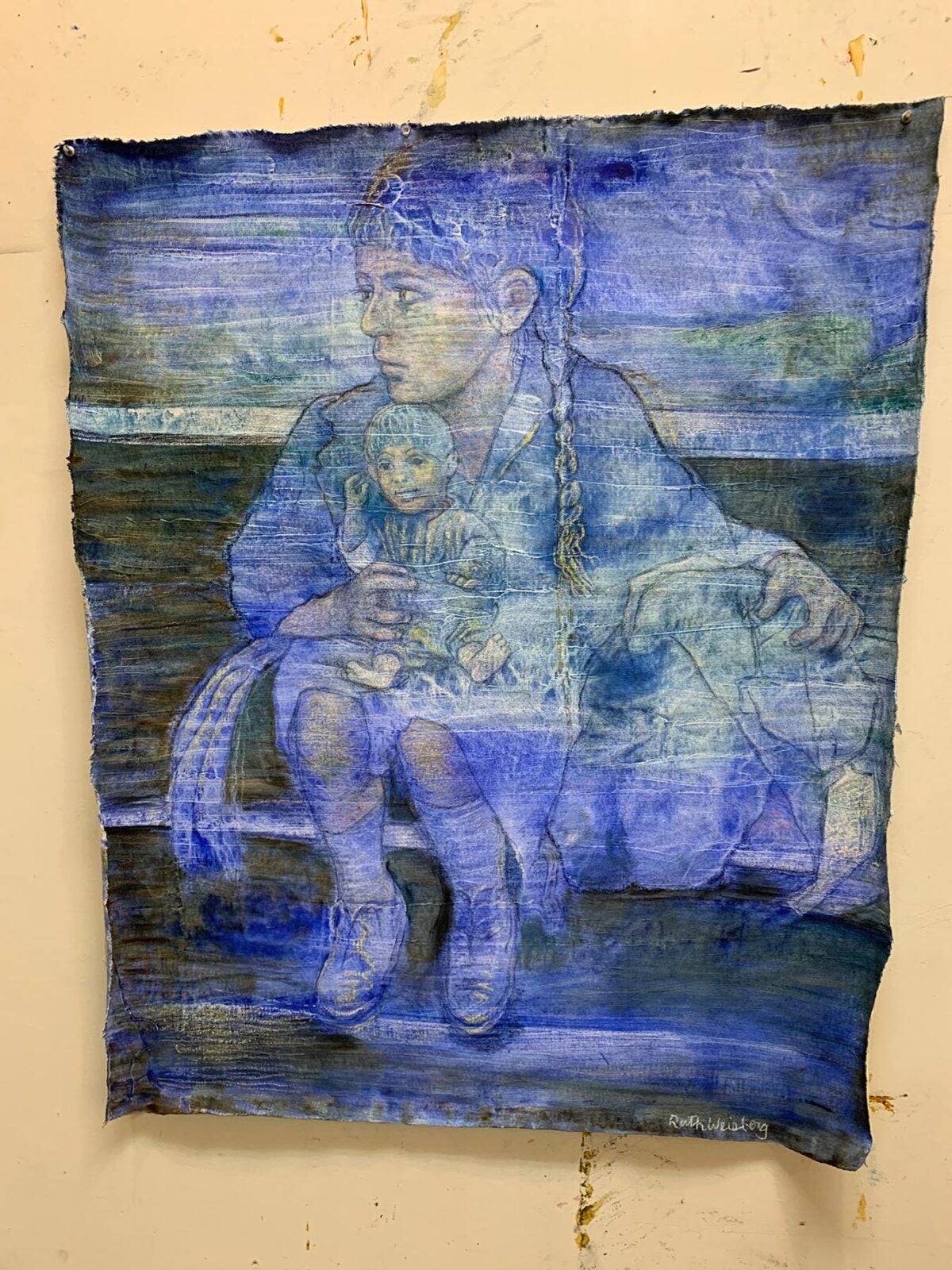 Images that spur sympathy, action and hope are not limited to VR or photography. Artists like Ruth Weisberg, professor of fine arts with the USC Roski School of Art and Design, have interpreted events surrounding the Holocaust and are so affected, the Holocaust has become central to their art. Weisberg's work focuses on the Kindertransport, in which 10,000 Jewish children were taken from Germany, Poland and Czechoslovakia to England. Her painting "Kindertransport Girl with Doll" is part of a series depicting Kindertransport children rescued in 1938 and 1939.
"When World War II was over almost all discovered that their families had perished in the Nazi concentration camps," Weisberg said. "I have been inspired by this history to record the images of these precious children. I'm deeply moved by the kindness and generosity of those who rescued 10,000 them, and I have depicted those who survived."
Weisberg, who directs the USC Initiative for Israeli Arts and Humanities, sees artistic interpretations of the Holocaust as powerful and, for Jewish artists, necessary for remembering and understanding.
"It's a pivotal moment in the 20th century, just understanding that massacre and the reasons behind it, the profound devastation, the profound loss. To be a 20th century artist, especially a Jewish one, and not deal with it or think about it, is kind of inconceivable. Art conveys meaningful messages about the human experience."