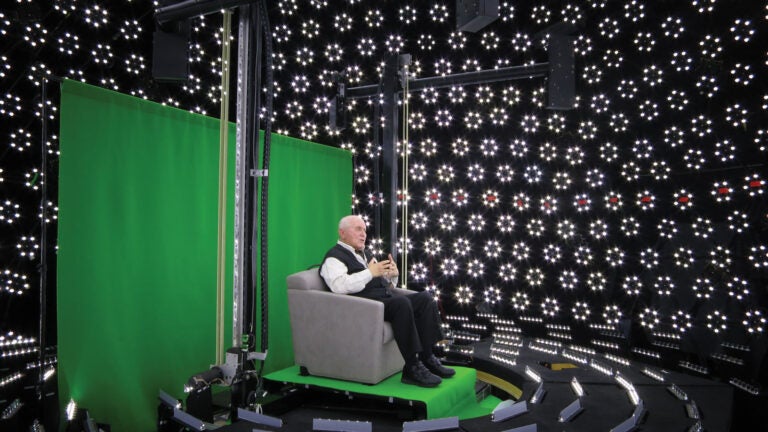 Holocaust Survivor's 3D Projection Keeps History Alive
An interactive 3D program allows students to engage firsthand with a Holocaust witness.
"Do you remember any songs from your youth?" the girl asks the man who sits before her.
"This is a lullaby that my mother used to sing to me," replies Pinchas Gutter, bursting into Polish song. The 81-year-old Holocaust survivor has a surprisingly fine voice. Beguiled, the girl smiles.
Their connection is palpable. It hardly seems to matter that Gutter is a virtual 3D projection.
Ever since the Nazi death camps were liberated, survivors like Gutter have been visiting classrooms around the world, sharing memories both joyful and painful, making the unthinkable all too real. Researchers and educators know that the best way to help kids learn about the Holocaust is to have a survivor visit a classroom and speak to them. But survivors cannot visit every classroom.
Enter technology. Transmitting these powerful, face-to-face encounters to future generations is the goal of New Dimensions in Testimony, a pioneering collaboration between the USC Shoah Foundation and USC's Institute for Creative Technologies, as well as the Del Mar, Calif.-based company Conscience Display.
Only about half-million Holocaust survivors are alive today, about 120,000 of them in the United States. Their average age is 79.
"The clock is ticking," says Anne-Marie Stein, communications director at the USC Shoah Foundation. "In another 20 years there'll be no survivors left."
But Gutter will keep speaking—and singing—in digital form. Last year Gutter, who lives in Toronto, spent 12 hours on a 3D light stage at ICT's Playa Vista, Calif., headquarters, answering hundreds of questions while an array of high-definition cameras filmed him from seven angles.
Visitors to the 2013 SIGGRAPH conference—the computer graphics world's annual news-making mega event—got an early glimpse of what's possible: They viewed a 10-inch-high version of Gutter using next-generation technology called an automultiscopic display, and they didn't need 3D glasses to do it. Builders are now constructing a life-size version of the system so it can be brought into classrooms and small auditoriums.
But visual technology is just a part of the project. Just as remarkable, Stein says, is that kids can ask the virtual Gutter about a range of topics. With the help of voice-recognition processing and natural-language technology developed at ICT, the virtual survivor understands and responds appropriately to viewers' questions.
It helps that researchers have watched and taken note of the questions students typically ask survivors at schools and other sites. (The most frequent ones involve revenge, God, justice and survival.) The system learns from previous question-and-answer pairs through artificial intelligence, notes ICT natural language expert David Traum. If someone asks an unanticipated question, the software selects the most relevant answer or just redirects the chat.
"At its worst, a conversation could seem like a politician who stays on message no matter what," Traum says. "But at its best, this technology can give people an individualized way to learn, allowing them to get answers to questions in the order they want to ask them."
In time, these digital survivors will be able to recognize raised hands and make direct eye contact with the questioner. Plans call for nine more virtual survivors to be built and deployed in interactive installations at the U.S. Holocaust Museum and other educational settings.