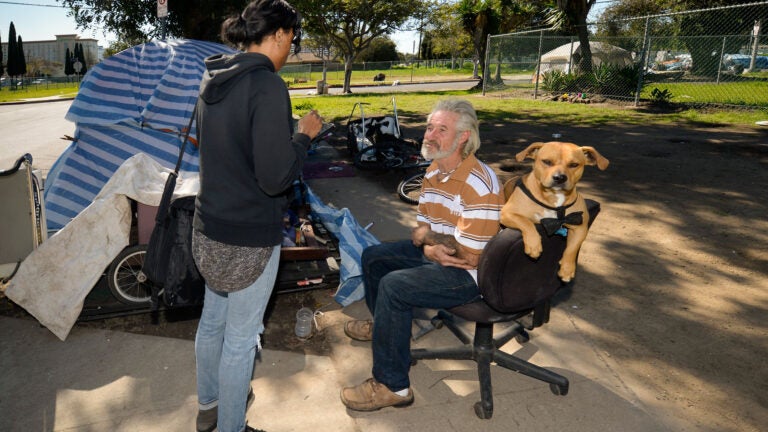 Homeless count drops 3 percent in L.A. County since 2016
Funds from two voter-approved measures for services were credited for advancements against the L.A. crisis
The number of people experiencing homelessness in Los Angeles County dropped to 53,195 in 2017, according to data analyzed by USC researchers in partnership with the Los Angeles Homeless Services Authority (LAHSA). The number represents a 3 percent decrease compared to 2016. In the city of Los Angeles, the drop was 5 percent.
The data was released at a news conference held Thursday by LAHSA and elected officials including county Supervisor Mark Ridley-Thomas.
"A 3 percent reduction in the homeless count means we are on the right track, but this is no time to rest," Ridley-Thomas said. "We should use this momentum to accelerate our efforts … to scale up our compassion and innovation. These numbers are a call to action to every resident of Los Angeles County to join in the fight to end homelessness."
Funds from two voter-approved measures for services were credited for advancements against the L.A. homelessness crisis.
Counting on the front lines
The numbers were drawn from the annual Greater Los Angeles Homeless Count. The best-known part of the effort is conducted in January by thousands of volunteers covering streets, alleys, underpasses and open spaces where homeless people take shelter. Private property and abandoned buildings are not explored.
The city, county, police and sheriff department participate, along with agencies from across the region. This year's volunteers included 370 from USC.
The three-day January count is the best-known segment of a complex research and outreach endeavor that goes on throughout the early part of the year.
Listening to the homeless
For the second consecutive year, USC researchers gathered and analyzed data for L.A. County's annual homeless count, in a partnership with LAHSA. The numbers, which are reported to the federal government, ultimately help determine funding for services.
USC's partnership with LAHSA began as the university launched an initiative to end homelessness, bringing together research and resources to fight one of the city's most intractable problems.
"Our goal is to provide the best estimates of our homeless population for the purpose of policy and planning," said Assistant Professor Benjamin Henwood of the USC Suzanne Dworak-Peck School of Social Work.
Henwood served as project lead for a team of more than a hundred USC student workers who conducted over 5,000 in-depth surveys with homeless adults and youth. The volume puts the count on par with surveys that are national in scope.
"It's important to listen and get their perspective," Henwood said. "It's not just about numbers. There's engagement that goes on, and that's an important part of collecting accurate information."
Data released May 31 highlights some of the most significant findings of the count, with a full analysis to be released later this month.
Myths about homelessness conflict with data
The perception that many homeless people recently moved to L.A. proved inaccurate, with three-fourths of the population saying they already lived here when they became homeless. Other widespread beliefs also conflicted with researchers' conclusions.
"The results show that common assumptions — that the majority of the people want or choose to be homeless, that they are homeless mostly because of drugs or that they move to Los Angeles to be homeless — are not supported by data," Henwood said.
Henwood led a team of USC student workers, paired with men and women from Chrysalis Enterprises. Chrysalis's mission includes securing employment for people who have experienced or are experiencing homelessness. The teams conducted demographic surveys that tallied homeless adults and youth.
The surveys were used as an opportunity to gather information and then share it. Survey teams distributed health information, including facts about how to stop the spread of hepatitis A. In January, an outbreak of the disease hit the homeless populations especially hard.
"We try to engage vulnerable people with sensitivity to the trauma they've suffered," Henwood said. "People on the streets are guarded. If they understand what we are trying to do, we are more likely to earn their trust."
Analyzing the data
Data from the homeless count is analyzed by the USC Schaeffer Center for Health Policy and Economics. Experts like Patricia St. Clair, director of the center's Data Core, break the numbers into categories that help LAHSA understand how best to allocate resources and serve the homeless population.
"I like to see what stories the data tells," St. Clair said. "This project really inspires me because it's a huge problem here in Los Angeles. Whatever we can do to help to solve it, that makes it easy to get motivated to do this work."
For months, St. Clair and her colleagues are buried in data, categorizing and dividing it to understand key components of the homeless population including age, race, ethnicity, chronic mental or physical health problems, HIV status, veteran status and the length of time persons have experienced homelessness.
Services received, including Medicaid, food stamps and general relief, are also examined, along with the reasons for homelessness. Common factors include unemployment or other financial issues, family conflict and disabling chronic conditions.
USC pushes for solutions
The USC initiative to end homelessness has strengthened since it was launched two years ago.
Earlier this year, the USC Price Center for Social Innovation launched the Homelessness Policy Research Institute, a partnership with United Way of Greater Los Angeles. Harnessing talent from more than 30 policymakers and experts from the fields of social services, real estate, economics, housing, health care and social services, the institute will deliver rapid-response policy research to help service providers on the front lines.
"The urgent need to reduce the number of individuals experiencing homelessness in Los Angeles County requires a new model of collaboration between researchers and policymakers," said Gary Painter, the director of the institute, when its launch was announced.
In April, the university hosted its second Summit on Ending Homelessness. Researchers, service providers, local government officials, community activists, and business leaders exchanged ideas and pitched new solutions.
"The summit brought together an amazingly diverse mix of 400 people who care about homelessness," said Brenda Wiewel, director of USC's initiative to eliminate homelessness. "They met collaborators, adding new partners and coming up with promising approaches. They also got a good dose of inspiration to maintain the momentum needed to end homelessness."
Causes of homelessness persist
Still, three-fourths of people experiencing homelessness in Los Angeles County are unsheltered. The forces that drive homelessness are unabated. The county needs more than a half-million affordable housing units, and L.A. is among of the country's least affordable housing markets.
"The most recent census of homeless people in Los Angeles shows the problem remains frustratingly high," said Michael Cousineau, professor of clinical preventative medicine at the Keck School of Medicine of USC and an expert in the health needs of homeless populations. "A complex array of social policies must be enacted and implemented encompassing housing, health, job creation, addiction treatment and mental health care, along with a system to connect people to what they need to rebuild their lives."