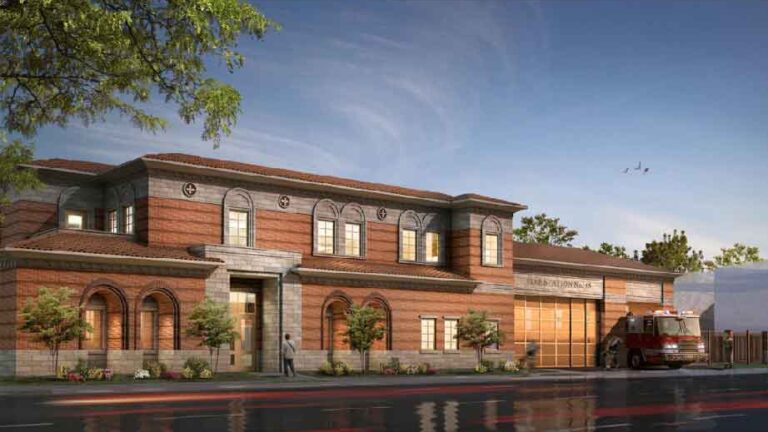 Officials break ground on Fire Station 15
New facility to open next spring
USC leaders joined the men and women of the Los Angeles Fire Department (LAFD) and civic and community officials at a groundbreaking ceremony on Feb. 13 for the new city of Los Angeles Fire Station No. 15 near USC Village.
Among the city leaders were L.A. City Attorney Mike Feuer, Councilmembers Curren Price, Mitch Englander and Fire Commissioners Delia Ibarra, Jimmy Hara and Jimmie Woods-Gray.
Fire Station No. 15 services, currently located at 915 W. Jefferson Blvd., will be moved within a two-block proximity to 3000 S. Hoover St., at the corner of Hoover and 30th Street.
The new facility, sporting an Italian Romanesque design, will sit on an acre of land three times the size of the existing station and is scheduled to open in spring 2015.
USC President C. L. Max Nikias thanked the city officials, acknowledging firefighters and first responders who have serviced the West Adams district for more than a century, and he expressed the university's deep appreciation for their service.
"While we can never put a price on a life saved, it is also difficult to assign value to the peace of mind that a fire department provides to its community," Nikias said. "We are proud to have been able to provide a home for this historic station, as well as a new home for it in the future."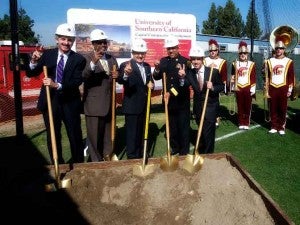 Price commended Nikias and the LAFD for the partnership in helping to build a new station that has an impact on thousands of lives in the surrounding community.
"This new station is going to help ensure that technological and operational needs of the firefighters and of the community are going to be met," Price said.
The contemporary upgrades in the station will help responders keep pace with new developments and protect prominent sites such as the Los Angeles Memorial Coliseum, Shrine Auditorium and Expo Park.
Upgrades include a "drive-through" section for fire trucks and engines to improve response times and separate living quarters for female firefighters.
"We appreciate [President] Nikias' being able to commit USC to making us the finest fire service in the nation," said Interim Fire Chief James Featherstone.