How do you create a dance building from scratch?
Extensive research, superlative design and strong oversight yield an uncommon USC Kaufman building, dean of operations says
The promise of a large, empty site and a new way to look at dance education offered a clean slate — and an overwhelming number of choices — to those planning the Glorya Kaufman International Dance Center. How to distill the many tantalizing possibilities into the best possible home for the USC Kaufman School of Dance came down to one time-consuming activity: research.
Jeffrey de Caen, the associate dean of operations for USC Kaufman and the USC Thornton School of Music, had overseen several major construction and renovation projects for music buildings on campus, but the prospect of building a state-of-the-art dance center required him to do more than a bit of homework. Prior to the 2014 groundbreaking for the dance center, de Caen had put in well more than a year of research across the country and in Canada.
He started by examining each of the dozens of past projects mentioned by the six architectural firms bidding for the job. He then visited dance buildings at four other universities, Southern California performance and rehearsal spaces used by dance companies large and small, and expansive performing arts venues, including the Los Angeles Music Center and Anvil Centre in Vancouver. He researched technical specifications and construction standards by speaking to construction managers and building maintenance directors at locations, including the Juilliard School, the Alvin Ailey Citigroup Theater and New York City's Joyce Theater. He carefully studied a dance studio survey conducted by the National Dance Teacher's Association on "Building Schools of the Future."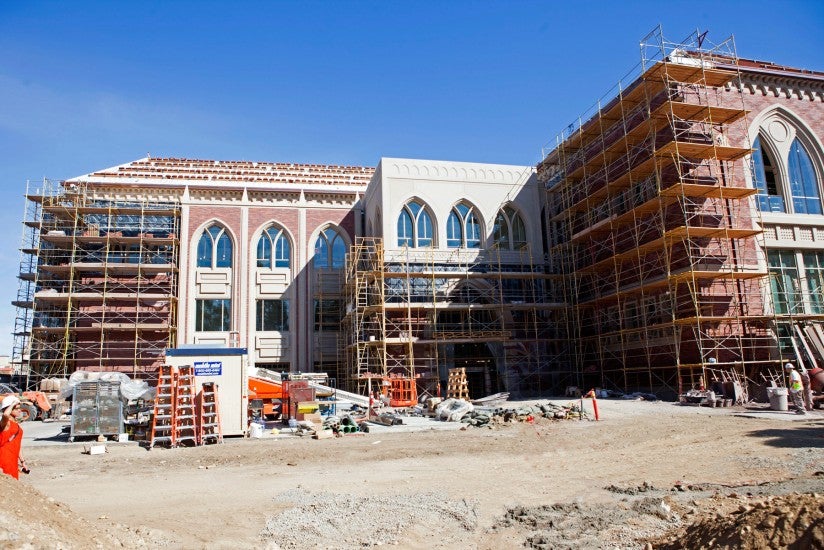 And he, building namesake Glorya Kaufman and USC Kaufman Director Jodie Gates toured the Houston Ballet headquarters, where they were inspired by the in-depth planning that had been done for the building, its spatial flow and the aesthetics achieved.
A 'palace for dance'
This deluge of information has resulted in USC creating a "palace for dance," as USC Kaufman Dean Robert Cutietta calls it, for the university's first new school in 40 years established through an endowment. It's a building that has been exhaustively thought out in terms of layout, construction features, electronics, sound isolation and finishes — with special attention to how it will serve the innovative, multidisciplinary dance curriculum. The just over 54,000-square-foot structure, on schedule to be completed early this summer, will welcome classes in August, with a ribbon-cutting ceremony slated for Oct. 5.
De Caen said the project first had to wait for the Engemann Student Health Center to be finished and the demolition of the center's former site between Jefferson Boulevard and West 34th Street.
"That was the silver lining in the process," he said. "It bought time to do the research."
Among other things, that research resulted in "floating" floors that provide enough support and spring for dancers, but are isolated so sound and vibrations from music and dancers' movements will not be heard in other rooms.
"It's amazing to think that the studio concrete floors do not touch the sidewalls or slab foundation," de Caen noted. A larger performance studio includes retractable seating for 140 persons, high-definition video projection equipment, theatrical lighting and the ability of a full-length scrim to descend from the room's pipe grid to the floor.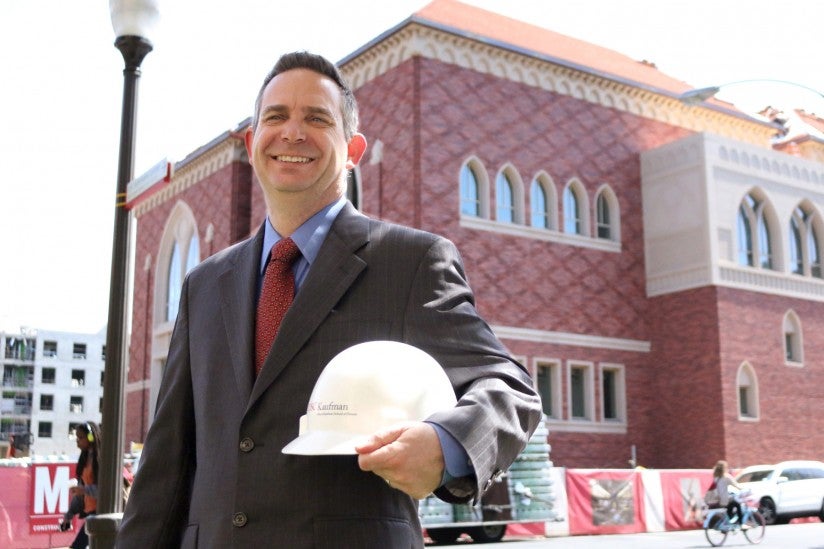 There are similar innovations in the stereo sound systems throughout the building, a generous supply of up-to-the-minute electronics in each classroom and amenities such as dance-specific, fitness and flexibility-focused training equipment.
(See an online brochure about the building featuring renderings of the completed interior spaces.)
The extensive research, superlative design, deeply committed consultant and contractor teams, and input from Gates, Cutietta and Kaufman are adding up to an extraordinary building, de Caen said.
"The flowing interior design celebrates movement and the expanse provides one with a sense of lift, just as Glorya Kaufman intended," he said.