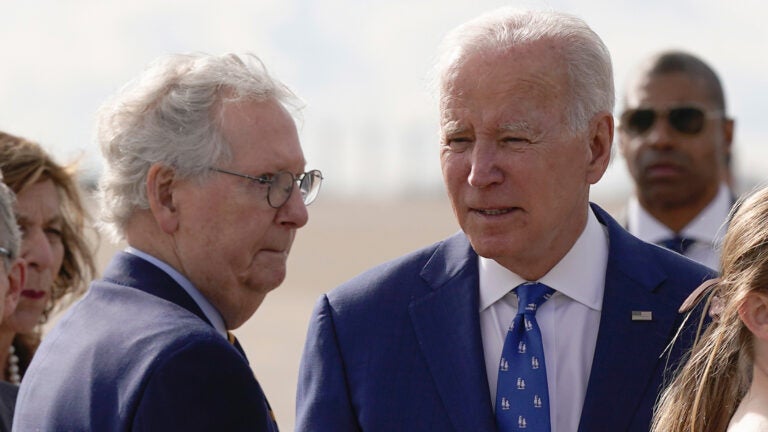 How old is too old to be president?
The candidates' ages are a concern for many ahead of the 2024 elections, but significant life experience has its advantages, USC experts say.
Suddenly, it seems like our most prominent elected officials are quite … elderly. In the next presidential election, we may be choosing between the oldest president ever (Joe Biden, who would be 82 at the start of his second term) and the second oldest (Donald Trump, who would be 78 at the start of the term). The advanced age of candidates and incumbents, and the duration of their tenure, is striking: Think Mitch McConnell, Nancy Pelosi, Mitt Romney and the late Dianne Feinstein.
There's a reason for this, according to USC experts, and it's a mixture of good news and bad news for our democracy.
"To get elected today, a candidate needs massive amounts of money and name recognition, both of which are hard to acquire without significant life experience," said Kamy Akhavan, executive director of the Center for the Political Future at the USC Dornsife College of Letters, Arts and Sciences. "While there are some members of Congress who are millennials and even Gen Z, there are also freshmen Sen. John Hickenlooper, 71, and Sen. Bill Hagerty, 64. They both had many years of political and business experience before running for Senate."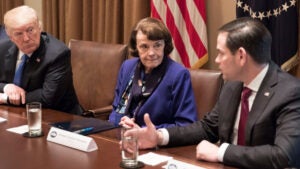 Earlier this year, the Pew Research Center released a report showing that the average age of voting U.S. House members has dropped slightly, to 57.9 since 2022, when the average age was 58.9. Meanwhile, the Senate's average age rose to 65.3 years, up from 64.8 in 2022.
"To get more age and ideological diversity in our political pool, we need to lower the barriers to entry (money, party endorsement and name recognition) so amazing, accomplished and public service-oriented problem solvers who are not millionaires can have a chance to earn our votes," Akhavan said.
Similarly, Dora Kingsley Vertenten, an election campaigns expert with the USC Price School of Public Policy, observes that our political system favors the "professional officeholder, who tends to be older."
"As public life becomes more toxic in the current era, fewer quality candidates — including young and middle-aged individuals — are willing to expose themselves, or their loved ones, to the danger," Vertenten said. "The lack of new talent running for office is a sad commentary."
Old candidates: How old is 'old,' anyway?
Each time Biden trips, or McConnell "freezes," the questions start again: Are they fit to serve? Can Biden make it through a second term?
USC experts don't think age itself is a limitation. For one thing, a person's "biological age" may be quite different from his or her chronological, or calendar, age.
"Biological age is more important than chronological age when evaluating a person's cognitive and physical ability," said Andrei Irimia, an expert on genetic and environmental factors in aging and an associate professor at the USC Leonard Davis School of Gerontology. "Persons who live healthy lives and who stay engaged with their careers in ways that they find rewarding are more likely to have biological ages younger than their chronological ages."
Irimia's colleague Jennifer Ailshire, an associate professor with the USC Leonard Davis School and a fellow with the USC Schaeffer Center for Health Policy & Economics, agrees. "A momentary lapse in memory or focus does not necessarily mean someone is experiencing significant cognitive decline," she said.
"In my research, I've seen many older individuals start to experience physical declines in their 70s — but there are people who avoid these declines. As long as someone is up to the task, I don't see why age should be a limiting factor in an election."
A 'wonderful reservoir of older adults'
Laura Mosqueda, a professor of family medicine and geriatrics at the Keck School of Medicine of USC, sees ageism at work in the idea that an elderly person might be too frail to survive a term in office.
"The glory of aging is that our depth of understanding, compassion and wisdom grows because it is based on a lifetime of experiences," she said. "The reality is that we can go downhill fast at any age — but we prefer to live in the fantasy that it only happens to old people.
"Other societies value their elders, and it is a shame that the predominant view in the U.S. now seems to be that older adults are a step away from going downhill fast. Ageism prevents us from utilizing this wonderful reservoir of older adults who can provide guidance, particularly during these times of turmoil."
Political campaigns expert Vertenten believes that the extensive life experience that comes with age is attractive to the electorate. When elected officials exhibit a "senior moment" in the public eye, it makes them that more appealing, Vertenten said.
"Biden's age is easily understood by a populace concerned for their parents living longer and aging in place," said Vertenten. "Similarly, concern among some voters about McConnell's 'freezing' spells is an extension of our worries for elderly loved ones, not a reason for him to step aside. Concern for the occasional public struggle is a natural extension of our humanness."