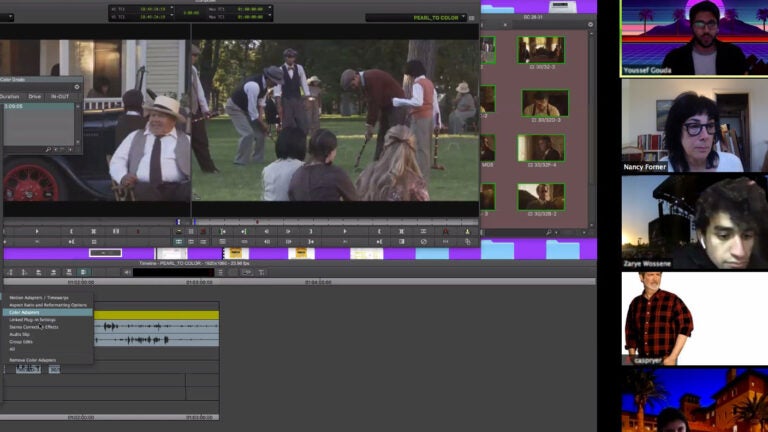 USC School of Cinematic Arts faculty teach students — and themselves — how to edit from home
Nancy Forner and her team at the film school have fought through initial complications to bring her editing classes to life online.
Making a movie or television show requires a crew to shoot, produce and edit the final product. So what happens in an era of social distancing when directors don't have casts, cinematographers can't shoot film and editors lack footage and access to editing stations or software? If you're USC School of Cinematic Arts Professor Nancy Forner, you get very creative, very quickly.
Once Forner learned that USC's campus wouldn't reopen after spring break because of the coronavirus, she and a team of faculty, staff and student assistants spent long days adjusting and adapting the curriculum to online teaching. Along the way, they figured out some innovative hacks to the Zoom teleconferencing platform.
The USC School of Cinematic Arts is renowned for its faculty and for facilities that rival those of major film and television studios. The editing faculty are all experienced professional editors, and the production labs are home to over 200 stations offering Avid — the industry's leading editing software — and a "genius bar" staffed by an Avid-certified trainer. Packaging all that technology and expertise for online consumption presented a unique challenge.
"Teaching editing is not merely lecturing about creativity," said Forner, head of the school's editing track and the Michael Kahn Endowed Chair in Editing. "Editing is a marriage between art and science."
Editing is a marriage between art and science.

Nancy Forner
Technologically, there are many complicated steps involved in getting footage from the camera into the editing software, then creatively editing it and preparing it for a broadcast or theatrical release.
"Beyond the technical knowledge, editors exercise creative skills to determine in what way to tell the story. An editor has every angle and every shot at their disposal," Forner said. "It's up to them to figure out how to treat and manipulate that footage to create the finished piece."
In addition, in the classroom and in the labs, students share footage, describe their decision-making process and elicit feedback from peers. Those interactions — featuring highly sophisticated, hands-on skills — don't easily lend themselves to a virtual environment.
Teaching students how to edit online keeps USC School of Cinematic Arts faculty at alert
Transitioning to online teaching was a daunting task that began with multiple emails to faculty and students on how to use Zoom, a platform that most people didn't know existed. To further help the community adapt to this new environment, Assistant Professor Jeremy Deneau created a manual, "How to Zoom and Edit from Home."
Even more concerning was getting laptops into the hands of students who needed them, ensuring that computer operating systems were up to date, and licensing and providing access and download instructions to the Avid software. To add to the complications, there were compatibility issues between the laptops and the software and the genius bar had to be recreated in an online format and at added expense.
Those kinks in the normally smooth operating system have kept Forner's two graduate student assistants on their toes.
It's been a little bit like guerilla filmmaking.

Tucker Hampson
"It's been a little bit like guerilla filmmaking," said graduate assistant Tucker Hampson, a key resource for Avid issues. "Transferring these very large, data-laden files to classmates and faculty has been a challenge."
Graduate assistant Youssef Gouda concurs. "We've had to deconstruct our workflows and find new workarounds," he said. "It's time-consuming, but luckily everyone's been incredibly patient."
With social distancing and stay-at-home orders in place, a huge obstacle became finding film to edit. Legally, students were prohibited from accessing the school's vast library of feature films outside of the Avid lab, and they couldn't leave home to shoot original film. What do you edit when you don't have footage?
Fortunately, one student recommended EditStock, a resource that sells unedited film footage for practice editing and building a demo reel. Forner was able to get the funding and permission to purchase what was needed, and Adjunct Associate Professor Roeban Katz helped streamline the process by writing the technical instructions for downloading and integrating that footage into Avid.
The technological challenges of online editing classes
Classes have been running virtually for a few weeks, but certain technological challenges remain. The Zoom platform can lag on a slower internet connection, so users don't always see things in real time. That's troublesome when you're trying to follow someone demonstrating film cuts and attempting to learn about timing and pace.
Add to that the everyday technology issues: computers that crash, unstable internet connections and overloaded servers.
"At times, the entire process has gone haywire," Gouda said. "We had a student log into Zoom from his car one morning, and another student battling spotty internet has been connecting from different Starbucks drive-thrus."
Working virtually has definitely affected Forner's teaching style. Sitting side-by-side with students at the Avid editing station and observing them work is no longer an option, but Hampson has found a hack.
"Zoom's Remote Control feature allows you to take over someone's desktop," he said. "It's almost like the platform had editing in mind."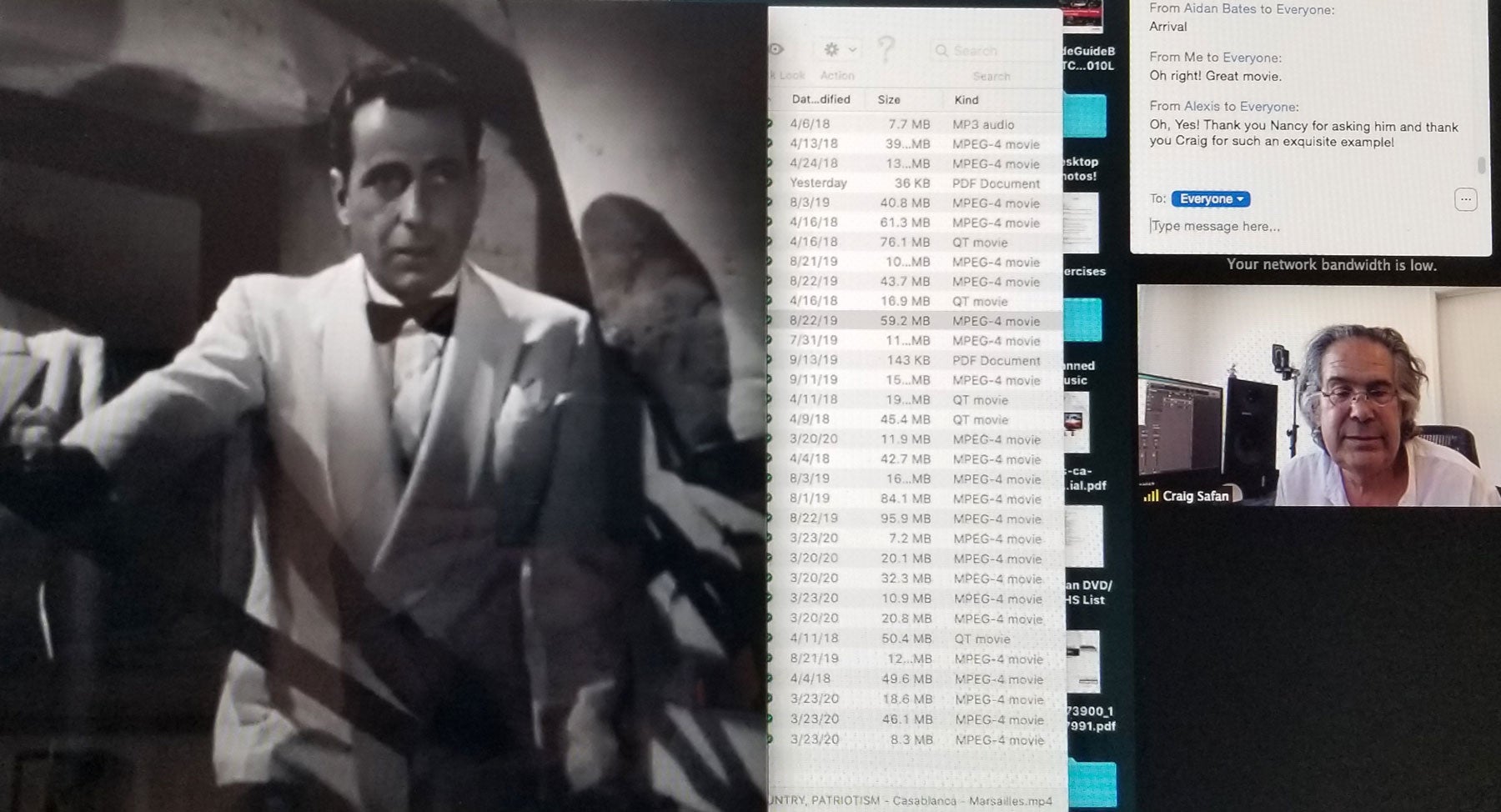 Another upside: Bringing in guest speakers is far simpler. Acclaimed composer Craig Safan recently "Zoomed in" to speak about how music is used in the moviemaking process.
The upsides of learning to edit online
Although these are trying times, positive outcomes are happening. Students are learning what they need to learn, and the films coming out of the program are great. According to Forner, everyone has pulled together to deliver the best learning experience possible.
"The faculty are the heroes in this process, especially Professors Reine-Claire Dousarkissian, Jeremy Deneau and Roeban Katz. I can't thank them enough for continuing to deliver the high level of education the students deserve," Forner said. "And the students, they have been such troopers."
Gouda, who has spent hours managing tasks that used to take minutes, agrees.
"Students are definitely learning how to collaborate in difficult circumstances — that muscle is vehemently being exercised," Gouda said.
For Cooper Lanning, who graduates in December, the takeaway from the experience is twofold: "I've become more open to change, and I'm much more appreciative of in-person classes. It's important to learn face to face."