Impact of Assignment: Earth on USC campuses already evident
GREEN WEEK: The university has made tremendous strides since announcing its all-encompassing sustainability framework five months ago.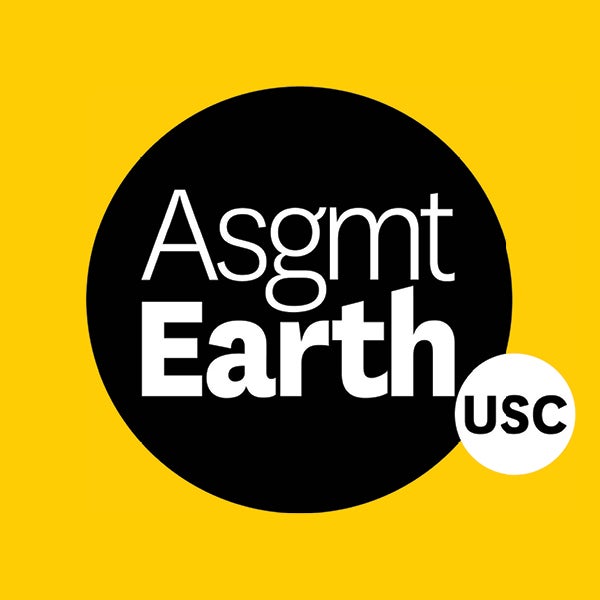 Assignment: Earth has achieved liftoff. In the five months since USC announced its all-encompassing sustainability framework, the university has made enormous strides toward achieving its goal of being climate neutral by 2025:
• A new agreement with the L.A. Department of Water and Power transitioned a quarter of the university's electricity usage to solar-generated power.
• Single use plastic bottles were eliminated at USC-run events, dining halls and restaurants on July 1, resulting in a dramatic decrease in usage and waste.
• Future buildings and renovations will be designed in line with new innovative sustainability guidelines.
• The USC Office of Sustainability released the results of its first campus sustainability survey, which will become an annual project.
Sustainability conferences held by the Los Angeles Business Council, the Association for the Advancement of Sustainability in Higher Education and others have tapped USC policy and research experts to provide insight into how to address the challenges posed by climate change. This leadership begins from the top but will require a collective effort to be successful.
Momentum for greater sustainability universitywide has been building up to USC's second annual Green Week, which began Saturday with the yearly Zero Waste football game. Green Week, created at USC, includes a series of sustainability events that engage students, faculty and staff in Assignment: Earth.
Everybody has told me, 'You can't just talk about it, you have to do it.' This change starts with us.

Carol L. Folt, USC president
"What I love about Assignment: Earth is its scope," USC President Carol L. Folt said at a recent summit on sustainability. "USC students, faculty and staff came together as a presidential task force with huge ambitions. Everybody has told me, 'You can't just talk about it, you have to do it.' This change starts with us."
Sustainability projects include USC-LADWP agreement for solar power
USC recently announced a new agreement with the L.A. Department of Water and Power to purchase the equivalent of up to 25 megawatts of power and renewable energy credits from the Springbok 3 solar power plant in Mojave. Additionally, USC became the first institution to participate in the LADWP Clean Energy Adder program, which will fund clean energy initiatives in disadvantaged communities.
The new solar agreement, which will cover approximately 25% of the university's electricity usage, builds on previous installations of solar panels on the rooftops of the Galen Center, Cardinal 'N Gold apartments and the Wrigley Marine Science Center on Catalina Island.
"This new agreement marks a major milestone toward reducing our environmental impact and realizing our goal of achieving climate neutrality," USC Chief Sustainability Officer Mick Dalrymple said. "By taking this step, we hope to set an example for other L.A. institutions to seek out aggressive solutions to the climate crisis."
Reducing plastics on USC campuses among sustainability projects
During the summer, USC's new policy to eliminate the use of single-use plastics went into effect and had an immediate impact. Dalrymple said the university has averted purchasing over 570,000 plastic beverage bottles.
The policy currently applies to university beverage purchases, any functions or events held in association with USC on university property, and all facilities and operations across the University Park and Health Sciences campuses. Dalrymple anticipates about 90% of plastic bottles will disappear from USC as schools and administrative departments stop purchasing non-biodegradable plastic bottles.
"By transitioning to more sustainable beverage containers like aluminum or glass, we can stem the tide of plastics filling our landfills and our bodies," Dalrymple said. "We have already eliminated a dramatic amount of plastic waste in just a few months. Between this reduced reliance on plastic containers, the continuing deployment of multi-stream waste bins across both USC campuses and other initiatives, the university is well placed to achieve its waste goals outlined in Assignment: Earth."
Green architecture guidelines
USC Facilities Planning and Management released new architectural standards this July, which incorporate minimum requirements, best practices and aspirational measures for future building and renovations on USC buildings. Structures that are under construction, such as the Dr. Allen and Charlotte Ginsburg Human-Centered Computation Hall, will be subject to more rigorous guidelines to assess their environmental impact.
"USC's new guidelines, created through a collaborative process, will guide and inform our design and construction partners to ensure that we integrate sustainable measures and methods into our projects," said Chris Toomey, Facilities Planning and Management vice president and executive director. "These policies will evolve along with USC's sustainability efforts to incorporate user feedback and new sustainable practices. The impacts of climate change will affect us all, and embedding sustainability in our building practices is just one way we support Assignment: Earth and make an impact."
The USC Sustainability Design & Construction Guidelines will serve as a one-stop shop for project managers, architects, engineers and construction contractors building new, highly energy-efficient buildings. The guide defines roles and responsibilities, and provides for an environmental life cycle analysis of project materials and a life cycle cost analysis to identify cost effective design options.
Survey shows community support for sustainable practices
The university issued its first annual sustainability survey to engage the USC community and inform education programs, key components of the Assignment: Earth framework. Completed by nearly 5,500 USC students, postdoctoral researchers, faculty and staff, the results establish a baseline for measuring progress on Assignment: Earth goals tied to sustainability literacy, culture and behaviors.
The survey found that 70% of respondents have a moderate or strong interest in learning more about sustainability practices. Most respondents demonstrated they are climate change literate: Nearly all understood the differences between renewable and non-renewable energy sources, for example.
Respondents also noted that they wanted increased engagement from the university and additional sustainability efforts.
"These exciting results indicate that we can create positive changes for sustainability at USC just by increasing sustainability curriculum and engagement," said Julie Hopper, data analyst for the Office of Sustainability and author of the report.