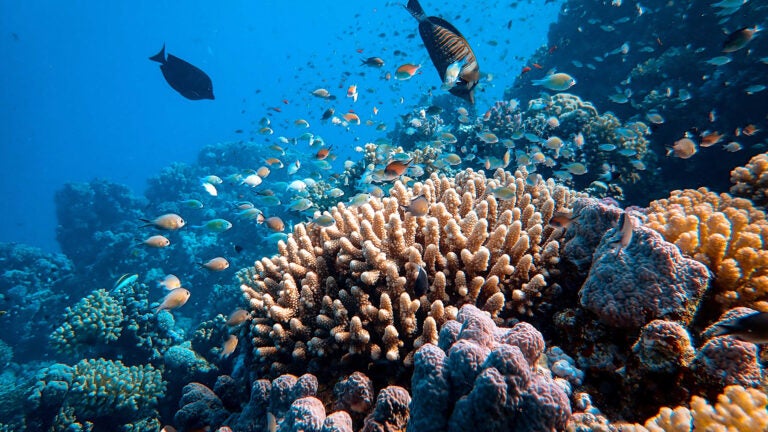 Looking beyond the beauty of coral reefs
EARTH MONTH: The USC Fisher Museum of Art hosts a conversation about coral reef ecosystems and resilience in face of rising water temperatures.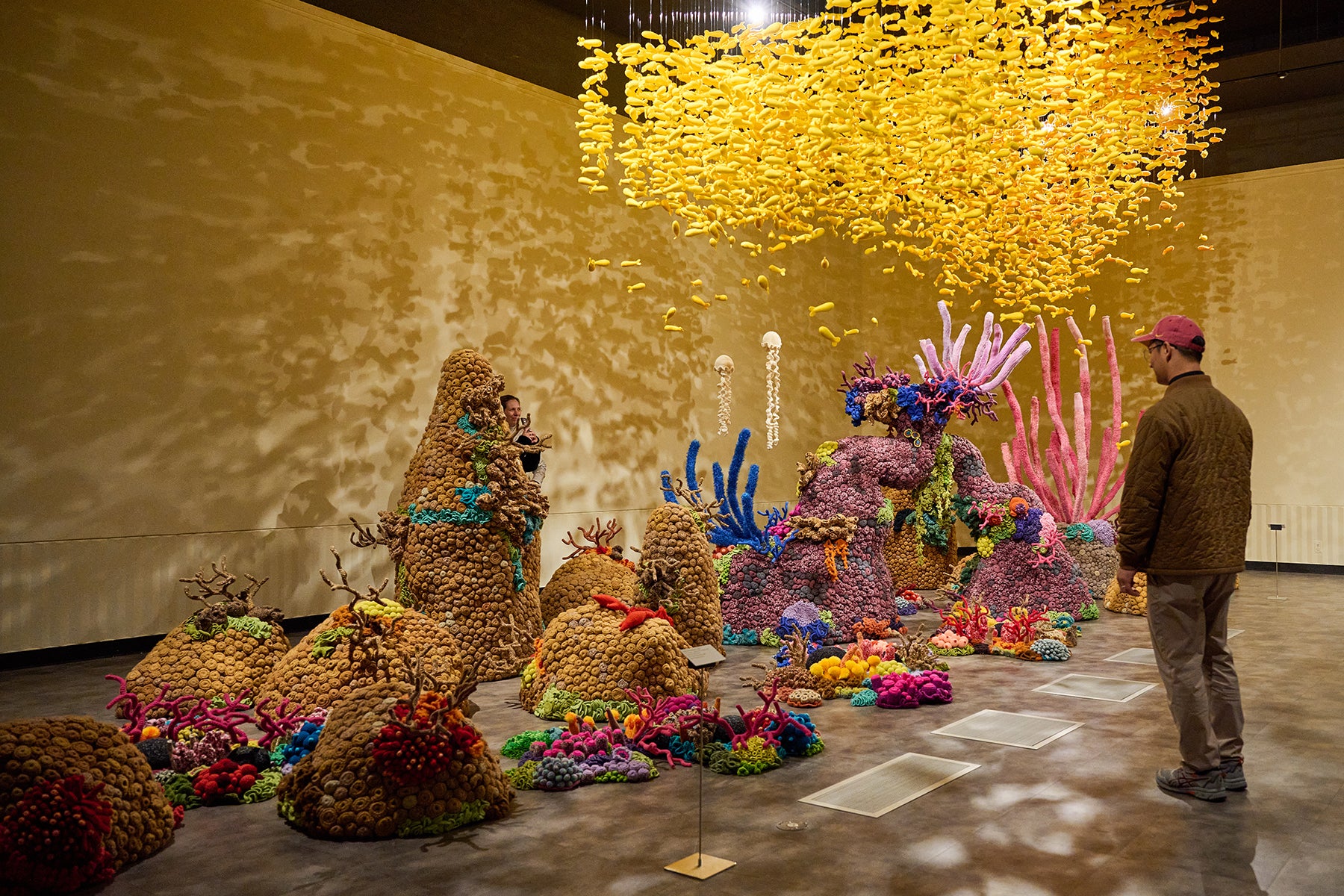 The beauty of coral reefs belies their importance to oceanic ecosystems. They protect coastlines from erosion, but they're also the "rainforests of the sea," hosting a vast number of species.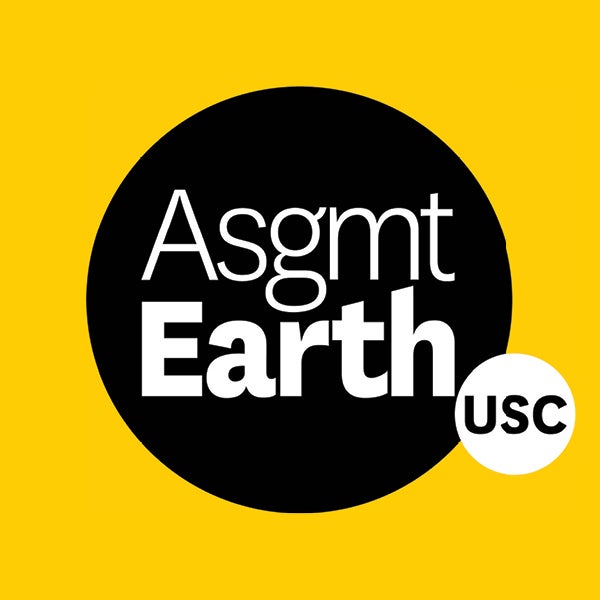 Today at 6 p.m., with an artist's stunning re-creation of a coral reef as a backdrop, the USC Fisher Museum of Art will host a conversation about climate change and its impact on coral reefs. The featured speakers are Carly Kenkel, Gabilan Assistant Professor of Biological Science in Marine and Environmental Biology at the USC Dornsife College of Letters, Arts and Sciences, and doctoral student Adib Mustofa.
Kenkel has traveled the world exploring coral and its adaptability to a changing climate. Mustofa, originally from Indonesia, is a Fulbright Scholar at USC and is interested in the genetics of reef-building corals that have resiliency to rising temperatures. The knitted coral reef art piece, "Modular Utopia" by the artist Mulyana, is on display at the museum on the USC University Park Campus through April 13.
We spoke with Kenkel and Mustofa about the coral reef ecosystem, its importance for biodiversity and why they're hopeful for the long-term survival of coral.
Why are corals so important?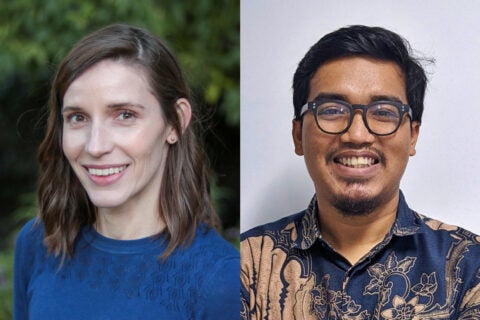 Kenkel: Corals are incredibly important ecosystem builders and are the foundation for tropical coral reefs, which are some of the most biodiverse habitats in the ocean. The reason there are so many fish, turtles and invertebrates — all the things you really love to look at — is because of the coral. It provides a three-dimensional structure that provides this habitat for other organisms to live in. It's the difference between a spread-out neighborhood in suburbia and a skyrise in the city, in terms of the number of things you can cram into that space.
Mustofa: Very little is known about the genetic diversity of corals in Indonesia. It's one of the most biologically diverse regions of coral in the world. However, most research there looks at coral health from a morphological perspective, not genetic diversity. That information is really important for knowing whether the coral can adapt to climate change or not. When we farm coral using fragmentation, we're sort of making a clone — they'll behave in a similar way. One of my big questions is, does fragmenting of coral for restoration change the genetic diversity of the reef as a whole?
Kenkel: Another feature of coral that is less known is that reefs serve as natural breakwater. If you've ever noticed the cement structures off the beach, the point of those is to prevent beach erosion in the event of storms. Big waves will cause damage and wash away sand, but those manmade breakwater structures protect your coastline. Reefs do that naturally. In the event of a tropical cyclone or hurricane, any place that is surrounded by a reef has an incredible resource that will reduce damage to the shoreline.
What is the biggest threat facing coral?
Kenkel: To understand the threats coral face, you need to know a bit about its biology. Corals are related to anemones and jellyfish: If you imagine an anemone, shrink it down and make a carpet of anemones stuck together and you pretty much have the surface of a coral. But coral has this extra superpower in that it can secrete a calcium carbonate skeleton. Corals are a soft, squishy tissue layer that sits on top of a skeleton. That process of skeletonization is what builds up the structure of the reef.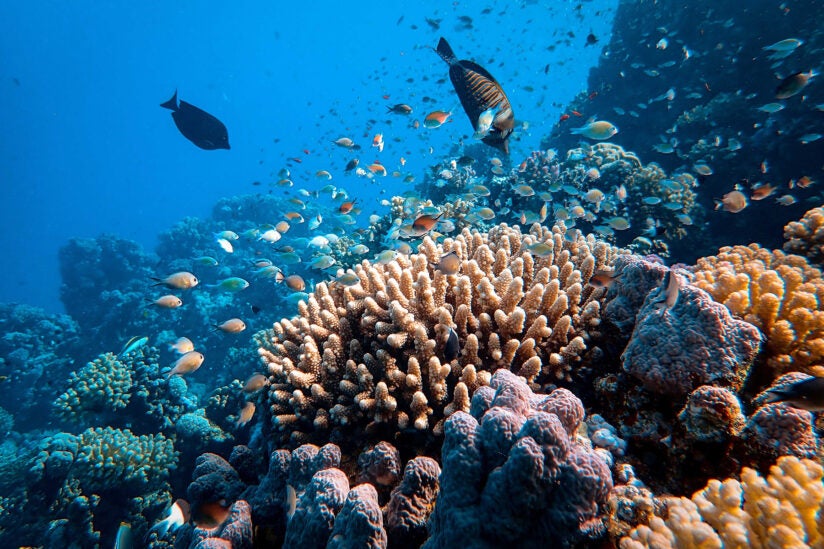 The extra energy to produce these massive skeletons comes from the algae that live inside the coral animal's body. The algae produce sugar that goes straight to the coral animal, which then takes that energy to invest in its metabolism including the calcification process. That symbiosis between the animal and the algae is essential for reefs. That relationship is also very sensitive to temperature or other environmental changes. If it's too hot or too cold, or if it's too salty or not salty enough — all these things can cause that relationship to break down.
When these algae, or symbions, are lost, the coral begins to look white, what we call "bleaching." It's a stress response for the coral, but it is also an indication the coral is starting to starve. In losing those algae, it hasn't just lost its color — it's also lost its primary food source. If the corals don't get those algae back, they're starving to death. With climate change, we're seeing these extreme increases in temperatures so we're seeing increasingly intense mass bleaching events worldwide. Corals are primarily bleaching because it's too hot, and that means they are starving to death.
Why should we be optimistic about the future of coral?
Mustofa: I'm pretty optimistic about our restoration efforts in Indonesia, but there's a lot of homework still to be done. Especially from a genetics perspective. Researchers in the U.S. are trying to restore coral, and they are considering the genetic diversity of that coral. That genetic diversity is the fuel for continued adaptation to climate change. In Indonesia, we have no idea about existing genetic diversity, or very little. I'm trying to fill that knowledge gap. I hope the results of my research will inform improved management of coral restoration in Indonesia.
Kenkel: There are a lot of very good minds thinking about reef restoration. In the last decade, the knowledge and resources available for folks working on reef restoration have increased exponentially. From the scientific side, we're doing everything we can to keep them going.
But I liken it to performing CPR on a critical patient in an emergency. The coral scientists and restoration practitioners are all pumping the chest of the patient — the coral — we don't have time to also put out the environmental fire that's raging at the same time. We need the help of other researchers, institutions and political entities, as well as every citizen of this planet, to address the fire, or global climate change. In the meantime, we're going to work our hardest to keep reefs going so they can still be there when conditions get better. Then, the ecosystem can start restoring itself.