In memoriam: James Higginbotham, 72
He was a fellow of the British Academy who specialized in the philosophy of language
USC Distinguished Professor of Philosophy and Linguistics James Higginbotham, holder of the Linda Hilf Chair in Philosophy and renowned expert in generative grammar, linguistic semantics and the philosophy of language, has died. He was 72.
Higginbotham died surrounded by family and friends on April 25 at Marina Del Rey Hospital near his home after complications from pneumonia, his family said.
He was director of the School of Philosophy at the USC Dornsife College of Letters, Arts and Sciences from 2000 to 2007 and chair of the Department of Linguistics from 2006 to 2013.
Jim was incredibly kind and personable and considerate.

Andrew Simpson
Specializing in the philosophy of language, Higginbotham was named a fellow of the British Academy, the United Kingdom's national body for the humanities and social sciences in 1995. In 2008, he was given the title of Distinguished Professor, a designation denoting faculty whose accomplishments have brought special renown to USC.
Master of language, logic and linguistics
In 2011, Higginbotham was elected to the American Academy of Arts and Sciences. His career spanned the disciplines of generative grammar and linguistic semantics for nearly four decades.
In addition to authoring nearly 100 papers on the philosophy of language and linguistics, he was a series editor of Oxford Cognitive Science, consulting editor since 1979 of The Journal of Philosophy and associate editor of Linguistic Inquiry; Mind and Language; Rivista di Linguistica; Natural Language and Linguistic Theory; Natural Language Semantics; Pragmatics and Cognition; Linguistics and Philosophy; and Research in Language (Poland).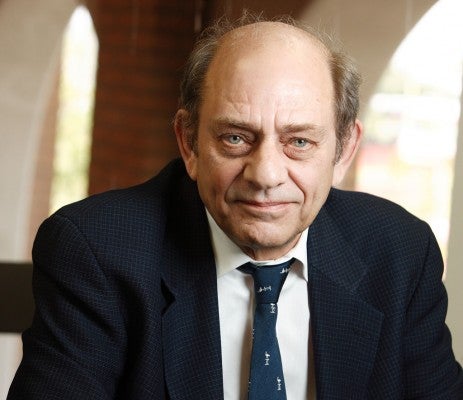 Since 1999, Higginbotham was professor of philosophy and linguistics at USC, holding the Hilf Chair since 2004. Prior to his arrival, he was professor of general linguistics at Oxford University from 1993 to 2000, during which time he was Oxford's chairman of the Committee for Comparative Philology and General Linguistics, curator of the Centre for Linguistics and Philology, and member of the Board of the Faculty of Medieval and Modern Languages.
When Higginbotham began his career, very few, if any, investigators combined mastery of philosophy of language, philosophical logic and theoretical linguistics. Now, partly because of Higginbotham's example, there are many.
Integrity, leadership and commitment
Those who have followed in his footsteps recognize Higginbotham as a pioneer who helped lay the foundations of the emerging sciences of language and information, said Scott Soames, Distinguished Professor of Philosophy and chair of the USC School of Philosophy.
Soames knew of Higginbotham's work, but didn't realize at the time that Higginbotham had been the referee for the first major paper Soames published in linguistic theory after earning his PhD from the Massachusetts Institute of Technology.
"Although our paths crossed a few times, I didn't know him well when, in the fall of 2003, he invited me out from Princeton to have a look at USC," Soames recalled.
"I was immediately impressed by his integrity, leadership and commitment to building a strong department. Simply put, I would not be at USC today, were it not for Jim."
Razor-sharp wit
Andrew Simpson, professor of linguistics and East Asian languages and cultures, and chair of the Department of Linguistics, recalled the mid-1990s, when he was a graduate student in England.
"Jim was the Oxford professor with the deep, booming voice who distinctively used to refer to himself in his presentations as 'Higginbotham' rather than simply as 'I,' " Simpson said.
"Jim was the famous American professor whose work impressively straddled both linguistics and philosophy at the highest possible levels and whose razor-sharp intellect and wit made him an academic often to be feared, and not a person with whom to engage lightly," he added.
When Simpson joined USC in 2007, Higginbotham was chair of the Department of Linguistics.
"Then I came to find that Jim was also incredibly kind and personable and considerate and regularly down-to-earth, and was far from being the distant, unapproachable intellectual I had somehow imagined him to be," Simpson said.
"Jim's work in linguistics has changed fundamental aspects of the way we think about the meaning of language, and his seminal works on the interaction of syntax and semantics continue to be recognized as incredibly influential, but for those who knew him personally, he will perhaps most strongly be remembered for his humor, his good will, his decency and the way he brought so much life to every interaction with others."
Prior to Oxford, Higginbotham was professor of linguistics and philosophy at MIT. He became enseignant etranger for the Departement d'Etudes Cognitives at École Normale Supérieure, Paris, in 2004.
He became Fulbright Distinguished Professor of the Philosophy of Language at the University of Venice (Italy) in 2003; Vesting Scholar at Oxford's Wolfson College in 2001; Nelson Philosopher in Residence at the University of Michigan in 1999; visiting professor of cognitive science at Rutgers University in 1998; and visiting professor of philosophy at Princeton University in 1990.
A shift in studies
Born Aug. 17, 1941, in Chattanooga, Tenn., Higginbotham spent his first five years in Jefferson City, Mo. From ages 5 to 10, he and his family lived in England, then Maryland and New Jersey, among other places.
After serving in the Vietnam War as a military policeman for the U.S. Army, Higginbotham earned his PhD at Columbia University in 1973.
Higginbotham's own graduate studies at Columbia included only one basic linguistic class — taken nearly by accident. The class marked an important shift in his academic research and studies.
"When I started graduate school in 1967, I had just returned from serving in the Vietnam War, where I became very interested in Chinese and Vietnamese language and cultures," Higginbotham said in a 2000 USC news story.
"My major was philosophy and Chinese," he said. "I signed up for three philosophy courses, including logic, and I looked in the catalog for something else that I might undertake. My eye lit on a graduate class called 'Grammatical Structure.' I rapidly discovered that I could solve the problems in morphology — the theory of word-formation — at least as quickly as the linguistics graduate students, and that gave me some confidence."
He studied Noam Chomsky's "Aspects of the Theory of Syntax" in that linguistics course.
"It was an inspiration," he recalled in the story. "Within a short time, I was happily analyzing Chinese with the new tools of generative grammar and reading the underground generative literature, which then circulated via the mimeograph machine and the ordinary post."
He never took another linguistics class, although he became a major contributor to the discipline.
"The chance circumstances of exposure, which brought me into contact simultaneously with generative grammar, philosophy of logic and language, and Chinese, happened to put me in a position to take part in a developing subject, to which I have tried over the years to contribute," Higginbotham said.
Higginbotham is survived by his children David Maayan, William, Eva, Joseph, Eleanor and Enrico.
The funeral will take place at 1 p.m., April 29, at Woodlawn Cemetery, 1847 14th St., Santa Monica, Calif., immediately followed by an interment.