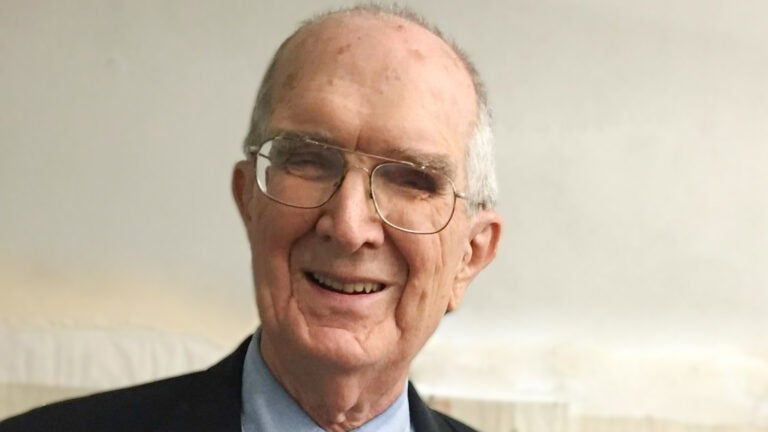 In memoriam: John 'Jack' Wills Jr., 80
The masterful scholar of Chinese history developed East Asian studies at USC
John "Jack" Wills Jr., Professor Emeritus of History, died Jan. 13 in Pasadena. He was 80.
Wills spent four decades illuminating Chinese history and global early modern history for USC Dornsife College of Letters, Arts and Sciences students as well as a wide popular audience. An expert in China's relations with maritime Europe between 1500 and 1800, his research also extended to continuity and change in Chinese culture and foreign relations.
"Jack Wills was a phenomenal colleague, not only as a world expert in early modern Chinese history but also as someone who supported historical scholarship more generally," said Peter Mancall, Andrew W. Mellon Professor of the Humanities and Linda and Harlan Martens Director of the Early Modern Studies Institute. "He played a vital role in the launch of the USC-Huntington Early Modern Studies Institute, enabling us to have programs that spanned the entire early modern world. His book 1688: A Global History was a monument to his fertile imagination and his mastery of primary source evidence across a broad swath of languages. He was among the smartest and most intellectually generous scholars I have ever met."
Professor Emeritus of History Gordon Berger, who was hired by Wills in 1970, admired Wills' unique approach.
"Jack was interested in connecting things that other people never thought about connecting. This was Jack's genius — he was always looking outside the box for new ways to put things together, whether people or ideas. He was a wonderful colleague and a fine human being."
A long legacy
Wills' legacy includes his integral role in shaping the university's East Asian studies curriculum, which did not exist when he arrived in 1965 — a time when global history coursework was largely Eurocentric and relations between the United States and China were often tenuous. In the early '70s, Wills designed the first freshman survey class in Chinese history as part of a major reform in USC's general education program. He helped found the East Asian Studies Center (EASC) in 1975.
In 1989, he hired Charlotte Furth, Professor Emerita of History, to help him develop the doctoral program in Chinese history at USC Dornsife.
He was a force to be reckoned with in the history department and in the university.

Charlotte Furth
"He was a wonderful collaborator," Furth said. "He was a force to be reckoned with in the history department and in the university. He made my career at USC possible and that was very important to me."
Associate Professor of History and English Marjorie Becker met Wills 29 years ago when she was hired as a Latin American historian at USC Dornsife.
"He was always exceptionally kind and extraordinarily loyal to fellow history department faculty and always extremely interested in our work and in our projects," she said. "In those days, there were almost no Latin Americanists, so it was very meaningful to me that he showed so much interest in my research and writing."
Prose and publishing
Wills directed the EASC from 1990-94 and served as acting chair of the Department of East Asian Languages and Cultures (EALC) from 1987-89.
In 1994, Wills published Mountain of Fame: Portraits in Chinese History (Princeton University Press), in which he navigates 5,000 years of history through biographies of some of China's most politically significant figures. He dedicated the book to his USC students, who he claimed had "road tested" it thoroughly. He wrote more than 50 articles about China and later branched into more popular works of history, including the crossover book 1688: A Global History (W. W. Norton, 2002) and The World from 1450 to 1700 (Oxford University Press, 2009).
Berger, who directed the EASC for 14 years, said that — while very modest and never flashy or pretentious — Wills was an intellectual giant.
"This is a man who grew intellectually more and more the longer he operated," he said. "He had this wonderfully original and creative mind, and you watched him almost in amazement as he took in more and more things and connected them to whatever it was that he was doing.
"It was really something to witness, the growth and the intellectual maturation of Jack Wills over time. I never saw it to the same degree in any other colleague of mine."
After retirement
Wills retired from USC Dornsife in 2004, but he remained very active, organizing conferences and continuing to travel the world. He helped to organize events for USC's Retired Faculty Association and contributed to the expansion of the USC-Huntington Early Modern Studies Institute.
In 2006, Wills donated $50,000 to endow a scholarship for one-on-one graduate study with major scholars in the field of East Asian studies.
"That [gift] really testifies to his public spiritedness and good citizenship in terms of not being concerned only with his own scholarship and teaching, but also with the development of East Asian studies and history at USC," said Stanley Rosen, professor of political science and another former director of the EASC.
Wills received a USC Associates Award for Creativity in Research and Scholarship in 2003, and more recently, he received a Faculty Lifetime Achievement Award in 2013.
"Few historians possess the breadth of Professor Wills' knowledge, which comes from his unstinting commitment to archival research and his superior command of a range of languages," stated the program from the 2013 awards ceremony. "His work in Dutch, Portuguese, Spanish and English archives, including those in India, Indonesia and the Philippines, and in the Qing archives in Beijing and Taipei, made him a recognized world leader in scholarship on European relations with China before 1800."
Two years before his death, Wills was honored by the EASC at an event dedicated to his remarkable career and his contributions to the field of history and to USC. Wills' friends, colleagues and students presented articles and papers related to his research, with a forthcoming publication in his honor.
Midwestern roots
Wills was born on Aug. 8, 1936, in Urbana, Ill., the only child of John Elliot (Sr.) and GeorgeAnne Hicks Wills. John Sr. was a professor of agricultural economics at the University of Illinois, Urbana-Champaign (UIUC), and GeorgeAnne had grown up on a farm, driving a tractor by the age of 12.
After earning his bachelor's in philosophy at UIUC, where he met and married his wife, Connie, Wills served in the U.S. Army. He continued on to Harvard University, where he got his PhD in history and far Eastern languages.
Wills' research took him to archives and libraries all over the world, and to varying degrees he could read or speak — and sometimes both — Chinese, Japanese, Dutch, French, German, Italian, Spanish, Portuguese and Latin.
When not teaching, researching, writing or telling a great story, Wills' spirit of adventure took him on hikes throughout Southern California with his children. Breaks from teaching were often spent on long road trips that were punctuated by repairs to the family Volvo. He was also a member of the Neighborhood Unitarian Universalist Church in Pasadena.
"He always had the perfect words for anything," Wills' five children noted in a written statement. "He was our mentor, encouraging us to go deep into what interests us and what we love and to do all we can to leave a legacy of knowledge and care for other people and future generations, like he did so well up to his last waking moment.
"Family was so important to him and he dedicated so much time to his children, grandchildren, great-grandchildren and even other people's kids. He traveled five times to the far-away land of Yemen to see extended family on their most special holidays and made an effort at the age of 70 to learn that language, Arabic. He left such a noble, lasting impression on everyone he met there because he believed in building bridges."
Wills' son Jeff Wills recalled an instance in 2003 when his father's impact reached him in an unexpected way.
"It's sometimes hard to gain a perspective on dad's accomplishments when you've lived with them all your life," he said. "Mine changed when I was living near Portland, Ore. One evening, a radio commercial came on and announced a concert by the Portland Baroque Orchestra of music 'inspired by 1688: A Global History by John Wills.' It was one of those random moments that showed how far his influence had reached. This was my dad not only writing scholarly articles and books for other historians, but causing other people to exercise creativity in their own sphere of influence."
John Wills is survived by his wife of 58 years, Carolin "Connie" Wills; children Cathy, Chris, Jeff, Joanne, Lucinda and their spouses; seven grandchildren; and four great-grandchildren.
A memorial service will be held in March. For details, email the East Asian Studies Center at easc@usc.edu.