In memoriam: Michael Preston, 80
The professor emeritus of political science started USC's first course on black politics and produced landmark scholarship
Michael Preston, former USC vice provost for strategic initiatives, professor emeritus and former chair of political science at the USC Dornsife College of Letters, Arts and Sciences, has died. He was 80.
A memorial service is scheduled for 4 p.m. on Aug. 16 at the USC Caruso Catholic Center.
Preston, an expert on racial and ethnic politics, died July 27 in Los Angeles, three weeks after being diagnosed with pancreatic cancer, his family said.
He was an inspiration for scholars of urban politics, and he mentored countless faculty and students throughout his nearly three decades at USC.

Elizabeth Garrett
"Our father was loving, kind and supportive, and a devoted mentor to many," Preston's five children said in a statement. "He was a bridge builder, connecting countless people to their destinies. We will forever cherish his memory."
A legacy of teaching and service
At the time of his death, Preston was finishing a co-authored book titled California Diversity in State Politics and was co-authoring an article about the 2013 L.A. mayoral race.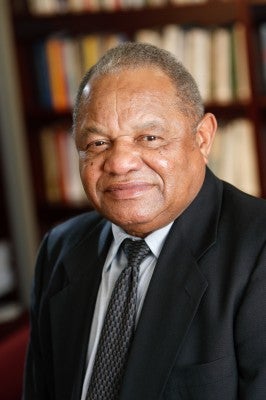 Preston's legacy is filled with teaching, service and mentoring.
In the late 1980s, Preston started USC's first course on black politics and later led a key initiative shared by USC Dornsife and the Office of the Provost to recruit minority and female scholars.
From 1989 to 1995, Preston served as chair of the Department of Political Science and had served as director of the Center for Multiethnic and Transnational Studies at USC Dornsife. He was a member of the USC University Club Board of Councilors from 2012 to 2014 and a former board president from 1993 to 1994.
As a specialist in American, urban and black politics, Preston authored Racial and Ethnic Politics in California, volumes I and II (Institute of Governmental Studies Press, 1991, 1998) and The New Black Politics: The Search for Political Power (Longman Group United Kingdom, 2nd edition, 1987), among other seminal books. He researched Los Angeles' blacks and Latinos in politics, dissecting political changes in Los Angeles since the early 1980s when Tom Bradley was mayor.
Admirable accolades
Preston's accolades are many, including the Frank J. Goodnow Award for Distinguished Service from the American Political Science Association (APSA) in 2004; APSA's Career Achievement Award in 2013; and Outstanding Black Faculty Mentor Award from the USC African American Graduation Committee in 2013.
He served as special adviser to the provost from 2005 to 2013.
"The USC community has lost a respected academic leader and dear friend with the passing of Michael Preston," USC Provost Elizabeth Garrett said. "He was an inspiration for scholars of urban politics, and he mentored countless faculty and students throughout his nearly three decades at USC.
"I was fortunate to work with Mike for several years, and I greatly valued his advice, quick wit and friendship. We will all miss him."
Vice Provost and Senior Adviser to the Provost Martin Levine said Preston was known nationwide.
"Mike's passing has brought deep sadness from those who had the good fortune to know and work with him," Levine said. "People across the country have written us how they will miss his wisdom, calm presence and love of people and politics, and what a kind soul he was."
Intellectual contributions
Ange-Marie Hancock, associate professor of political science, and gender studies at USC Dornsife, spoke of Preston's intellectual contributions during his retirement ceremony held on April 4, 2013. Hancock noted Preston's landmark work on the two most prominent African-American male politicians in the 1980s — Jesse Jackson and Harold Washington.
Ann Crigler, professor of political science at USC Dornsife, said Preston contributed to the discipline of political science on campus and in the community.
"He always made people feel welcome," she said. "He made introductions to build community spirit and help students and junior faculty to connect with others. Michael was a strong advocate for underrepresented students and recruited, mentored and placed numerous young scholars."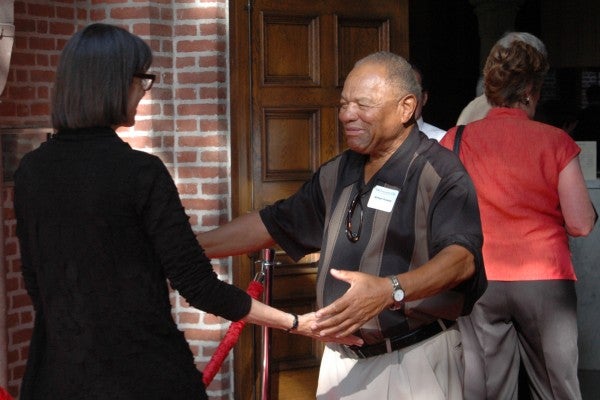 As chair of APSA's Committee on the Status of Blacks, Preston helped give more than 400 undergraduates from underrepresented groups courses that prepared them for graduate study in political science.
Advancement of faculty diversity
George Sanchez, professor of history, and American studies and ethnicity, and vice dean for diversity and strategic initiatives at USC Dornsife, said Preston is more responsible for the advancement of faculty diversity at USC over the past 30 years than any other individual.
"Michael Preston provided wise counsel to USC provosts and presidents, as well as various deans of Dornsife College, over many years and over a range of topics," Sanchez said. "He was an inspiration to many USC faculty of color for his commitment to excellence and diversity in the faculty ranks. He was also a superb faculty mentor to undergraduate and graduate students alike over decades of service to USC."
A reliable adviser
Born on Aug. 20, 1933 in Tyler, Texas, Preston was the third of six children. His father was a plumber/electrician; his mother was a teacher. He received his doctorate from the University of California, Berkeley, and joined the USC faculty in 1986, after spending 13 years at the University of Illinois-Urbana.
Steven Lamy, professor of international relations and vice dean for academic programs at USC Dornsife, recalled meeting Preston on the professor's first day at USC in 1986.
"From the first day we met, he showed an interest in what I was writing and teaching," Lamy recalled. "He cared for his colleagues and his students. His scholarship in urban politics will continue to influence many, and he will be dearly missed."
A scholarship in Preston's honor will be established and awarded to an undergraduate in political science who is studying urban politics or civil rights. For more information, contact Maureen McNulty at mcnultym@usc.edu or (213) 740-4994.
Preston is survived by son Michael B. Preston; daughters Sherry Coleman, Sonja Preston, Adrienne Fregia and Rymicha Jennings; grandchildren Ashley Coleman, Anthony Preston, Danielle Fregia, Preston Fregia, Aaron Jennings and Rhema Jennings; son-in-laws Larry Coleman, Paul Fregia and Jeffery Jennings; and six great grandchildren.