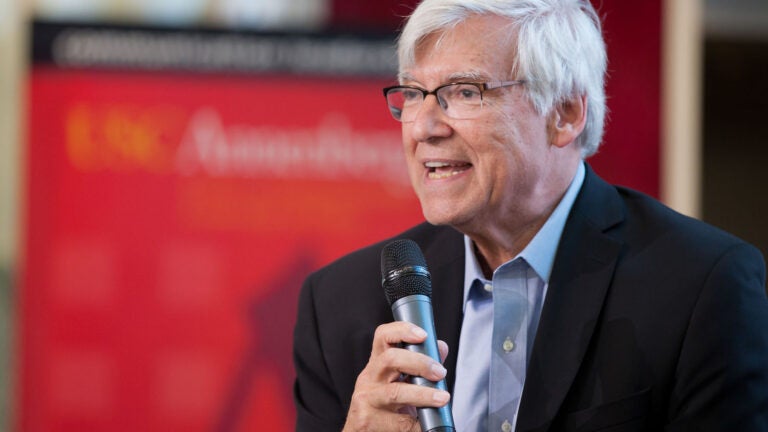 Initiative aims to change the public perception of scientific research
USC Annenberg professor among those looking at how scientists and media can increase understanding of complex information
Geoffrey Cowan, USC Annenberg School for Communication professor and Center on Communication Leadership and Policy (CCLP) director, has joined a team of leading scientists and media professionals on a mission to change how the public views scientific advancements.
The Face of Science, a new three-year initiative out of the American Academy of Arts and Sciences, will conduct studies that examine public attitudes toward scientific research and determine how scientists and the media can increase public understanding of, and trust in, scientific information.
"Scientific issues are incredibly important, but also very complex," Cowan said.
He added that, in his experience, scientific research is often not explained effectively at the university and academic journal levels. As a result, media coverage lacks nuance and overall public understanding suffers.
"If we don't understand [scientific advancements], or we don't believe them, that can create large problems," Cowan said. "By understanding them better, we'll understand the advances we can make as a society."
Public policy relevance
Geneva Overholser, co-chair of the initiative and a senior fellow at CCLP, hopes to further explore the evolving relationship between the public and scientific advancement.
"The future will be enormously shaped by nontraditional forms of communication," Overholser said. "People today have so many ways to learn about science and its relevance to public policy, and those outlets are becoming increasingly important as the number of traditional science reporters continues to diminish."
Cowan said he looks forward to working with the rest of the project's panel of experts to find creative solutions.
"I hope that by virtue of my years as a journalist, my years at a school for communication and journalism and through meetings I've helped convene on similar topics that I'll be able to make a contribution," Cowan said.