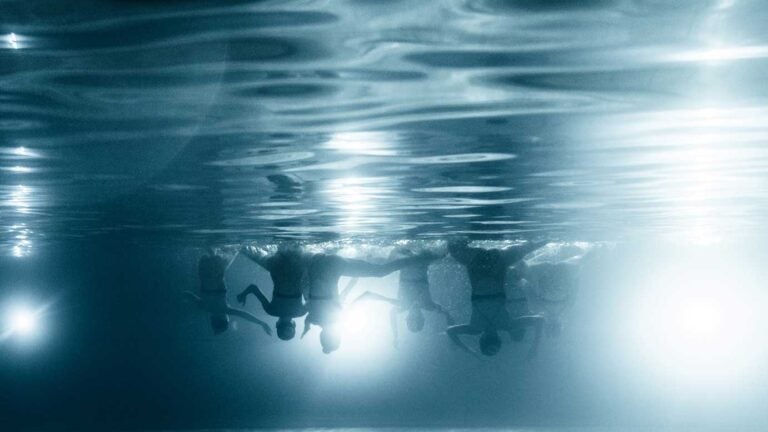 Injury derails Olympic hopeful but also shapes her advocacy and career path
Sarah Urke, who suffered a serious injury as a competitive synchronized swimmer, aims to broaden knowledge of how to prevent and respond to brain injuries
A sharp kick to the head was all it took to derail her Olympic dreams.
Sarah Urke had trained for years to rise through the ranks of competitive synchronized swimming, even moving thousands of miles from home to practice with top athletes. But at age 16, a debilitating concussion not only knocked her out of the pool, it threatened her ability to walk and study. She dropped out of school to receive medical care and therapy.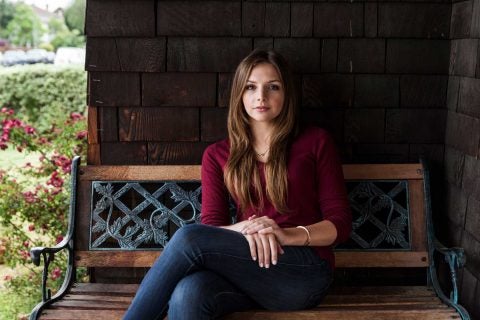 "I wasn't sure I'd ever get back to being a student again, let alone be able to get out of bed and work out," Urke said. "I could barely walk or climb a flight of stairs."
Her persistence paid off, though. After two years, Urke recovered and was accepted to USC, where she studied human biology with minors in dance medicine and health care studies, including an emphasis on pre-physical therapy, thanks to a Mork Family Scholarship. She graduated in 2016, and today the 24-year-old is pursuing a doctorate in physical therapy at Columbia University, inspired by her experience with concussions.
She is also a fervent advocate for concussion awareness, running an information and support website and consulting for top-flight synchronized swimming teams on concussion safety. Her goal is to increase knowledge of how to prevent and respond to concussions, particularly in sports that don't receive much attention in the current debate over head trauma among athletes.
"Concussions in football are the hot story right now, but I think it's important to raise awareness in every sport," she said. "A concussion can really change a kid's life."
Big ambitions
A Minnesota native, Urke had excelled in synchronized swimming at the state level and ultimately made the national team for 13- to 15-year-olds. She left her parents, four siblings and friends behind during her junior year of high school, moving with her grandparents to California to train with the Santa Clara Aquamaids, an elite squad that has produced dozens of Olympians since synchronized swimming was introduced to the Olympic Games in 1984.
Her vision of becoming a member of Team USA seemed within grasp. But the sport had experienced a dramatic shift toward competitive styles.
"It had evolved to be even faster paced, with tighter formations and more dangerous lifts and acrobatics," Urke said. "We were trying to push the envelope."
During a routine practice in 2009, a teammate accidentally kicked the side of Urke's head, leaving her reeling. She sat out for a few minutes before returning to the pool, but when she woke up the next day, she knew something was wrong.
Her head throbbed. She couldn't sit up in bed. After a trip to the emergency room, Urke was diagnosed with a concussion. She soon was cleared to return to training, but relentless headaches and bouts of dizziness persisted, forcing her to drop out of synchronized swimming and return to Minnesota.
Upstream battle
Despite visits with neurologists and weeks of bed rest and limited visual stimulation, her recovery stalled. More than a year after her injury, a specialist discovered Urke had misaligned vertebrae, providing treatment for whiplash and a neck injury in addition to her concussion. She gradually returned to school.
But it took another year of physical therapy and other treatments until she found a medication that finally helped relieve her lightheadedness.
"I was lucky to have a great support system," Urke said. "My parents never stopped fighting to get me the treatment I needed."
Although her synchronized swimming plans had been stymied, she felt fortunate to be back on her feet. A campus visit inspired Urke to apply to USC, and she was surprised to receive an invitation to interview for a merit-based scholarship. She would receive the selective Mork Family Scholarship, which covers tuition and offers an annual living stipend.
I was lucky to have a great support system. My parents never stopped fighting to get me the treatment I needed.

Sarah Urke
The support inspired her to pursue opportunities beyond the classroom. Urke joined the USC Helenes, USC Mortar Board, Trojan Dance Marathon and USC Pre-Physical Therapy Club. She spent two years as a research assistant in the USC Motor Behavior and Neurorehabilitation Laboratory. She also founded the Trojan Neurotrauma Society, which organized visits to local high schools and middle schools to raise awareness of concussions.
"The Mork Scholarship was an incredible gift because it gave me the opportunity to fully immerse myself in USC both academically and outside of the classroom," she said. "It allowed and inspired me to jump into a wide variety of activities and organizations, and also connected me with a wonderful group of people with like-minded interests."
Diving back in
During her senior year, she found a new way to return to synchronized swimming, joining the Aqualillies, a professional water ballet troupe. The group stages exhibitions at private events and performs artistic rather than risky routines.
"That allowed me to get back my love for performing and that team-based environment while still being safe," Urke said, adding that she doesn't plan to return to the competitive arena. "My brain is too important to me and I don't want to risk getting into the position where I could have another concussion."
She continues to swim with the Aqualillies and coaches synchronized swimming in New York. As a doctoral student at Columbia University, Urke recently started a clinical rotation in a neurorehabilitation clinic, where she assists people recovering from brain injuries, strokes and spinal cord injuries.
Her experiences battling a disabling concussion inspired an interest in how the human body and brain recover from injury, and Urke envisions a clinical career in neurorehabilitation and physical therapy that allows her to help people regain their strength, coordination and balance after trauma.
"I love to work with patients and help them improve," she said. "Bringing quality of life back to these people would be an incredibly fulfilling career."
USC offers the largest financial aid program in the country, but only a fraction of USC undergraduate scholarship aid is offered through the endowment. To learn how to make a USC education possible for more students with the help of scholarships, visit the scholarships page on the Campaign for USC website.