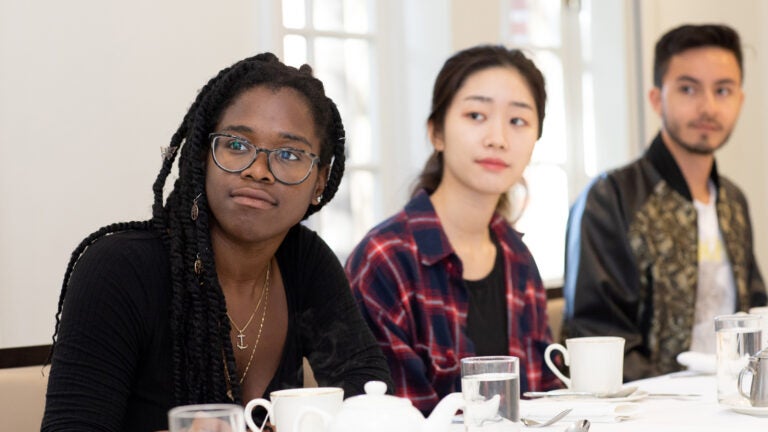 A new crop of International Artist Fellows joins the USC community
Ten students from across five of USC's graduate arts programs are the latest members of a program that allows them to focus on their craft while exploring the Los Angeles artist community.
Though classes have only been in session for less than two months, Juan Sebastian Baracaldo Angel — an MFA student in interactive media and game design at the USC School of Cinematic Arts who hails from Bogota, Colombia — has already pushed the boundaries of his practice. This includes making a short film, which, as a computer scientist, is a first for him. "It's all about expanding my comfort zone and being able to do new things," he said.
Similarly, YueHan Tan — an MFA student in animation and digital arts from Beijing, China — has felt freer to try bolder, more experimental work and discover new ways to tell stories that break the rules of visual language. "This kind of not-commercial work may not be useful to find a job," she explained, "but it helps me express myself."
Zharia O'Neal — an MFA student in dramatic writing from the British Virgin Islands — is already hard at work on three different plays with themes of immigration, assimilation, family and natural disaster, all set in the Caribbean. "It's all very timely and very topical," O'Neal said. "I come from a place that a lot of people can't point out on the map. And now there are so many people ready to have a conversation about it. To rep that at USC is incredible."
Angel, Tan and O'Neal are just three of the newest members of the USC International Artist Fellowship (IAF) program, an ever-changing cohort of diverse emerging artists from around the Pacific Rim, Latin America and South Asia. As a fellow in the IAF program, USC covers tuition, fees, housing, travel and living expenses for each artist, leaving them to focus on their art as well as explore the robust interdisciplinary community centered in Los Angeles. This year, Angel, Tan and O'Neal join seven other artists from across five of USC's graduate arts programs, in addition to dozens of other artists who have taken part in the IAF program since it began in 2013.
Conversation brings members of the International Artist Fellowship together
On a recent Friday morning, Angel, Tan and O'Neal were among the first to arrive at the program's monthly breakfast at the University Club. It's the second time the fellows have met as a group this academic year. At the first meeting, they came together to discuss an article about a new definition of museum, sent out by Robin Romans, associate vice provost for arts and academic affairs, who oversees the IAF program. On this day, however, the conversation was more wide-ranging — from the tropes of The Office to the state of international visas under the Trump administration.
What struck O'Neal was how welcome she felt.
"It's right there in the title — International Artist Fellowship. It's very prestigious-sounding," she laughed. "I expected it to be stuffy. When you hear words like 'fellow,' you think golf clubs and folded napkins."
I'm part of an artist community. My seat at the table is not just a chair that I pulled up — it was waiting for me.

Zharia O'Neal
Even though O'Neal studied at USC as an undergrad, this program felt different and her imposter syndrome was in full effect: "I thought, 'This is the big leagues. These are capital-A artists, and you are not one of them.'" But once she got into the room, she found the other graduate students to be quite grounded. She found a community.
As seasoned fellows, Lea Marina Lanoue Timm, an MFA student in acting; Wesley Chu, a doctoral student in piano performance; and Johnny Forever Nawracaj, a performance artist — each of whom hail from Canada — bounced easily from topics like their current projects to Shakespeare and The Fresh Prince of Bel-Air. Yew Heng Lim, an MFA student from Malaysia, and Guang Yang, a Chinese student who is pursuing a doctorate of musical arts in Composition — both new fellows for 2019-2020 — shared their experience with a recent Arts in Action project, "EMPOWER: Students, Arts, and Activism."
As the monthly IAF breakfasts continue, fellows will phase in and out over their two- or three-year programs. The goal — as they learn more about each other's perspectives, practices, talents and tools — will be to find new ways to collaborate, both at USC and after they graduate, and to come into their own as artists.
"This is my time to step into being a writer," O'Neal said. "Now, I'm part of an artist community. My seat at the table is not just a chair that I pulled up — it was waiting for me. I'm still pinching myself."