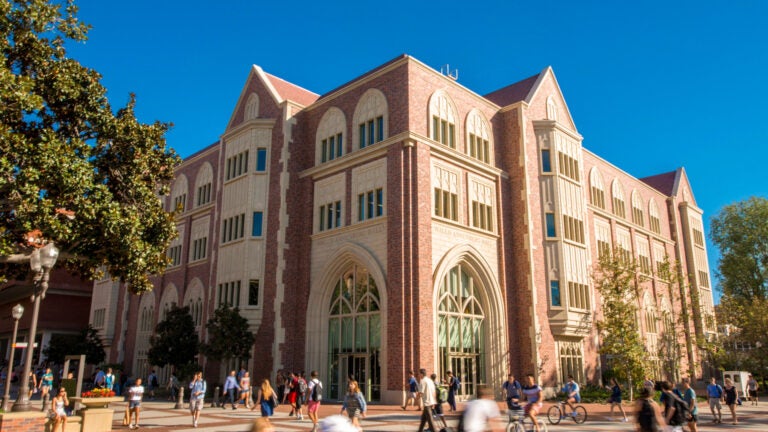 Investigative journalism at USC gets boost from Ring Foundation pledge
The gift will help USC Annenberg master's students tell stories about ethics and accountability
The Ring Foundation has pledged $1.4 million to fund an endowed fellowship for graduate students pursuing investigative journalism at the USC Annenberg School for Communication and Journalism.
Set to begin in the 2017-18 academic year, the Selden Ring Investigative Journalism Fellowship will fund tuition for a student enrolled in the nine-and-a-half month Master of Journalism or the Master of Specialized Journalism programs.
"There has never been a more important time to become an investigative journalist," said Willow Bay, director of the School of Journalism. "Now more than ever, we need intellectually rigorous, highly ethical, technically skilled journalists who will hold those in power accountable and tell stories that matter."
Since 1989, the Ring Foundation has partnered with USC Annenberg as the home of the Selden Ring Award for Investigative Journalism. The $35,000 annual award, established with the support of Southern California businessman and philanthropist Selden Ring, has highlighted the impact investigative journalists have on local, national and global communities. The award underscores the importance of investigative journalism as a cornerstone of democratic society — and the value of accountability for governments, non-government organizations and private corporations.
"The Ring Foundation is pleased to further its support for the importance of investigative journalism and serving a vital and fundamental commitment to our values in this country and the world at large," said Cindy Miscikowski, chair of the foundation.
"As we continue to build a pipeline of ambitious, talented journalists with diverse backgrounds and experiences, to lead newsrooms of the future," Bay said, "this generous gift will open doors to journalists with extraordinary potential to strengthen investigative reporting, regardless of financial circumstance."
USC Annenberg's graduate journalism programs are designed to develop and nurture journalists who can lead the digital newsrooms of the 21st century. In state-of-the-art digital facilities, faculty members guide students who learn how to produce content across all platforms, to understand the importance of context and analysis — and to embrace the role of diverse communities in storytelling.