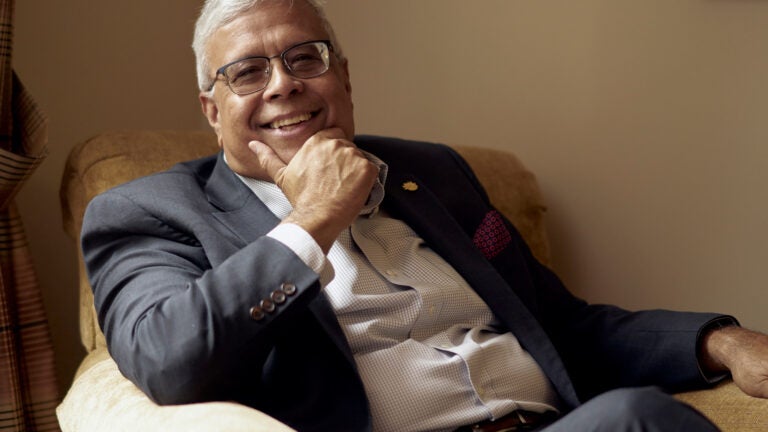 Ishwar K. Puri named USC vice president for research
The scientist, engineer and scholar will oversee the office that guides the university's leading research programs.
Ishwar K. Puri, an internationally known scientist and engineer whose research has explored fire safety, nanotechnology and 3D cell printing, has been named USC's new vice president for research, President Carol L. Folt and Provost Charles Zukoski announced Tuesday.
Puri joins USC after three decades as a scientist, engineer and scholar. His research began with fire safety work for NASA, which led him to study converting emissions into carbon nanotubes. Later, he went on to study how magnets influence particles, and he investigated how to manipulate cells and pathogens. Puri comes to USC from McMaster University in Hamilton, Ontario, where he is the dean of the engineering school. He starts at USC on Aug. 1.
"USC is home to a network of distinguished scholars and artists who are devoted to advances in research and creative practice," Folt said. "Dr. Puri is an accomplished leader who understands the value of research across all disciplines and will play a vital role in helping USC dramatically expand the breadth and depth of research, innovation and creative practices throughout the institution."
Puri will oversee the USC Office of Research during a time when advancements in artificial intelligence, convergent bioscience and sustainability could transform patient care, open new economic and educational opportunities, and help us become better stewards of our planet and society.
USC is expanding its research activity and emphasizing collaboration across multiple disciplines to take on societal problems and provide students with unmatched experiential learning opportunities.
"As I got to know Ishwar, I was increasingly convinced that he is the right person to lead USC's research enterprise at this juncture," Zukoski said. "We look to increase cross-disciplinary collaboration and speed up discovery as we enter a new era in scientific research. This is an exciting time to be at USC."
Puri will report to Folt and Zukoski and will be part of the president's senior leadership team.
New USC vice president believes curiosity and joy are key parts of research
"USC has a rich portfolio of research distributed across all its schools," Puri said. "I'm enthusiastic about growing and synthesizing research in AI, computational science, health care and sustainability, and helping interdisciplinary teams that also include the creative communities."
At McMaster, Puri initiated changes in classroom design and curriculum that led to more immersive and hands-on learning opportunities for students. He also started Canada's first Integrated Biomedical Engineering and Health Sciences Program — a convergent approach to engineering and health sciences.
Previously, Puri was the N. Waldo Harrison Professor and head of the Department of Engineering Science and Mechanics at Virginia Polytechnic Institute and State University until 2014. Before joining Virginia Tech, he served as an assistant research engineer at the University of California, San Diego, and was the associate dean for research and graduate studies while serving as a mechanical engineering professor at the University of Illinois at Chicago.
I want to be the vice president of research for the entire university, including the creative and discovery sides of USC.

Ishwar K. Puri
Puri is a founder and chief science officer of Celerite Labs, a biotech startup that uses magnetic printing for cells. He is a fellow of the American Association for the Advancement of Science, the American Society of Mechanical Engineers and the Canadian Academy of Engineering.
Born in New Delhi, India, Puri earned a bachelor's degree in mechanical engineering from Delhi College of Engineering of Delhi University and master's and doctorate degrees in engineering science at UC San Diego.
"I've made many pivots in my career, as I believe that discovery through curiosity is very important," Puri said. "Curiosity managed well allows you to consider a problem and find a solution that's fun to create and has value. It's important to find joy in research."
He wants research to encompass more than the traditional sciences, as his interests borrow heavily from humanities and social sciences. Puri originally aspired to study philosophy. His first book, Narcissus Wept, starts as a book of poetry before going on to cover topics such as thermodynamics and the environmental implications of the combustion process. He keeps his Twitter feed sprinkled with quips about music, pop culture and home cooking.
"I am not a technocrat, not the numbers guy engineer who marches to the tune of a spreadsheet and doesn't see much else," Puri said. "I appreciate the humanities and creative arts. I want to be the vice president of research for the entire university, including the creative and discovery sides of USC."
Puri will be moving to Los Angeles with his wife, Beth Levinson. The pair met while students at UC San Diego and consider returning to Southern California as something of a homecoming.