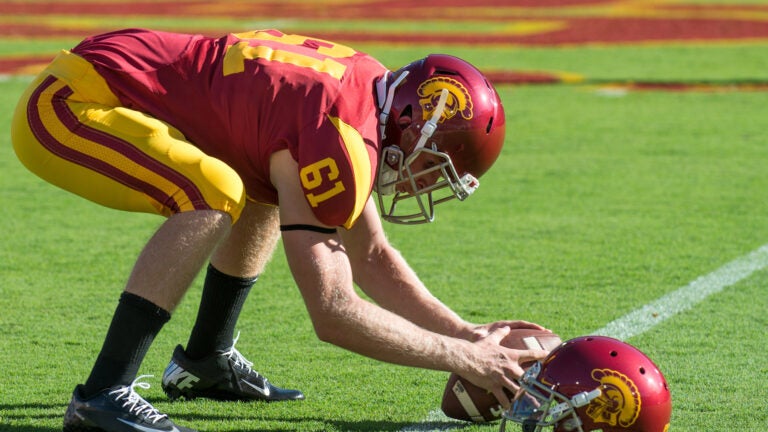 Jake Olson wins Uplifting Athletes Rare Disease Champion award
Trojan freshman, who earned a spot on the football team's roster last year, is the eighth recipient of the honor
USC freshman Jake Olson, who was born with a cancer of the eyes, is the eighth winner of the Uplifting Athletes Rare Disease Champion award.
Olson, who played long snapper for the Trojan football team last year, earned more votes than any of the other five 2016 finalists in a public online vote that lasted 16 days and saw more than 13,000 total votes cast.
The Trojans' freshman outlasted a field of finalists that included Penn student-athlete coach Kaleb Germinaro, Iowa State defensive end Mitchell Meyers, UCLA cornerback Marcus Rios, Liberty linebacker Zachary Schreiber and West Virginia running backs coach Ja'Juan Seider.
The Rare Disease Champion Award is presented annually by Uplifting Athletes to a college football leader who has realized his or her potential to make a positive and lasting impact on the rare disease community.
Olson will be presented the 2016 Rare Disease Champion trophy at the Maxwell Football Club Awards Gala on March 11 at The Tropicana Casino and Resort in Atlantic City.
A true fan
Olson was born with retinoblastoma. He lost his left eye when he was 10 months old and despite numerous procedures on his right eye, he lost his sight completely to this rare disease in 2009 when he was 12.
A huge Trojans fan, Olson tried to watch as much USC football as possible before losing his sight in 2009. When former USC coach Pete Carroll learned of Olson's story, he invited him to practices, then went a step further and made him an honorary member of the team.
The loss of his sight never slowed Olson down as he continued to flourish on many levels. During his final two years of high school, Olson was the varsity long snapper for the football team at Orange Lutheran. And in 2015, he earned a spot on the roster of the Trojans, the team he grew up loving.
Uplifting Athletes inspires the rare disease community with hope through the power of sport, empowering medical researchers to find cures.
A rare disease is one that affects fewer than 200,000 Americans and consequently lacks financial incentive to make and market new treatments.
Founded in 2007, Uplifting Athletes has had an economic impact of more than $400 million on the rare disease community. Uplifting Athletes has college football student-athlete led chapters in FBS and FCS programs, including half the schools in the Big Ten and ACC.