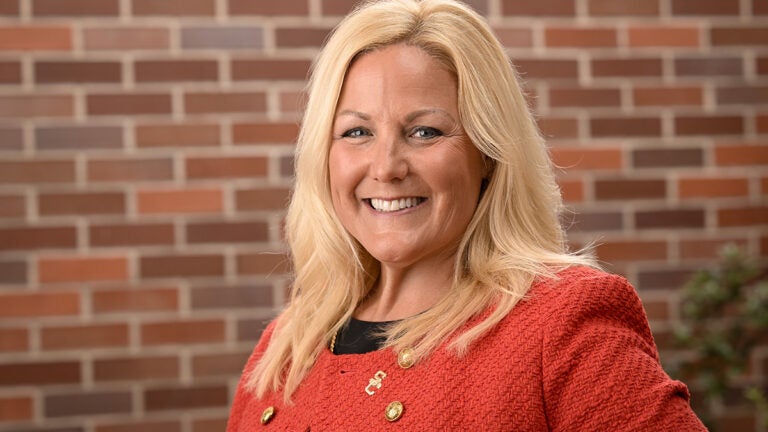 Jennifer Cohen named USC director of athletics
Cohen, a Southern California native, was previously athletic director at the University of Washington. She will be USC's 10th director of athletics and the first woman to hold the position.
Jennifer Cohen was named USC's new athletic director by President Carol L. Folt on ­Monday. Cohen will join the university's famed athletics program on Tuesday after more than three decades in intercollegiate athletics.
Cohen, who will hold the Charles Griffin Cale Director of Athletics' Chair, comes to USC from the University of Washington, where she has been the athletic director for the past seven years. She has spent 25 years at Washington and previously held a variety of roles in intercollegiate athletics administration at Pacific Lutheran University, the University of Puget Sound and Texas Tech University. She will be the 10th director of athletics at USC and the first woman to hold the position.
I'm confident she'll lead with a culture of integrity, teamwork and commitment to success.

Carol L. Folt, USC president
"When we were outlining the criteria for our next director of athletics, we set a high bar," Folt said. "We had a long list of top candidates who wanted to come to USC and win on the biggest stage. Jen Cohen really stood out for her experience, her dedication to students and their success, and her known strengths as a team builder. She is a fierce competitor who shares with all Trojans a determination to win the right way. I'm confident she'll lead with a culture of integrity, teamwork and commitment to success."
Cohen, a Southern California native, said she is thrilled to join the Trojan Family at this time of great momentum and opportunity.
"I have long admired the Trojan spirit and the USC community's commitment to always Fight On with integrity and absolute dedication in pursuit of excellence both on and off the field," Cohen said. "It is the honor of a lifetime to come back to Southern California to serve as USC's director of athletics and officially join the Trojan Family."
New USC athletic director: Strong focus on student academic and athletic success
Folt said that she received input from numerous student-athletes, coaches, staff and other stakeholders during the search process. Cohen, Folt said, fulfills all of the most crucial criteria for the position, including a strong focus on student academic and athletic success. Parker Executive Search assisted the university during the process.
Reimagining athletics is one of Folt's moonshots for the university. Her vision includes building the nation's best athletics department, complete with world-class leadership and upgraded facilities. She recently unveiled the university's strategic plan for all 21 sports programs in a sweeping round of enhancements that include an innovative football performance center; the construction of Rawlinson Stadium, the new home of USC women's lacrosse and soccer teams; and major improvements to USC baseball's Dedeaux Field and the Galen Center arena. Future renovations include the expansion of the John McKay Center and the student-athlete dining facility and upgrades to the golf practice facility, among others.
The announcement of Rawlinson Stadium — set to be completed in 2025 and serve as a state-of-the-art home for the Women of Troy — comes during a milestone year for Title IX, the landmark legislation that has fueled women's excellence in sports for the past five decades.
This strategic vision and other elements of Folt's athletics moonshot serve to position USC Athletics for continued success through gender equity in support of Title IX, world-class facilities and the best use of space through innovative planning. The university also is preparing to provide several venues for the 2028 Los Angeles Olympics.
These changes come in anticipation of USC's upcoming move to the Big Ten — a conference dedicated to both academic and athletic excellence. USC Athletics set a new department record with a multiyear 2023 NCAA Academic Progress Rate of 990. USC student-atheletes also achieved an all-time high Graduation Success Rate in 2022 at 93%, marking the ninth consecutive year of growth in the key measure.
In the 2022-23 academic year, USC student-athletes were recognized with 27 First Team All-Americans and 16 All Pac-12 First Team honors; 11 teams finished in the top 25; 16 teams made postseason appearances; and USC was named the Crosstown Cup champion. Additionally, under coach Lincoln Riley, USC football was undefeated at the Los Angeles Memorial Coliseum in the 2022 season and Caleb Williams received the Heisman Trophy, making Williams the university's seventh official winner of college football's most prestigious award. In addition, USC's women's beach volleyball won its third straight NCAA championship.
USC is a national powerhouse in every measure of college athletics.

Jennifer Cohen, new USC athletic director
In a promising sign of things to come, six USC teams recruited and signed the top player in their respective 2023 classes, including men's basketball, football, tennis and volleyball, and women's basketball and golf.
"USC is a national powerhouse in every measure of college athletics, and I look forward to honoring the Trojan heritage while working alongside the incredible USC Athletics team as we embrace both the opportunities and challenges of this complex moment," Cohen said.
Record of success for new USC athletic director
At the University of Washington, Cohen led that university's acceptance into the Big Ten Conference, effective next year. During her tenure, Husky athletics programs have flourished, winning 19 Pac-12 championships, including two in football, as well as men's soccer, women's volleyball, and men's and women's rowing. Washington also has one of the strongest softball programs in the country. Several of her coaching hires earned Pac-12 Coach of the Year honors.
Cohen was instrumental in the hirings of football coaches Chris Petersen and Kalen DeBoer, and Washington's football teams made three straight New Year's Six bowl game appearances during her first five years as athetlic director. Also during that time, the teams won a pair of Pac-12 titles and a trip to the College Football Playoff in 2016. In 2018, the Huskies returned to the Rose Bowl for the first time since 2001. The 2023 Washington team is ranked No. 10 in the Associated Press preseason poll.
Under Cohen, the Washington men's basketball team won the Pac-12 regular season conference title and a return to the NCAA Tournament in 2018-19, where the Huskies advanced to the Round of 32. That marked the first March Madness appearance for the school since the 2010-11 season.
Cohen spearheaded the effort to secure a 10-year, $119 million apparel partnership with Adidas that launched in 2019. And, with a background in development and revenue generation, Cohen has led the Huskies to record-setting fundraising levels over the past seven years.
She also serves as a member of the College Football Playoff Committee and as a member of the National Coalition of Minority Football Coaches.
She joined the University of Washington in 1998 as an assistant director of development before moving to the university's central development office to focus on fundraising efforts on behalf of the office of undergraduate education. She also spent time with the Washington's regional gifts program before returning to athletics to oversee the department's major gifts program. Cohen became the director of athletics in 2016.
Originally from Arcadia, Calif., Cohen received her bachelor's degree from San Diego State University and her master's degree in physical education with an emphasis in sports administration from Pacific Lutheran University. In 2020, Sports Illustrated named Cohen one of the most powerful, influential and outstanding women in sports. She was also named a finalist for Sports Business Journal's Athletic Director of the Year in 2019.
Cohen has two sons, Tyson and Dylan, who are student-athletes at other universities.