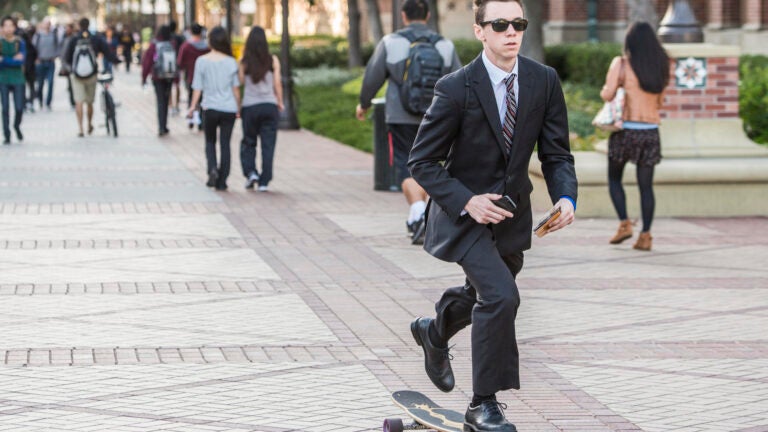 Job prospects looking rosier for 2014 grads after commencement
Employers plan to hire nearly 9 percent more freshly minted alumni this year than last year
Members of the Class of 2014 will have better job prospects than any previous graduating classes since the start of the Great Recession, according to national and local experts.
U.S. employers plan to hire nearly 9 percent more Class of 2014 graduates than they hired from the Class of 2013, according to the National Association of Colleges and Employers, or NACE. The early outlook for the Class of 2015 looks good, too. Nearly 42 percent of employers surveyed by NACE said they expect to hire more new grads during their fall 2014 recruiting season than they did in fall 2013.
Carl Martellino, executive director of the USC Career Center, has seen the uptick in hiring firsthand.
"We've seen an increase in the number of employers who come to our career fairs, an increase in on-campus recruiting, and an increase in students with multiple job offers," Martellino said. "There has been an increase not only in attendance, but also in the quality of companies coming to campus."
Focus on life after college
Trojans are enjoying the benefits of increased collaboration across the university among career services, faculty, academic advisors and alumni.
This support network will soon be fully integrated with technology that will allow for students to track their career development progress in addition to their academic progress. Academic advisors will begin helping students develop their career paths as soon as they arrive on campus.
"Students often wait until their senior year to come into the career center," Martellino noted. "The big shift will be that as soon as students first start at USC, they will be engaged in thinking about their future after USC."
Martellino said that several classes have already been launched across the university in which faculty engage students in their career development and discuss job prospects.
For members of the Class of 2014 who still need some help looking for employment, fear not. USC will hold a one-day boot camp, "Jump Start Your Job Search," on May 22, from 9 a.m. to 3 p.m., in the Student Union (B3).
And every new USC graduate receives four 50-minute appointments with a career counselor, in addition to numerous other resources to help their career hunt.
Tools for Trojans
Lori Shreve Blake, senior director of alumni and student career services, said new graduates now have a bevy of ways to search for jobs through USC.
Connect SC offers job listings exclusively for students, recent graduates and experienced alumni, as well as a variety of online resources. Career Beam is a 24/7-career management tool for job listings, assessments, resume writing and interview skills, and is accessible through Connect SC. The newly launched Going Global is designed for students looking to live and work elsewhere in the U.S. or in another country.
Robert Kleinhenz MA '85, PhD '89, chief economist for the Los Angeles County Economic Development Corporation, said college graduates always enjoy an upper hand in employment. Currently, their unemployment rate is half that of the overall population, and their lifetime earnings are 50 percent higher than those without a college degree, he said.
"No matter what field a student pursues, the college experience provides that individual with analytical and critical thinking skills, time management skills, and exposure to a wide range of perspectives, all of which will enable that person to navigate the twists and turns of a 21st century career," he said.
With a sunnier outlook for hiring nationally, USC graduates in particular have several advantages over their competition, including the broad network of Trojan alumni, said the career center's Blake.
"This has been the strongest year yet, and graduates coming from top schools like USC are in a good place," Blake said. "Eighty percent of jobs come through networking, and that is what we at USC are known for."