USC students help homeless get job-ready through volunteer initiative
USC's Joint Educational Project connects students with volunteer opportunities helping the homeless; it's part of the university's commitment to reducing homelessness in L.A. County
Gloria Cheng is sitting in a back room at Chrysalis, a homeless organization off L.A.'s Skid Row. She has a resume pulled up on the computer screen in front of her.
She turns to Dennis, 51, next to her.
"So what type of job specifically are you looking for?" Cheng asked.
Right now, he works a few jobs, mostly as a security guard. You might've seen him at the America's Got Talent auditions in Pasadena or at Rams or Trojan football games at the the Los Angeles Memorial Coliseum.
He'd like a steady gig. He likes driving, he said.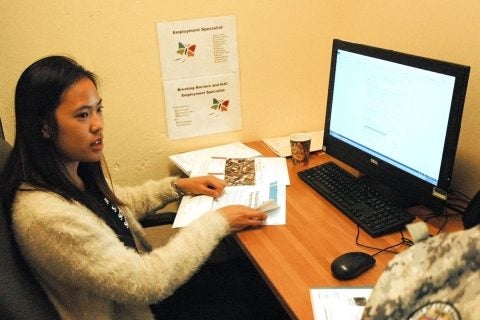 For the last couple of weeks, Cheng, 19, has been coming to Chrysalis to help with job-training services — editing resumes and doing practice interviews.
She's participating in a new homeless initiative of the USC Joint Educational Project, which aims to connect USC's student body with volunteer opportunities with homeless populations. It's part of USC's greater commitment to reducing and alleviating homelessness in Los Angeles County, where roughly 58,000 people experience homelessness on a given night, according to LAHSA.
"Chrysalis seemed like a very unique program to me because it specifically targeted job retention … which seems like a sustainable long-term solution for a problem that sometimes seems like it has no solution," said Cheng, a sophomore majoring in health and human sciences.
Connecting the dots
USC students show interest in working in the community but sometimes don't know how to go about it, said Brenda Wiewel, director of the university's Initiative to Eliminate Homelessness. The JEP program can help connect those dots — and it has a long history of running volunteer programs.
"That way, students get some experience working directly with people who are experiencing homelessness," she said. "They can also come back to JEP to reflect and get lots of support. I'm happy with the results so far."
Dennis, who grew up in the south side of Chicago, has been using the services for the last week or so. After this, he'll do a practice interview and meet with a job coach before heading to a security gig in the afternoon.
"I'm so tired of working three to four jobs at once," he said.
Today, he's dressed in a crisp white button-down shirt and navy pants. He carries a camouflage backpack, where he keeps his cellphone and a handwritten schedule.
"I'm ready to go. I've got my tie, a smile and a good attitude," he said.
Dennis has been out of the country, living in Asia for the last 20 years. He moved there in the late '90s, reeling from the death of his fiancee, who was killed in a car accident. He returned in July when his uncle died and has to stay to settle his uncle's affairs — sell his house, pay his debts. Then he'll return to his girlfriend, who is waiting for him in the Philippines. He sends more than half his pay to help support her and her family.
He's currently homeless, sleeping at a shelter. But he said that's not the hardest part.
"I'm spending 20 to 25 hours a week commuting, like today it'll take me an hour and 45 minutes to get to [my job]," he said.
There's also the clothes, like what he's wearing today. It all adds up.
"You have to have black socks, black shoes — shiny black shoes — white shirts, ties," he said.
Having one job, versus jumping from gig to gig, would keep those costs down, he said.
Finding jobs for homeless people
Cheng beefed up Dennis's resume, adding specific examples under jobs and skills, including software he knows and his experience in project management.
"And then I just put fluent in both Chinese and Italian," she said.
"Yeah, that sounds like an interesting dude," he said, with a laugh. "I want to meet that guy."
"That's the goal," Cheng said, with a smile.
Dennis noted degrees from University of California, Berkeley and Arizona State University — where he studied aeronautical engineering and business — and, most recently, a degree from a Chinese university.
He asked Cheng what she wants to do. She's thinking pre-med. At one point, he was thinking pre-med, too.
Time and attention
After the session, he tells Cheng he appreciates her help. He doesn't know if he could give this the time and attention that she did.
Cheng sometimes feels a bit out of her league doing these sessions, she said. She's still new to the job world herself.
But Michelle Lopez of Chrysalis said that's not the point.
"I can train anybody on resumes and practice interviews, right?" said Lopez, the volunteer and program coordinator. "What I can't train people is to be compassionate. I can't train them to be supportive. That's something that has to be within them."
Cheng has no intention of ending her volunteer efforts when her semester program is over.
"My two hours a week spent at Chrysalis make me feel less helpless in trying to solve the immense issue that is homelessness in L.A.," she said. "Chrysalis is a starting point for me to learn more about the issue from the people themselves, and help in a way that I know is productive.
"This is the tip of the iceberg for me."