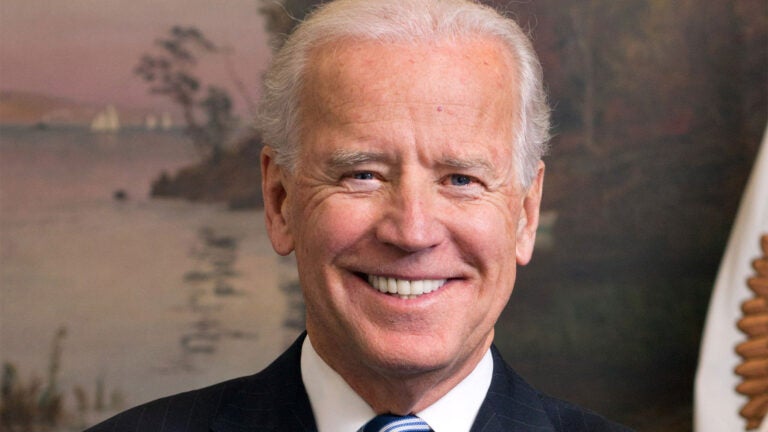 USC Dornsife/L.A. Times poll shows Joe Biden leading the 2020 Democratic field
The former vice president leads by 10 points among potential 2020 Democratic candidates for president, with Sen. Bernie Sanders in second place. The poll also found lukewarm praise for President Donald Trump's tax cuts.
With months to go until the Iowa caucuses begin to winnow the field, former Vice President Joe Biden is leading by 10 points among Americans intending to vote in their state's Democratic presidential primary or caucus at this time, according to the latest USC Dornsife/Los Angeles Times poll.
The probability-based internet poll, conducted from March 15 to April 15, shows U.S. Sen. Bernie Sanders, I-Vt., in second place.
While Biden draws support of voters age 30 and older, Sanders leads Biden among voters 30 and younger.
Most of the responses to the poll were provided in the weeks before women began speaking out about unwelcome physical interactions with Biden, so any impact of those allegations will be measured in future polls.
"There is good news in this poll for both Biden and Sanders, and they each also face real challenges. Biden clearly starts as the front runner. But there may also be a sense among Democrats that it's time to move on to a new generation," said Robert Shrum, director of the Center for the Political Future at the USC Dornsife College of Letters, Arts and Sciences, which oversees the poll. "The resistance to Sanders as you go up the age scale could limit his ability to expand his support."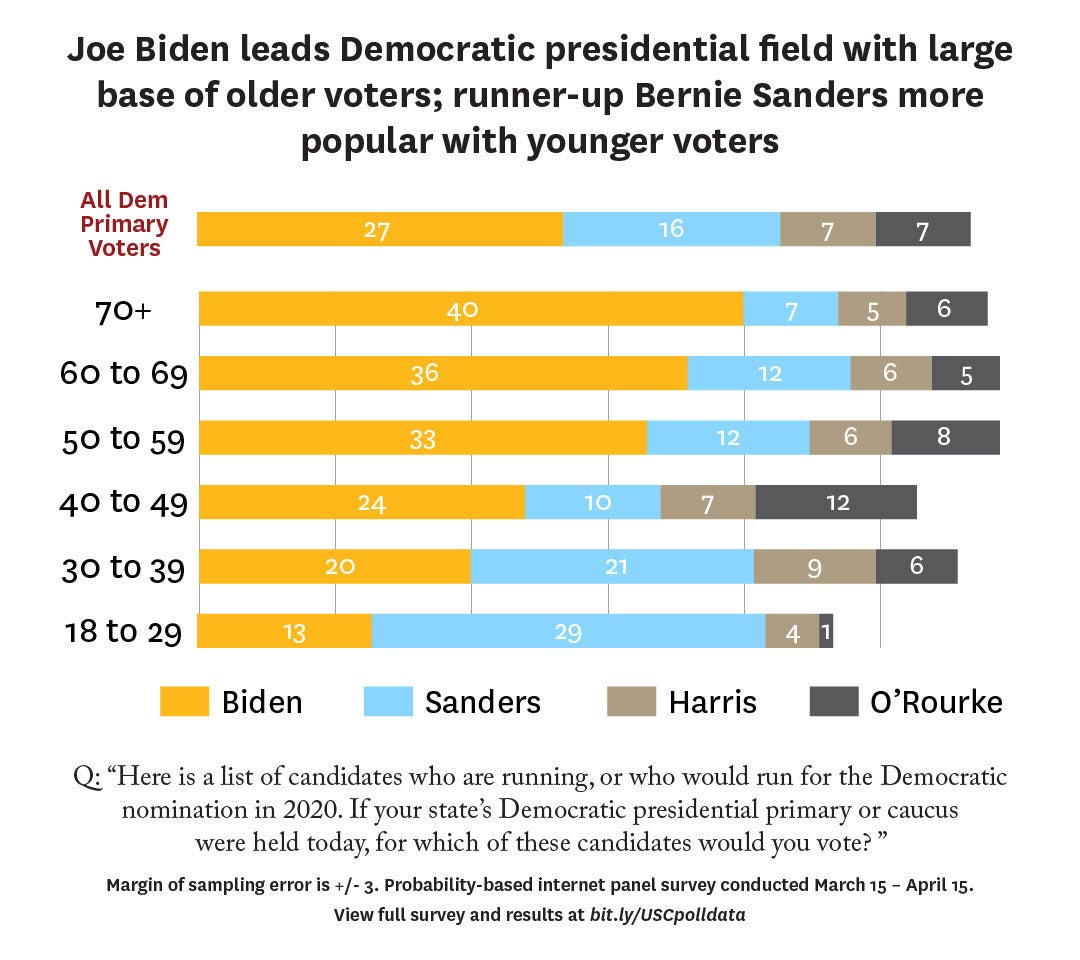 2020 poll addresses health care and presidential gravitas
Health care remains a key campaign issue for Democratic candidates. Biden wins among voters who volunteered health care as their main policy concern by nearly 2 to 1 over Sanders (32% to 17%), even though health care was at the heart of Sanders' 2016 campaign. Support for U.S. Sen. Kamala Harris, D-Calif., rises from 7% overall to 9% in this group.
The poll asked Democratic primary voters to write in their top priorities when choosing a presidential nominee. Health care topped the list of policy priorities, followed by fiscal concerns and the environment.
Strong experience in politics or government and well-rounded knowledge topped the list of preferred backgrounds, while honesty, integrity, intelligence and a presidential gravitas topped the list of desired personality traits.
"Responses from Democratic primary voters in our poll indicate they are looking for a candidate whose experience and personal characteristics represent the opposite of how Democrats tend to characterize Donald Trump," said Jill Darling, polling director for the USC Dornsife Center for Economic and Social Research, which conducts the poll. "Biden and Sanders have national name recognition but they may also represent the D.C. experience, gravitas and broad-based appeal that Democrats believe a candidate will need to unseat Trump, whose job approval numbers remain solid among Republicans and those who tend to vote with that party."
Meanwhile, Biden leads Sanders among voters whose top issues are, in addition to health care, the environment (31% to 16%) and the economy (25% to 16%). Beto O'Rourke's vote more than doubles to 16% among voters citing immigration as a top issue, putting him within hailing distance of Biden at 25%, while Sanders was the choice of 7% among this group.
Gender, race advantage in 2020 race?
Social movements focused on issues of race and gender, such as #BlackLivesMatter, the Women's March and the #MeToo movement, have been on the rise in recent years, particularly after President Donald Trump captured the White House in 2016. Nonetheless, the latest poll results do not show that voters are focusing on identity politics.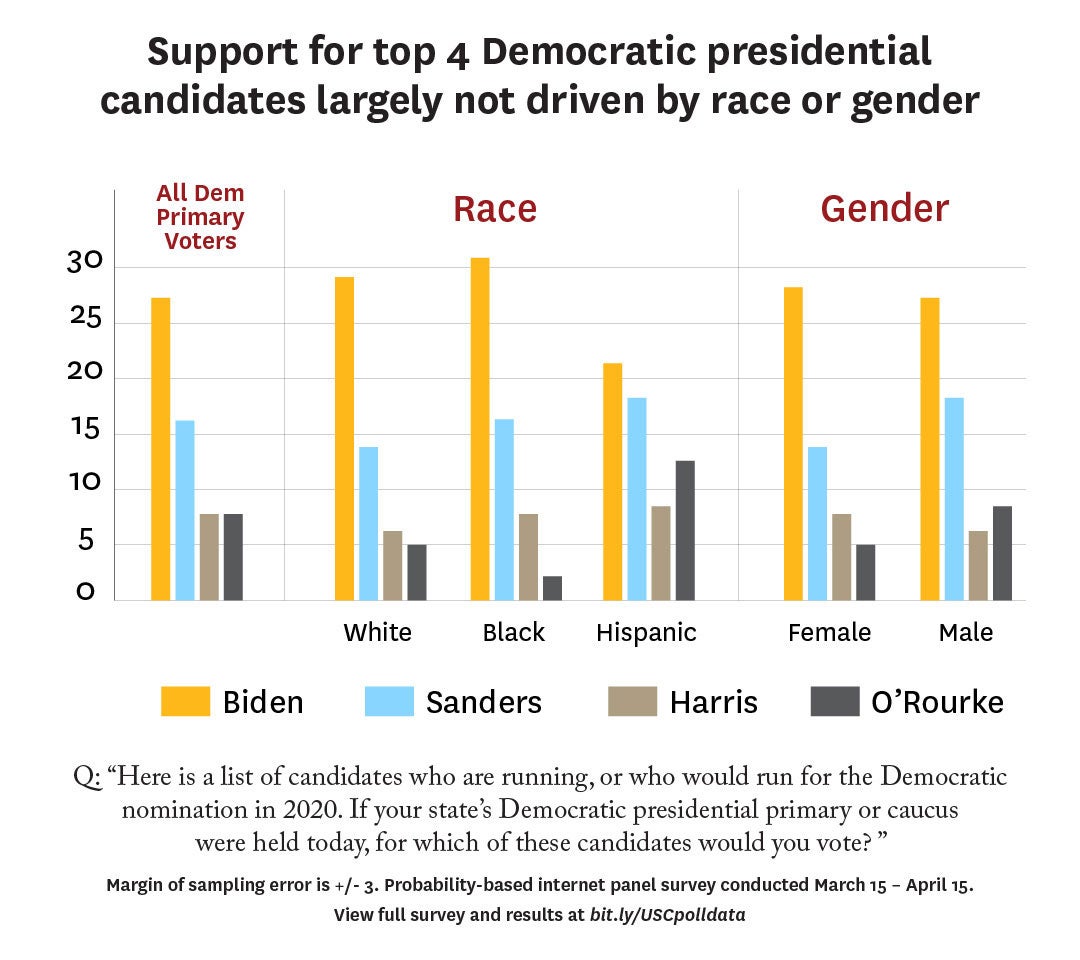 "If you look at voter support for the candidates by race and gender, female candidates do no better among women than men, and the African American candidates do no better among African American voters," said Mike Murphy, co-director of the Center for the Political Future.
Not much 2020 boost from the tax cut
Historically, presidents have gained some support after tax cuts. Murphy said. In the wake of tax cuts signed by Trump, however, voters are at best lukewarm.
"The Democratic rhetoric has been so strong on tax cuts for the rich, but they didn't really score there," Murphy said. "But the Republicans didn't get much there, either."
Shrum added: "This has not been a major boon to Republicans. Out of their single major legislative achievement, I think Republicans were expecting a major boon."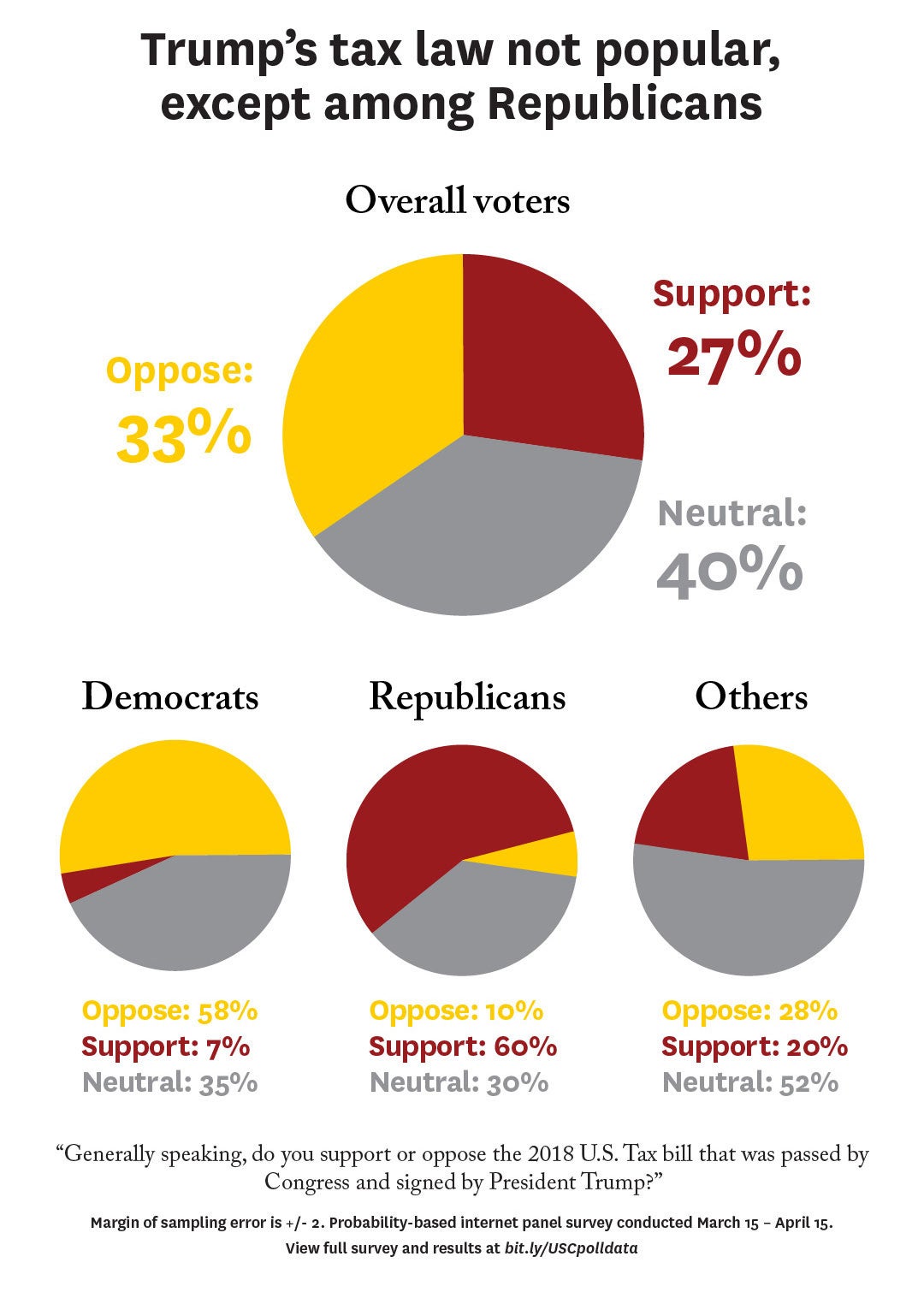 As the first filing season under the new tax regime comes to an end, the poll also inquired about what Americans think of the new tax law. Overall, 1 in 3 oppose the law and 1 in 4 support it.
Most Americans do not feel that the new law has fattened their paychecks. Among those who have filed already, fewer than 1 in 3 said that they are either getting a larger refund this time or owe less money.
Support for the law rises among those who felt that they are better off after the tax cut. Similarly, opposition increases among those who said they have received smaller refunds or owe more money.
None of these outcomes, however, seems to have had as much impact on people's view of the law as their partisanship.
"While experience appears to shape people's reactions, party affiliation supersedes this," said Marco Angrisani, a Center for Economic and Social Research economist.
That is especially true among Democrats. Even among those who reported being better off this year than last, only 1 in 20 said they support the new law. Among Republicans who reported being better off, only 1 in 100 oppose the law. But among those who reported being worse off compared to last year, 1 in 6 oppose it.
---
Poll methodology: The sample for this latest poll included 5,076 eligible voters and 2,196 who intended to vote in a 2020 Democratic presidential primary. The poll was conducted online in respondents' choice of English or Spanish. The overall margin of sampling error is +/-¬ 2 percentage points for all U.S. eligible voters and for 2020 Democratic primary voters. Margins of sampling error may be higher for certain subgroups, and those are indicated in the associated banner cross tab release.
Information about the poll including methodology, question wording and results, as well as the archive of results of prior USC Dornsife/LA Times polls, are available online.
About the poll: The USC Dornsife/L.A. Times poll is a partnership of the Los Angeles Times and two institutions at USC Dornsife College of Letters, Arts and Sciences: the Center for the Political Future and the Center for Economic and Social Research. For more information about the Center for Economic and Social Research Understanding America Study internet panel, visit the study's website.