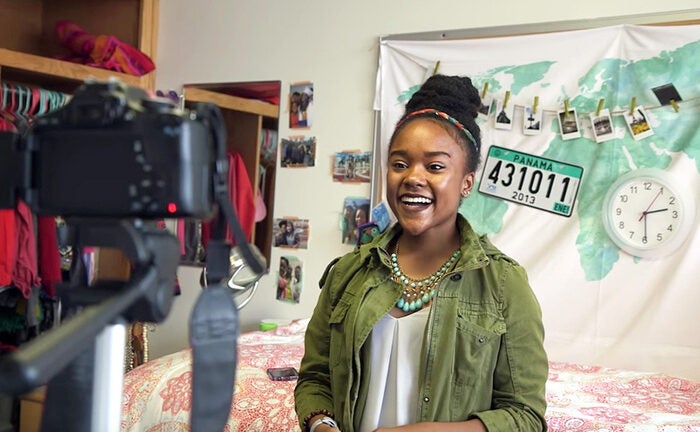 Joi Wade chronicles her USC freshman experience on YouTube
Thousands of followers are watching as she navigates life as a new Trojan and offers advice to kids preparing for college.
https://youtu.be/Q1i-L-E5WAU
When Joi Wade visited USC for the first time, she paid careful attention the dorms.
"I was explaining to my parents why I needed for my room to have good lighting," said Wade, a freshman now. "I film a lot in my room."
Wade, 18, came to college with about 18,000 followers on her YouTube channel, aptly called Joi Wade.
Wade, from Atlanta, is a first-generation college student. And that means she learned a lot about the ins and outs of applying to college by herself.
Her channel quickly became known for tips on tests, such as the ACT, and how to apply for financial aid. Wade received scholarships for multiple schools, including USC, where she's an Annenberg Scholar at the USC Annenberg School for Communication and Journalism.
"Since being at USC, the comments have been geared a lot toward 'How do I get into USC?' or 'Can you show me this part of USC?'," she said.
College tips
Because of the questions she received, she wrote a book with tips on getting into college, which she self-published this summer.
Gabriel Kahn, who jointly leads USC Annenberg's Media, Economics and Entrepreneurship program, said it's clear Wade understands the power of the channel.
"Through a combination of personality, style and subject matter she has developed a … persona that looks pretty powerful," he said.
And Wade isn't the only YouTube star on campus, by any means.
"There are a couple other YouTubers – and by a couple I mean a lot," she said. "USC is kind of a YouTube feeder school … I remember watching USC YouTubers when I was in high school and that's how I decided 'Oh I want to go to USC'."
Kahn said she couldn't be in a better spot for it, either.
"It's a little bit like location, location, location," he said. "Los Angeles is the navel of the YouTube universe."
First-year expertise
As she continues the channel, Wade is talking about what she knows best, her first year in college. She films everything in her dorm room. A map of the U.S. serves as her backdrop.
"As I'm experiencing new things freshman year, I'm making videos about how that's going," she said.
A recent video she posted talked about the pros and cons of going to school out of state, such as homesickness. But missing her family in Atlanta doesn't keep her from getting out of Birnkrant, her residence hall.
She recently joined an African dance club and thinks it might be fun to start a club for other YouTubers.
She hopes those watching her channel, such as fellow first-generation students, get inspired to step out of their comfort zone when they go to college. You can look at it as an advantage, she says.
"They knew they wanted to be the ones to go to college so that just makes you better conditioned to be in the college environment because you already have that mentality – that you want to go further," she said.