Meet USC's zero waste auditor: Where most people see abandoned fruit, he sees a delicious dessert
Josh Rebello audits trash, compost and recyclables for a living. The data he produces drive sustainable practices at USC, where multistream recycling is expanding.
Josh Rebello is an auditor, though no tax returns are involved. His audits are done outdoors, wearing protective gear and sifting through bags of garbage, recyclables and compost materials.
"I'm a zero waste auditor, and that's not an easy job to explain," he said. "I tell people I do waste characterization, going through trash. As soon as they hear that they're like, 'Oh, you're a trash man.'"
While Rebello has no issue with the "trash man" moniker, he's eager to explain what he really does.
"I look at the bags that come from our recycling stations – landfill, recycling and compost – to get an idea of how people are using those bins," he said. "Once we know how we're doing, we can reinvest in educating people about what goes where."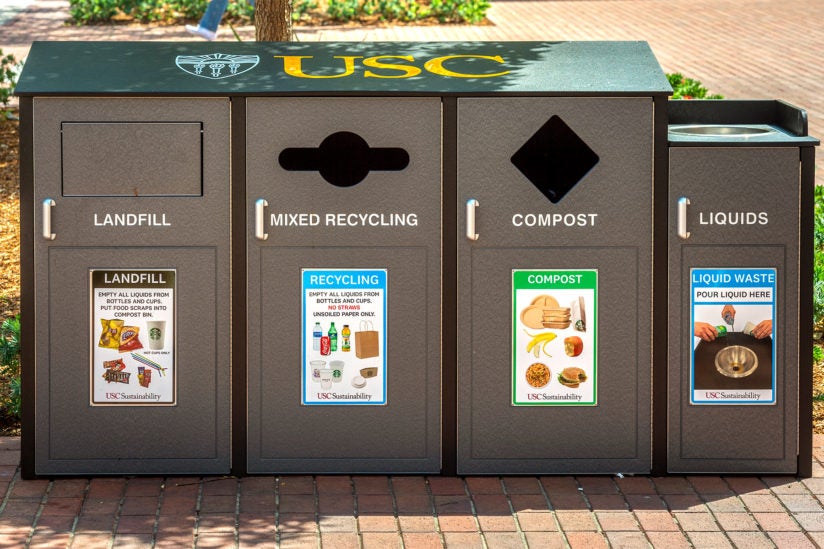 If everyone lived like Rebello, there wouldn't be much trash to worry about. He composts behind his apartment building, and he carries his own containers to stores that fill them with household products. Rebello makes his own lip balm with beeswax and jojoba oil. Toothpaste is just baking soda and coconut oil. His dessert recipes include found fruit.
"I discovered some bananas in a compost bin," he said. "They were a little bruised but inside they were perfect, so I turned them into banana ice cream. A co-worker and I came across a box of apples that had been abandoned next to a compost bin. I put some in a bag, made apple crisp and brought it to work."
It's worth noting that Rebello carried the crisp to campus on the bus. He's lived in Los Angeles for three years without a car. Plenty of walking keeps him effortlessly thin.
Josh Rebello is helping USC get to zero waste
Rebello is one of two zero waste auditors at USC, a duo expected to become a team of 20 in the next five years. They'll help USC move toward its goal of zero waste — meaning 90% of all recyclables and compostable materials are diverted from landfills — by 2028.
It's a process that starts upstream by reducing non-recyclable materials and packaging. Recycling and composting come in downstream. Last year, the university's diversion rate was 33%, giving Rebello and his boss Gina Whisenant plenty to do.
"We're trying to close the loop and keep our recycling and avoid the landfill at all cost," said Whisenant, a waste and recycling supervisor. "That means keeping trash out of recycling bins and compost. We do very well with recycling, but we often find 75% recycling in our landfill bins. We have to do better than that."
In an ideal world, everything would just be reusable.

Josh Rebello
Whisenant has overseen the deployment of 70 new, clean-stream recycling stations at USC Village, McCarthy Quad, Tutor Campus Center, Leavey Library and Pappas Quad at the Health Science Campus. Another 200 will be out by next summer. Similar stations were piloted late last year. All have bins for landfill, recycling and compost, along with a sink to dump out soda, coffee and water. Liquid can contaminate recyclable containers and make trash much harder to handle.
The university has proven the viability of zero waste at the Los Angeles Memorial Coliseum, which is operated by USC. The Coliseum has hit zero waste at the majority of Trojan home football games over the past few years and will try for its third Zero Waste Bowl victory on Saturday when the Trojans play Oregon State.
In a zero waste auditor's ideal world, everything is reusable
At 26, Rebello has been auditing for several years. He can eyeball a transparent bag of trash and estimate how much of it could have been recycled or composted almost instantly. Wearing a sun hat that, in a previous life, was a discarded dining hall decoration, he tracks it all on a sturdy tablet. All that data contributes to a bigger tracking effort. Its conclusions are fed back into an education loop to help teach the campus community how to recycle right.
"In an ideal world, everything would just be reusable," Rebello said. "Because the industries that are making these things, they're not telling anyone the proper way to dispose of any of it. It isn't necessarily taught in school, and if your family isn't doing it, you're just not going to be aware. So that leaves the university to educate people."
Find out more about how to use multistream waste bins: