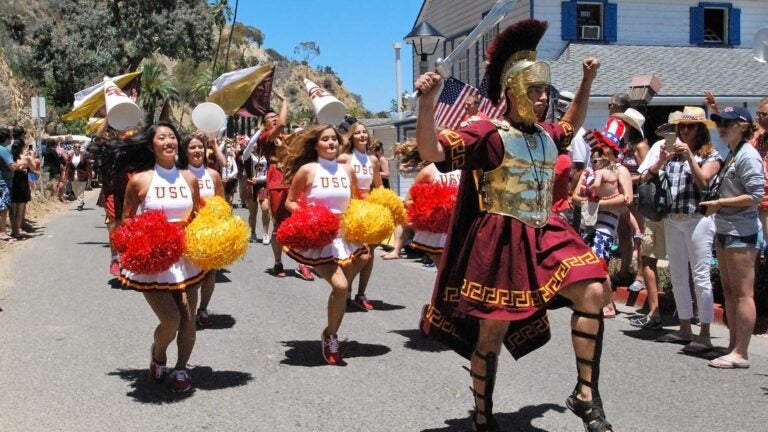 USC drum major has a full schedule even without band duties
When he's not acting on stage, School of Dramatic Arts senior Chris Wodniak fires up football crowds for the USC Trojan Marching Band
After a season-opening loss to top-ranked Alabama in September, it was anyone's guess how the rest of the football season would play out for USC.
But after a series of eight consecutive wins, including easy victories over UCLA and Notre Dame, head coach Clay Helton will lead his team against Penn State in Monday's Rose Bowl.
And, as usual, senior Chris Wodniak will take his place in a familiar role for the USC Trojan Marching Band.
Major responsibilities
It's the rare student to-do list that includes helmet plume maintenance, but then again Wodniak is a rare student. As the drum major for the band, he has a host of responsibilities, including readying his gear.
"I'm responsible for keeping in communication with our blacksmith in Burbank to make sure the helmet is complete and ready," said Wodniak, who takes classes at the USC School of Dramatic Arts. "There's no plume on it, so I have to carve out a wooden trough and stick in a ton of horse hair to make the new plume."
Wait, what? Is Wodniak actually saying that he, the crowd-inspiring gladiator at every Trojan football game, the hood ornament on the Rolls Royce that is the Trojan Marching Band … he's the one in charge of stuffing the hair?
"I could hire somebody to do it," he said, "but there's a certain level of intimacy with being able to work so closely with the armor throughout the season. There [is] a so much better emotional connection there."
From Iowa to L.A.
The son of a dentist and a flight attendant, Wodniak grew up in Iowa and Chicago. When he came to USC initially as a pre-med, Wodniak — a trombone player since fourth grade — also knew that he wanted to participate in the university's famed marching band.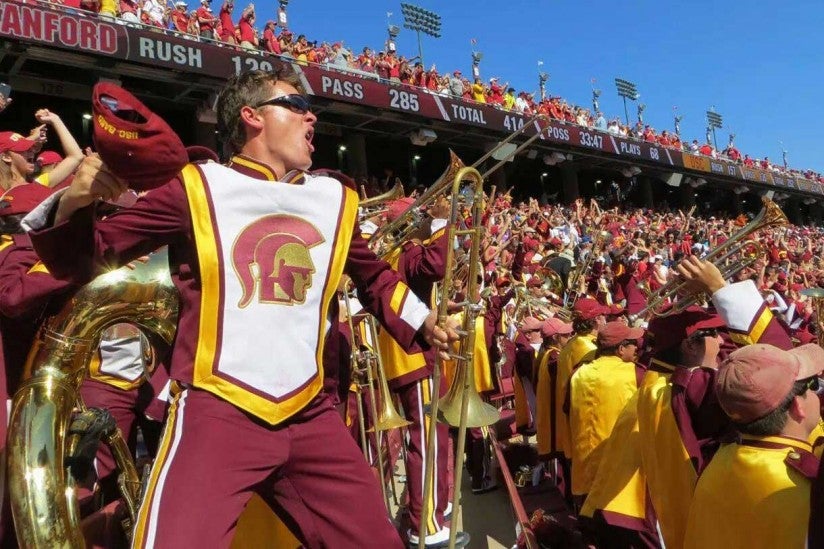 Wodniak eventually switched his major to dramatic arts and discovered that band and theater didn't always easily sync up schedule wise. The 300-member unit — also known as the Spirit of Troy — attends every USC football game and is frequently hired out for special concerts and events, both locally and across the country. Not exactly a commitment that easily accommodates a theatrical rehearsal schedule.
Wodniak learned this during his junior year while working in productions of the musicals Floyd Collins and Into the Woods. The dual duty had him motoring from band practice directly to show rehearsal with barely enough time to take a shower or power down a quick dinner.
"I made it work, but it was an incredible amount of stress," Wodniak said. "It was definitely worth it, though. Those shows were amazing."
After spending his first two years as a member of the band, Wodniak became a squad leader during his junior year. His election as drum major for 2016-17 means that Wodniak leads the band in a series of fight songs. As the band's most visible member, a costumed Wodniak marches in before the start of the game and stabs the field with his sword.
"I am supposed to be the powerful, the resilient, the very focused man that everyone can look to and say, 'All right, that is a Trojan. That is what we represent,' " Wodniak said. "So that requires me to be in game mode all day long."
Asked whether his Spirit of Troy persona also allows him to use his acting skills, Wodniak considers the question.
"The role of drum major doesn't come without its hardships," he said. "It's the heat and the sun and the physical exertion of marching and staying vigilant the entire time that you're wearing a uniform is definitely a role that I fill. It's definitely a role that I'm embracing and I'm accepting the challenge."
There's no curbing his enthusiasm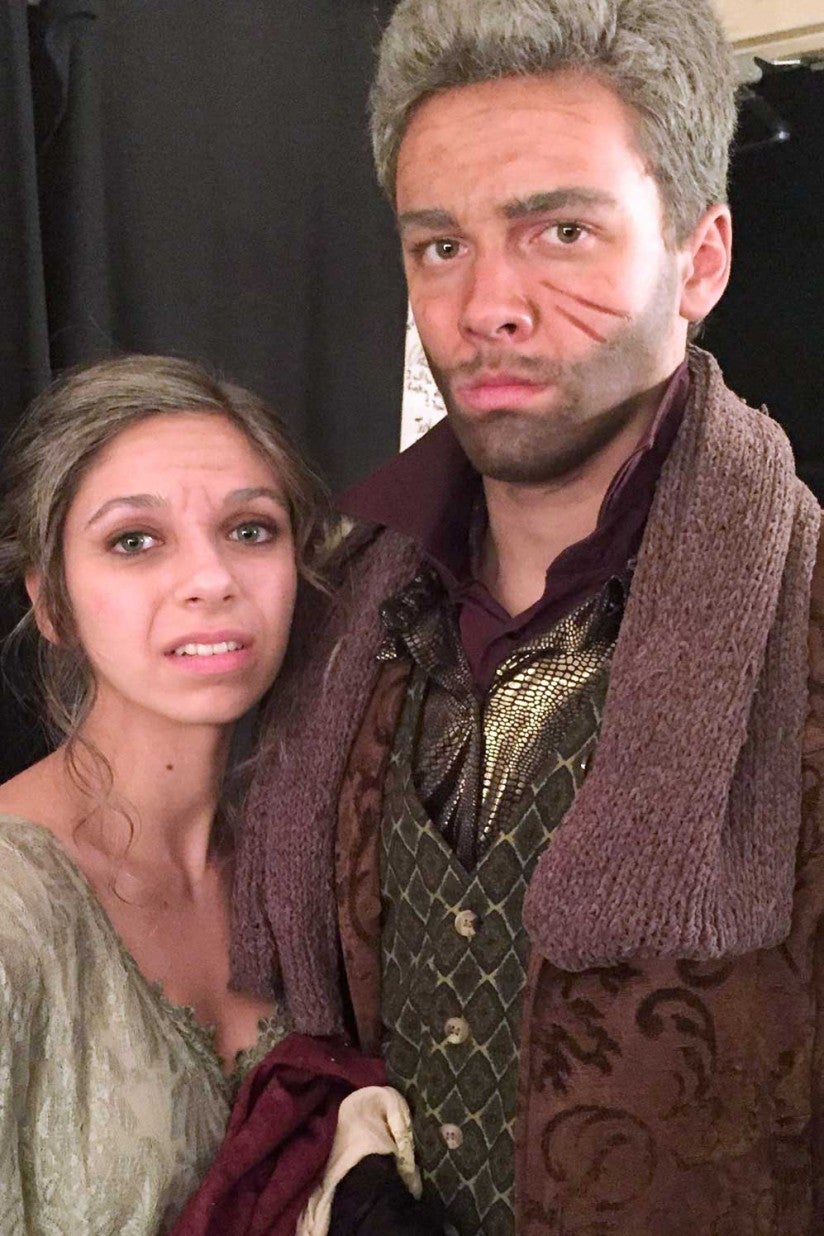 School of Dramatic Arts faculty member Robert Bailey, who taught Wodniak in his introduction to stage directing class, said that Wodniak's defining characteristic is his boundless enthusiasm. Whether bringing in a homemade bug costume for the actor he directed for a scene from Franz Kafka's Metamorphosis or cracking up his classmates performing a barroom encounter from The Last Days of Judas Iscariot, Wodniak enjoyed himself thoroughly and brought a similar spirit of enthusiasm to the class, according to Bailey.
When the Skylight Theatre put out a call for actors for a reading of a new play, Tom Lavagnino's Eleanor Tuesday, Bailey recruited Wodniak.
"He was going to be acting with a real seasoned actor and I thought Chris would hold his own, hang in there and know what to do, and he did," Bailey said. "He's somebody you remember because he just has such a great positive approach to everything he does and he's very talented."
Fall semester and the accompanying 12 football games have tied up Wodniak's schedule. He hopes to get back on the boards in the spring.
"I completely understand the situation I've put myself in. It's something I just have to accept," Wodniak said. "I'm really confident in all of my abilities and nothing stops me."