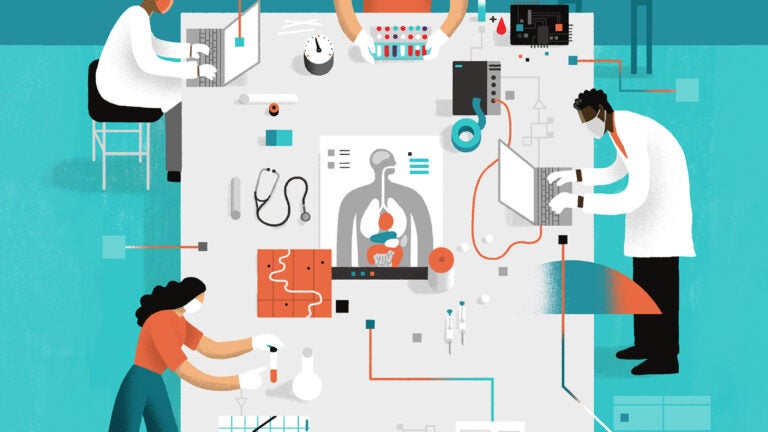 Keck Medicine of USC Looks East
With the recent USC Arcadia Hospital affiliation, Keck Medicine of USC continues its tradition of innovation, growth and community partnership.
Picture this: A patient arrives at a local hospital's emergency room short of breath. Emergency room physicians run scans that reveal a bilateral pulmonary embolism. The community hospital doesn't have a pulmonary embolism response team but partners with an academic hospital that has one—so the two hospitals coordinate the patient's transfer.
Less than two hours later, doctors from the academic medical center—specializing in interventional radiology, pulmonology and pulmonology hypertension—successfully remove the embolism. The patient, now out of danger, isn't expected to have lingering problems.
This orchestration of care is just one of the many ways Keck Medicine of USC hopes the San Gabriel Valley community will benefit from its recently announced partnership with Methodist Hospital of Southern California in Arcadia, now known as USC Arcadia Hospital.
The new collaboration will expand the university's and its medical enterprise's footprint as a leading provider of health care in Southern California and beyond. In 2024, a new, state-of-the-art medical office building in Pasadena for various Keck Medicine practices will open, enabling partnerships that send Keck Medicine physicians as far as Visalia and Las Vegas.
"Having specialized university physicians readily available to support community physicians through doctor-to-doctor communication and collaboration provides timely information that may be critical to informing a patient's treatment plan," says Keck Medicine of USC CEO Rod Hanners. Through this affiliation, San Gabriel Valley patients can access the complex care they need from Keck Medicine's clinicians, while continuing their ongoing care with their community physicians.
With the strength of education, research and clinical care represented by the university's five health-related schools (which represent 55% of the university's total research, 70% of total full-time faculty and 54% of fulltime staff), Keck Medicine is well-poised to provide this level of care. Through team-based collaboration, Keck Medicine utilizes the diverse expertise of the university's many health disciplines.
Expanding Keck Medicine's clinical enterprise is also vital to fulfilling USC President Carol L. Folt's vision for USC health sciences.
In her State of the University address from the Health Sciences Campus last April, Folt said her goals included a commitment to growing the university's health sciences for maximum impact. She also supports expanding the schools' research, clinical practice, community outreach and student aid through the USC Campaign for Health and cross-school collaboration that "addresses some of the greatest issues and opportunities of our time."
Interdisciplinary Collaboration for Team-Based Care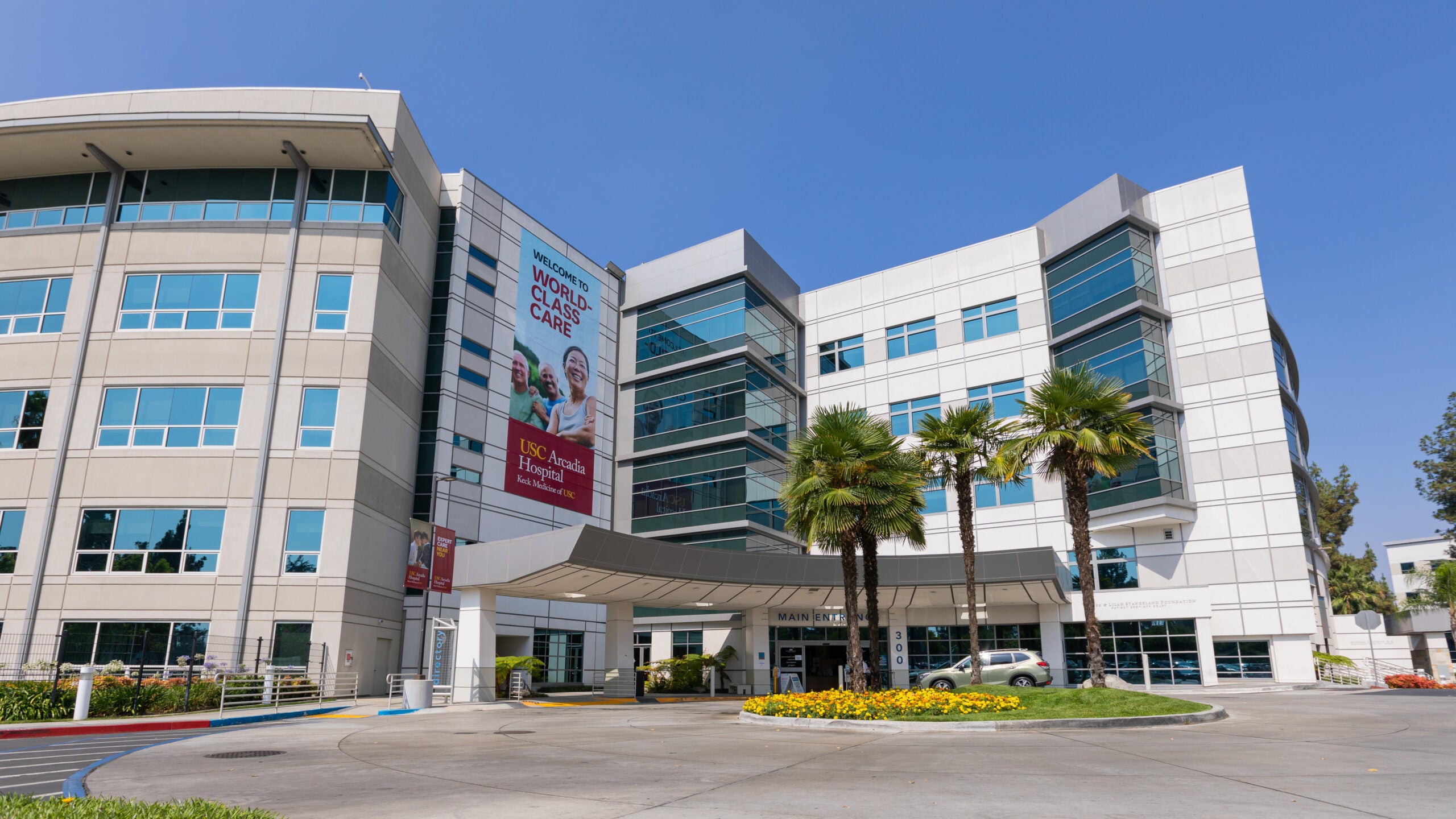 Steven Shapiro, USC's senior vice president for health affairs who oversees Keck Medicine of USC and the Keck School of Medicine of USC, hopes the USC Arcadia Hospital affiliation moves the needle on all three goals.
Shapiro, a physician-scientist who was hired last year to promote greater collaboration across the university, aims to position USC as an important clinical leader in the increasingly competitive Los Angeles health care market.
One priority of the collaboration is building a care model that combines disparate disciplines to provide comprehensive care.
Instead of visiting multiple health centers for care, patients can work with one integrated team who understands their health background, from primary care to more complex specialty services.
The nation's aging population highlights why this team-based care is needed.
"Most of the health problems we see in our country are related to aging," Shapiro says. Each of USC's health science schools contributes to an effective care team, including social workers who keep in touch with patients, pharmacists who deliver the most effective medications and specialists in gerontology who understand aging patients.
He also sees community partnerships, such as the USC Arcadia Hospital acquisition, as an opportunity to move away from the U.S. health care system's episodic model of treatment. USC's medical enterprise will embrace a more "continuous care model," where cross-disciplinary partnerships combine with community understanding and specialty services to deliver the best patient care possible.
"All these different groups coming together will allow us to provide team-based care in the clinical setting," Shapiro says. "This kind of collaboration gives us a diversity of opinions and ideas to approach the research problems we have as well. We believe taking advantage of all the great schools we have at USC is a great start."
Preserving Local Values
The collaboration comes at a critical time: Across the nation, individual corporations and academic health centers are consolidating health care and controlling health care markets. With less competition in those regions, larger entities are free to set higher prices that are often passed down to patients in the form of more expensive hospital bills and insurance premiums.
While Southern California has a more diverse health care market than much of the country, the region is starting to the diverse San Gabriel Valley in a sustainable way while expanding the reach of its clinical enterprise," Robinson says. As a result, local stand-alone hospitals struggle to thrive and offer quality, affordable care to their patients.
To ensure that Keck Medicine's newest collaboration preserves USC Arcadia Hospital's connection to its community and its patients while delivering a high level of care, both sides of the partnership must engage in a period of learning and understanding, says physician Jehni Robinson, president of USC Care Medical Group, chair of the department of family medicine and associate dean for primary care at the Keck School.
Likewise, Robinson describes cultural humility as an ongoing and "critically important journey" that involves working toward faculty and staff reflecting the communities they'll be serving as Keck Medicine's medical enterprise continues to expand.
Robinson says that Keck Medicine has approached community partnerships in the past with an eye for what each region needs and a recognition of the high-quality care these hospitals already provide.
By joining Keck Medicine, USC Arcadia Hospital will be able to preserve its 100-plus-year history of providing primary health care.
By joining Keck Medicine, USC Arcadia Hospital will be able to preserve its 100-plus-year history of providing primary health care. The San Gabriel Valley community will also benefit from the addition of Keck Medicine's expertise in treating more complex cases that require highly specialized skills, technology and resources. The majority of care will still occur at USC Arcadia Hospital. Still, highly complex cases that require specialized academic medicine (such as organ transplants and robotic surgery) can be seamlessly handled at Keck Medical Center of USC on the USC Health Sciences Campus.
"I think it's a real opportunity for a win-win scenario where Keck Medicine can provide highly specialized care to the diverse San Gabriel Valley in a sustainable way while expanding the reach of its clinical enterprise," Robinson says.
Over the coming years, Keck Medicine will invest in USC Arcadia Hospital's physician recruitment and professional development, equipment, infrastructure and services in neurosciences, cardiac care and oncology.
Additionally, the health system will develop academic and training relationships for USC residents and fellows at USC Arcadia Hospital.
A History of Successful Partnerships
With this affiliation, Keck Medicine now has two community hospitals in the northeast area of Los Angeles. USC Arcadia Hospital joins USC Verdugo Hills Hospital, which has served La Cañada Flintridge, Glendale and the greater foothills community for more than 40 years.
In 2009, Keck Medicine began a tradition of successful collaborations with regional hospitals and health enterprises, improving access to academic medicine in local communities.
Then-USC President Steven B. Sample hailed the purchase of the USC University Hospital (now Keck Hospital of USC) and USC Norris Cancer Hospital to establish what was then known as the USC Academic Medical Center as one that would "create deeper connections among disciplines on both campuses in order to enhance research, teaching and patient care."
The medical system—which changed its name to Keck Medicine of USC in 2011—further expanded in 2013 with the acquisition of USC Verdugo Hills Hospital. The Keck Medicine system bolstered its community-based services through that hospital's 24-hour emergency department, primary stroke center, maternity/labor and delivery, cardiac rehabilitation, and imaging and diagnostic services.
Throughout this time, Keck Medicine also established stand-alone outpatient clinics across Southern California and partnerships with other community hospitals to help bring specialized care to areas without. Affiliated physicians provide care in more than 80 outpatient locations in Los Angeles, Orange, Kern, Tulare and Ventura counties.
Keck Medicine leaders say this growth is essential to maintaining USC's position as a leading academic health center.
"We're an outstanding health system, but we're relatively small for an academic health system," Shapiro says. "The larger we are, the more resources we have to provide the best care possible for our patients in state-of-the-art facilities and to support the academic mission that helps us do the science and translate it back to our communities."
Hanners agrees, describing the relationship between the university and its growing medical enterprise and community partnerships as a "virtuous cycle." "This growth creates the margins that allow the health system to support the academic mission, which then spurs new discoveries that help us provide better services at the bedside for our patients," he says.
With this newest partnership, Hanners hopes the medical enterprise can continue to learn meaningful and intentional ways to connect with diverse communities and the dedicated hospital staff that serve them.
"We're very focused on meeting with the medical staff out there in the community and reassuring them that we're here to fill gaps, raise the level of care and provide services that they otherwise are not getting—not compete with them and take away their livelihoods," Hanners says.
This is something that we are very proud of and, we believe, differentiates our approach to working with community providers.

Rod Hanners
Fueled by lessons from the Verdugo Hills partnership years before, Keck Medicine's physician leaders held town halls early in the acquisition process to engage with Arcadia hospital leadership to alleviate concerns, answer questions and build trust "doctor-to-doctor."
"This is something that we are very proud of and, we believe, differentiates our approach to working with community providers," Hanners says. "It is a team concept where we want to be an asset to the community providers in helping improve the care for their patients."
All in all, Keck Medicine's leaders are excited by the university's expansion into the unique eastern communities of the San Gabriel Valley.
"I think we are limitless in terms of the opportunities that we have to make a difference for individual patients, families and communities," Robinson says. "We get to take the important work we're doing and open up access to it for the diverse communities we serve. I'm very excited to be part of Keck Medicine of USC at this critically important moment."