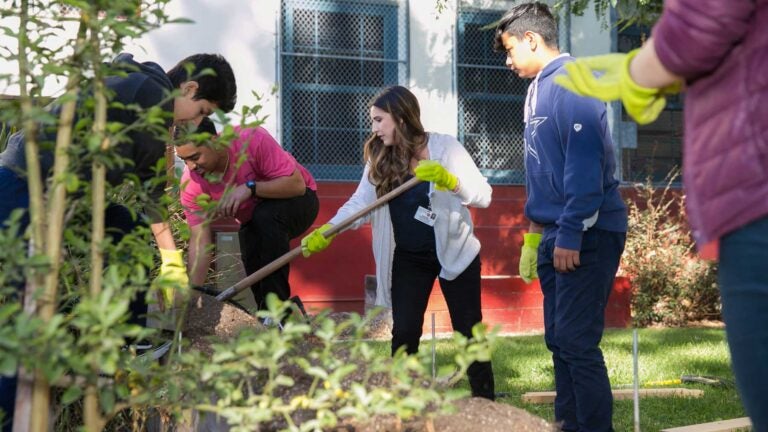 Keck Medicine of USC helps neighborhood kids learn value of good eating with Teaching Garden
Hollenbeck Middle School students dig in for a program that allows them to harvest produce with their own hands
Students at Hollenbeck Middle School in L.A.'s Boyle Heights neighborhood got their hands dirty building planter boxes, digging up fresh soil and planting fruit and vegetable seedlings in a new Teaching Garden donated by Keck Medicine of USC.
The American Heart Association's Teaching Gardens program provides real-life laboratories where kids get to plant seeds, nurture plants and harvest produce with their own hands, learning the value of good eating habits in the process.
"Keck Medicine of USC recognizes the vital role healthy eating plays in the well-being of our overall community," said Paul Craig, chief administrative officer for Keck Medicine of USC. "We're proud to support the new Teaching Garden and its mission to inspire hands-on learning and healthy eating habits at an early age — while allowing kids to dig in and have fun."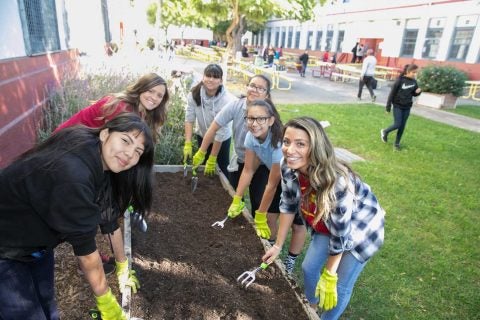 In addition to supporting the school's garden, Keck Medicine will participate in several volunteer opportunities at Hollenbeck and host a student field trip in the spring. It also will fund the building of another Teaching Garden in East Los Angeles next year.
Fighting obesity
In the United States, about one in five school-aged children is obese, more than triple the rate from the 1970s, according to the Centers for Disease Control and Prevention. Garden-based nutrition programs can promote increased fruit and vegetable intake among children, according to the association's officials.
There are 45 Teaching Gardens in Los Angeles County. The American Heart Association's goal is to establish an additional 60 in L.A. by 2020.
"Childhood obesity is one of the most critical health problems facing the country today, and it's threatening the health and future of millions of children," said Shawn Cassey, affiliate development officer for the association's Greater Los Angeles Division. "Healthy habits develop early in life. With Teaching Gardens, we are showing kids what it means to be healthy and empowering them to not only grow their own food, but also make better choices to improve their health and quality of life."