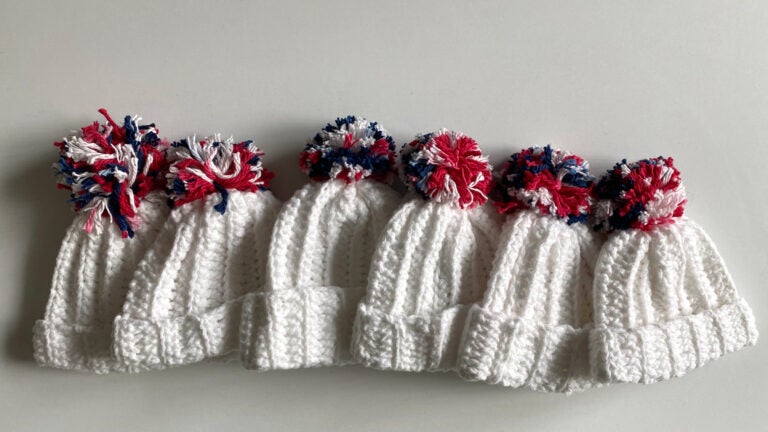 USC student turns knitting hobby into nonprofit that crafts caps for premature babies
Kathryn Huang and her family didn't realize that the simple act of learning to knit would ultimately lead to an organization devoted to keeping babies warm in the neonatal ICU.
When Kathryn Huang tried her hand at knitting for the first time, she admits that it didn't quite go as planned. But it would also be hard to call it a "mistake."
What began as a few hats that were too small for an average child's head led to the creation of Madhatter Knits, a nonprofit operating in multiple states and several other countries whose mission is knitting and crocheting hats for premature babies in the neonatal ICU.
"It's a little bit overwhelming how many hats we have now," Huang said. "But just knowing that someone's grateful for what we're doing makes us happy."
Huang originally learned how to knit from her cousin, Tiffany Chang, after Chang began teaching family members to produce hats that Huang said fit "perfectly on dolls." Huang's sister, Christie, was volunteering at the San Gabriel Medical Center at the time. After visiting the NICU, Christie noted that they could use hats for "preemies." The sisters challenged each other to see how many they could make before the year was over. For Christmas 2014, they brought 160 hats to the NICU at Children's Hospital Los Angeles. From there, Madhatter Knits was born.
When Huang, a civil engineering major, started attending USC in 2018, she brought Madhatter Knits with her.
"While there were knitting clubs at USC, they weren't any catered to trying to help preemies, specifically," Huang said. "I thought I would continue the influence of Madhatter Knits here."
Whether you're a knitting fan or just love to give back, USC student's club welcomes you
The organization started with only a handful of people knitting what they could but has grown to around 20 members. Though Huang said some students join because they have an interest in knitting or crocheting, others join simply for the philanthropy element, like current vice president Veronika Zilajeva.
"I didn't really like knitting or anything of that sort, so I didn't really pay attention to the club at first," Zilajeva said with a laugh. "But then as [Huang] was talking about the impact it makes in the hospitals, I said I would try it and I've really enjoyed it."
The incoming senior has been with Madhatter Knits since she came to USC in 2018, and helped the club become an officially recognized organization on campus. Though Zilajeva joined and stayed without ever really taking to knitting, quarantine changed her attitude.
I've always seen knitted and crocheted goods as one of the ultimate tokens of 'thank you' or appreciation.

Divya Jeyasingh
"It definitely was not a very calm and peaceful time," Zilajeva said. "Having a hobby that makes an impact not only for other people but also for you, I think that partially helped me to get through these semesters."
For other members like Divya Jeyasingh, crocheting has been a hobby most of her life, which she admits is probably not typical.
"All my classmates would call me 'grandma,'" she said with a laugh. "I would get made fun of so bad and I just didn't even care."
Jeyasingh was already working on a full blanket in her spare time when she heard about Madhatter Knits. The fourth-year student joined earlier this year in the middle of quarantine after deciding to channel her crocheting skills and enthusiasm towards a good cause.
"I've always seen knitted and crocheted goods as one of the ultimate tokens of 'thank you' or appreciation because you know someone handcrafted something," Jeyasingh said. "It's just a really nice way of showing someone you care."
Pandemic provides opportunity to produce 'maternal protection care kits'
Huang said though the number of hats each season varies, they try to send them four times a year, usually with some type of seasonal or holiday theme. Surprisingly, Huang said the pandemic didn't really slow down production but actually provided more of an incentive to provide hats to an overlooked and vulnerable population. It was during the pandemic that the group saw another need they could fulfill for their target demographic.
They began to make "maternal protection care kits" complete with masks, sanitizer and gloves. But then Huang decided to use that civil engineering knowledge to build handmade face shields for preemies.
"Making face shields is very different from knitting hats," Huang said with a laugh. "There's a lot more involvement with very different materials."
Huang admits that the project was short-lived as the CDC adjusted its guidelines on COVID precautions. She said they'll still provide face shields to mothers who specifically request them, but the group itself returned to its roots with knitting and crocheting hats.
Madhatter Knits has since partnered with an organization called Compassionate Colorado to donate hats to children in the Navajo Nation.
"They really need more materials and more resources, and we're happy to provide those," Huang said.
Knitting nonprofit crew looks forward to reuniting in person
With social distancing and precautions, the group hasn't been able to interact with the mothers they serve or even with each other. The one constant throughout the pandemic has been the work itself. Starting this semester, that can be done in person again, something Huang, Zilajeva and Jeyasingh are all grateful for.
"Let's have the knitting parties; let's have the crochet parties," Jeyasingh joked. "I'm just excited to finally be in person and meet a lot of the faces that have been virtual."
For some members, the work has been an outlet. Others have obtained a new skill and hobby. Aside from what it's meant for the members, it's been a true difference-maker for the mothers and children in the NICU.
"I honestly don't think I need to see people's faces; I know they appreciate it and that's enough," Zilajeva said. "They don't need to thank me or anything because I'm not doing it for that. It's just a nice thing to do."