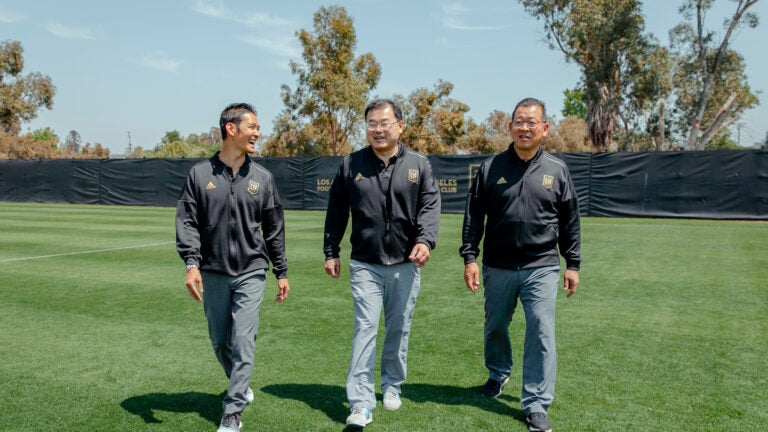 When an LAFC player suffers a mouth injury, Trojan dentists spring to action
A trio of Ostrow School alums provide both emergency and routine dental care for players on the Los Angeles Football Club, combining a love of sports and dentistry.
Two minutes of stoppage time remain in the match, and the Los Angeles Football Club (LAFC) trails one goal to their SoCal rivals, the Los Angeles Galaxy.
The midfield offense crosses the soccer ball 15 yards outside the goal, and two players duel for a head ball in the air. The defender is victorious, clearing the ball out of the box and robbing LAFC of an opportunity to tie the game.
During their duel, the players had made head to-head contact and the LAFC player lays on the field, clenching his mouth. The referee's whistle blows, and medical personnel rush onto the field.
It is instances like these when the medical personnel call on the LAFC's dental team — composed of Wayne Nakamura, Daryn Nishikawa and Kent Ochiai, all graduates of the Herman Ostrow School of Dentistry of USC — for evaluation.
Mouth injuries mean USC dentists to the rescue
Though this type of injury doesn't happen often, the team of Trojan dentists are always ready to spring into action if a player is injured.
"In the event that dental care is required, the LAFC head athletic trainer will contact the dental providers directly," Nishikawa said.
"The athlete will then be sent to our dental practice," he added. "Or for cases requiring immediate attention, dental staff are on-call, with an emergency kit assembled by Dr. Nakamura."
The Trojan dental team brings a great deal of sports dentistry knowledge with them to the field, having treated athletes, spanning from the amateur to the elite, including the Chivas USA, Occidental College Athletics and U.S. Olympic teams.
"The importance of understanding injuries that can occur during practice, training or games really only comes from past experiences in similar sports," Ochiai explained.
While the team dentists say they're fortunate they haven't treated any serious orofacial injuries for the LAFC yet, that's not always been the case with other teams they've worked with.
Nakamura, who also covers Occidental College Athletics, recalls a soccer player who was elbowed in the mouth and suffered a broken central incisor and an upper lip contusion.
"Fortunately, there was no laceration of his lip, and the fracture did not involve the pulp or nerve of this tooth. I was able to bond and repair his tooth," Nakamura said. "I also took the opportunity to fabricate a mouthguard for him and encouraged him to wear it during play and followed up with him on any required treatment."
The LAFC dentists offer oral health advice across the board
It's not just emergency care that the LAFC dental team provides. They also see players on a regular basis for routine dental care.
During pre-season, the dentists conduct screenings to identify and triage any dental issues, particularly those that could pose future dental problems.
"Since many of the players come from all over the world to play with LAFC, they often do not have a regular dentist, so we become a dental resource," Nishikawa said. "I do treat many for preventive and routine care at my private practice in Torrance."
It was a thrill to know that someone took to heart our recommendations to protect their teeth and mouth and hopefully, as a role model, encourage younger players to do the same.

Wayne Nakamura
While mouth guards are suggested for all the players during their preseason screenings, Major League Soccer does not require their usage. As such, many athletes do not wear them, putting them at further risk of injury.
During their visits, the dentists are able to build a rapport with their athlete patients and hopefully make a mark on the way they take care of their oral health.
"I made a mouthguard for one of the LAFC players during pre-season screenings. On the stadium big screen monitor, I saw him take off the guard, then replace it," Nakamura said. "It was a thrill to know that someone took to heart our recommendations to protect their teeth and mouth and hopefully, as a role model, encourage younger players to do the same."
While the world of sports is a unique way for a dentist to specialize, it's the ability to provide care and collaborate with other sports medicine professionals that the doctors say is most satisfying.
"I'm able to expand my network by working with sports medicine professionals who focus on areas from podiatry to physical therapy to ophthalmology," Nakamura said. "It's incredibly rewarding to combine my love for sports and dentistry in this way."