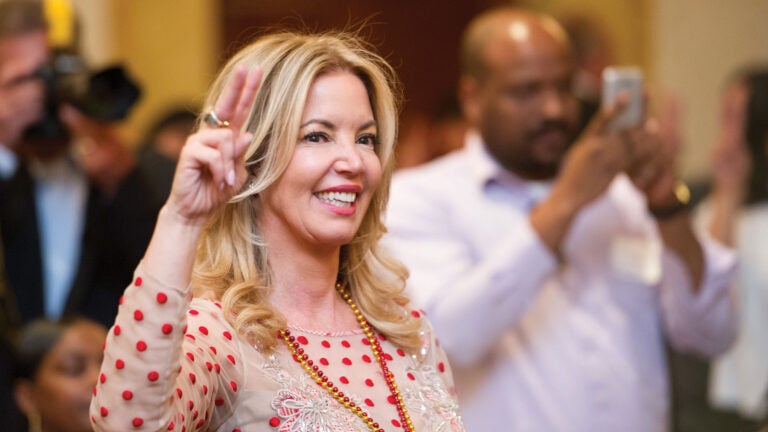 Lakers' Jeanie Buss Recognized for Community Outreach
The USC trustee supports education initiatives in Los Angeles.
USC and the Los Angeles Lakers have more in common than a downtown address: They're helping local children learn. The Lakers Youth Foundation recently teamed up with USC's Kinder2College outreach program. Through Kinder2College, students from USC and other colleges mentor young children in an effort to get them reading and writing proficiently by third grade.
But there's another connection between the organizations: USC Trustee Jeanie Buss '85. The USC Marshall School of Business graduate is president of the Los Angeles Lakers and actively involved with her family's Lakers Youth Foundation.
Earlier this year, USC's Neighborhood Academic Initiative (NAI) recognized Buss' efforts by honoring her with its NAI Champion Award. NAI is USC's pre-college enrichment program for 6th through 12th graders in the neighborhoods surrounding USC's two campuses. At the ceremony, NAI also feted its 56 students who graduated this year. All have gone on to college or military academies. Calling NAI "life-changing," Buss was moved by the hard work of the students and their parents, many of whom attended Saturday and early-morning college-prep classes for seven years. "It touches my heart," she said at the event. "I couldn't be more proud."