To create a better California, these landscape architects design inclusive public spaces for all
The Landscape Justice Initiative unites USC students and faculty with community organizations to tackle big social and environmental challenges in Los Angeles and beyond.
USC landscape architecture students are working with community organizations throughout Los Angeles on projects that could improve the lives of unsheltered Angelenos. Their designs are focused on creating more inclusive public spaces that address basic human rights — like the right to a place to sleep, bathe and feel safe.
Some of those projects include expanding the capacity of Los Angeles Central Library to provide services by taking those services directly to the people who need them. Another proposes creating a mobile network of sanctuary spaces that provide services for women who are survivors of violence and trauma.
Historically, these types of student-created proposals would end in the classroom. But the Landscape Justice Initiative is trying to change that. The initiative launched in 2019 as part of the USC School of Architecture's Graduate Program in Landscape Architecture + Urbanism. It aims to bridge the gap between academic inquiry and meaningful change on the ground.
The Landscape Justice Initiative hopes to tackle some of the biggest challenges facing Los Angeles and its region. These include not only homelessness but also population growth and climate change, including preparedness for increasing wildfires and rising sea levels. The initiative also seeks to ensure the future of Los Angeles is an equitable one and that new infrastructure and policies benefit every Angeleno.
Alison Hirsch, the initiative's director, said Los Angeles is the perfect place for the effort because the region offers so much to work with. Its diverse geography includes coastal, desert and mountain ecosystems.
"It offers this range of landscape challenges that are concentrated here but have applicability throughout the world," said Hirsch, associate professor of architecture and director of the Master of Landscape Architecture and Urbanism Program. "These challenges include rising sea levels, increasing heat, reduced biodiversity, deteriorating air and water quality, as well as the inequitable impacts of these challenges on specific communities — specifically, lower-income communities of color."
Hirsch called Southern California ideal for the work because, for better or for worse, the region provides a range of challenges related to environmental, climate and spatial injustice. These challenges could teach us a lot about the application of landscape strategies around the globe.
The history of the region includes deeply institutionalized practices of discrimination that have marginalized and burdened communities of color, along with rapid urban development that has left many populations behind or displaced, Hirsch said. Low-income communities of color have been denied even the simplest aspects of a decent urban environment, including shade. That has left them the most vulnerable to rising temperatures — especially in Los Angeles.
"Poor communities in Los Angeles and Southern California are suffering from the effects of global warming most profoundly because of urban heat island impacts and no green infrastructure to mitigate it, among other issues, including the lack of proper air filtration systems to respond to increasing wildfires," she added. "In addition, these same communities are disproportionately burdened by industrial pollutants, hazardous wastes, waste disposal and other incompatible land uses. This creates landscapes of toxic accumulation or cumulative risk that lead to poor health outcomes."
Landscape Justice Initiative aims to be a home for solving big urban design problems
Landscape architects won't solve these existential problems on their own. And they aren't trying to.
The Landscape Justice Initiative aims to be a platform where experts from different backgrounds and academic disciplines will collaborate on projects that contribute to a more equitable and resilient future for Los Angeles as well as for Southern and Central California.
"It won't happen on its own, it takes a village," said Grant Kirkpatrick, a USC School of Architecture alumnus who sits on the school's Board of Councilors. He funded the Landscape Justice Initiative along with his wife, Shaya.
It's an ideal time to do this because investors and the private sector are realizing that sustainability and equity is the future. That means there are more funding opportunities available for the types of projects the Landscape Justice Initiative hopes to foster, he said.
"They see the future is clean energy," he added.
Kirkpatrick has seen large-scale change in his own lifetime, right here in Los Angeles.
Landscape architects have the capacity to be leaders in envisioning a more equitable and resilient city.

Alison Hirsch
Thinking back to childhood, he remembers watching the morning news before going to school to see if a smog day would mean classes were canceled. If the little meter on the bottom of the screen was red, that meant no school. Most days the meter was yellow, and Kirkpatrick rarely saw a green meter. But smog days are now a rare occurrence in L.A. because technological advances and regulation have lowered air pollution.
The initiative's projects go beyond Los Angeles. One of their projects focuses on the San Joaquin Valley in Central California. It's one of the largest agricultural production areas in the country, yet many of the people who live there routinely struggle to access healthful food.
Landscape architects can be an important voice in these types of collaborations because their expertise deals with how people interact with space.
"Landscape architecture is a broad field: In Los Angeles, it has too conventionally been associated with residential gardens. But the field offers innovative infrastructural responses to some of our most dire environmental challenges, including increasing heat, rising sea levels, reduced biodiversity and deteriorating air and water quality, as well as the inequitable impacts of these challenges on specific communities — specifically, lower-income communities of color," Hirsch said. "Landscape architects have the capacity to be leaders in envisioning a more equitable and resilient city, both for all its human occupants and for the non-human species and biophysical systems that are critical to planetary survival."
USC landscape architecture students get an opportunity to complete projects, give back
For students, the Landscape Justice Initiative provides a unique opportunity to see projects through to completion.
One recent project, dubbed the Test Plot, had students work with community members to restore a blighted area of Rio De Los Angeles State Park in the Glassell Park neighborhood of L.A. Representatives from California State Parks and the Audubon Society, along with a local group called Las Abuelas del Parque, were involved.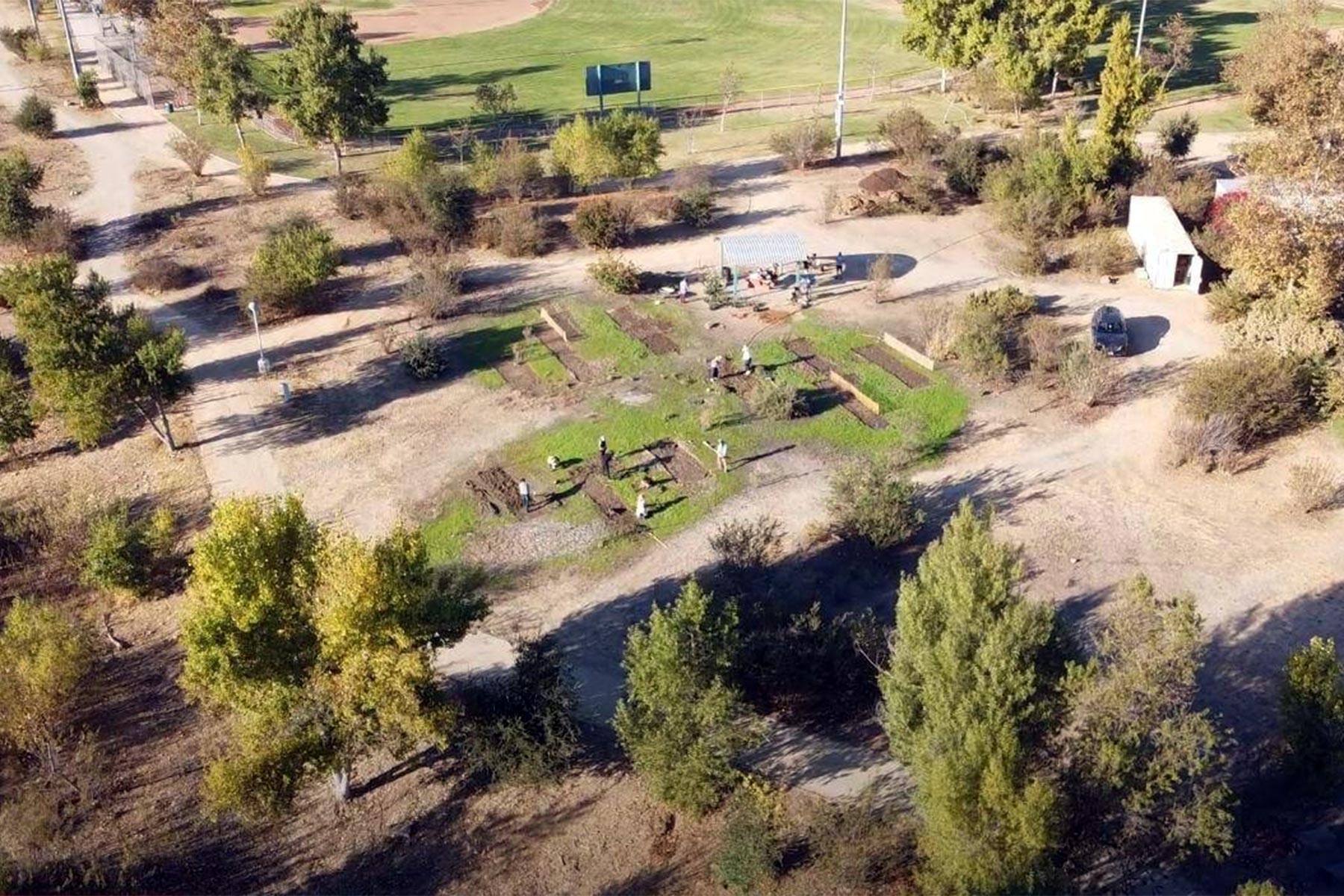 "We had the amazing opportunity to take something from design to installation, which is not always something we get to do as students," said Jared Edgar McKnight, who is in his last year of the landscape architecture and urbanism master's program and is also the assistant director of the Landscape Justice Initiative.
Community engagement was a big part of the project. Students talked to local gardeners to understand the labor and maintenance that goes into tending to the land. They also engaged with the California State Parks team, as well as community members who are working to maintain the site with USC students.
This process allowed us to have a longer, more sustained and meaningful impact in the community.

Jared Edgar McKnight
Now, that once-blighted section of the park has a series of test plots growing native plants. And it doesn't sit empty anymore. Teams of volunteers come together to take care of the plots, track the process and learn about local vegetation.
That level of community involvement is key to designing equitable public spaces that everyone can enjoy.
"Oftentimes in school, we don't get the opportunity to work with people on the ground who have a stake in the project, but this process allowed us to have a longer, more sustained and meaningful impact in the community," McKnight added.
The work embraces community collaboration and partnerships with organizations that represent and have longstanding relationships in communities of focus. It takes more time, but engaging with local experts and stakeholders leads to better results. It also exposes students to forms of service learning and the benefits of sustained engagement over time.
Hirsch insists on the importance of such an approach, both inside and outside the classroom. That's because it produces more equitable results and also builds community.
"Our students are going to be going out into the world and working on issues and sites in communities in which they are not insiders," she said, "so learning how to be open to local knowledge derived from lived experience is so important for them to be successful."