Latino community finds financial empowerment at annual Univision fair
Feria Financiera appeals to the entrepreneurial spirit at a local and national level
[new_royalslider id="116″]
Feria Financiera, the fourth annual financial event for Latinos held by Univision at USC, offered workshops for startups, small businesses, investors, homeowners and college-bound students.
"Univision's initiative, Prosperidad (prosperity), was designed to support economic stability and the incredible entrepreneurial spirit of the Latino community at a local and national level," said Luis Patiño, vice president and general manager of Univision Los Angeles, who encouraged attendees to participate in the workshops and town halls led by financial expert Julie Stav on March 19.
Patiño also thanked USC and the two principal sponsors, Wells Fargo and H&R Block, for sharing Univision's vision to empower the community.
Solving a problem
For Stephany Luevano from West Covina, empowerment came in the form of a $10,000 win at the Shark Tank competition in Bovard Auditorium. The judges awarded her project for a bilingual business license app that will help entrepreneurs launch their ventures. Luevano, a student at California State Polytechnic University, Pomona, was the youngest of the 10 competitors.
"Millennials are a force," said Stav, one of the Shark Tank judges alongside Sergio Gascon, director of USC's Minority Business Development Program.
"Luevano solves a problem, and that's what innovation is about," Gascon said. Starting a business is the easy part, he noted; it's maintaining and expanding it that is the true challenge.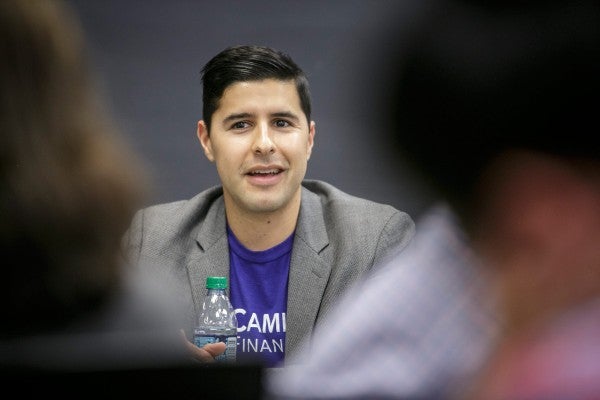 Capital gains
Twin brothers and recent Harvard graduates Kenneth and Sean Salas established a bank to help small businesses access capital. El Camino Financial, which the duo established after graduation, has grown from two to 13 employees in under a year.
It's very important to provide trustworthy resources to our community.

Kenneth Salas
"It's very important to provide trustworthy resources to our community," Kenneth Salas said.
Meanwhile, college-bound students and parents attended workshops focused on student aid and optimizing the university experience. The workshops were led by Billy Vela, director of El Centro Chicano at USC.
"A few parents cried," Vela said. "Many told us how much they were inspired to find out about resources that are here to help their children and to know that these types of resources can be found in other colleges and universities."