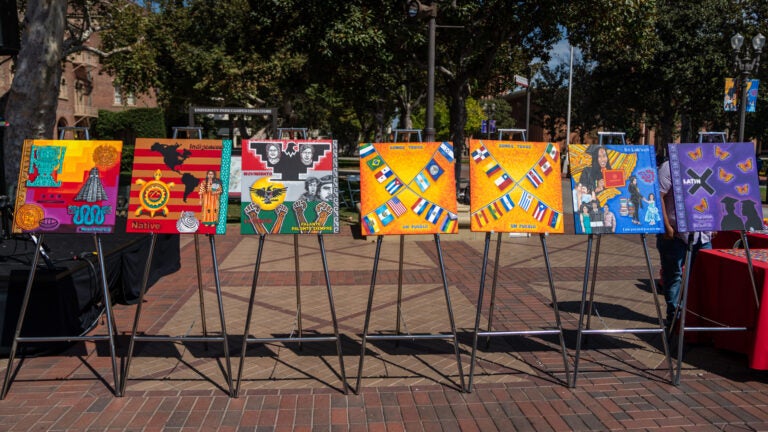 Latinx Heritage Month banners celebrate the stories of USC students
For the first time, a series of colorful banners recognizing the university's Latino community were raised on Trousdale Parkway.
[new_royalslider id="228″]
The paintings that illustrate the banners on Trousdale Parkway are striking, lively and full of color. They ebb and flow from struggle to pride, weaving a tale that encompasses historical Mesoamerica and modern-day "Dreamers." They present a condensed but important narrative, and they mark the first time that Latinx Heritage Month has been represented front and center at USC.
"This project is something we have been wanting for a long time," said Billy Vela, director of La CASA, USC's Latino student organization. "There was a need for representation, and we've never had banners that represent the Latinx community."
A collaboration to capture USC student voices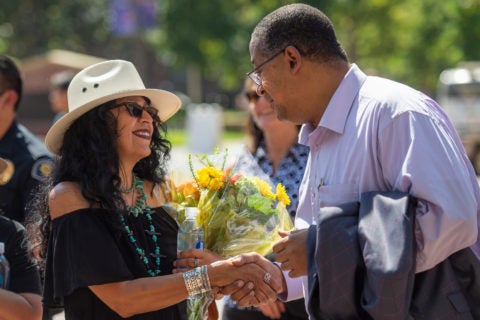 The banner project — a collaboration between USC students, La CASA and artist Pola Lopez — began in March and culminated with an unveiling in front of Tommy Trojan.
The goal of the project was to capture the voices of students. A series of brainstorming sessions, which gathered students from various regions who have faced different obstacles, gave the students an avenue to share their stories. At the same time, they tapped into a unifying source of pride: their heritage.
"The process was a collaboration," Lopez said. "The input from USC students was very important. I needed to know their stories and their struggles. I'm very proud and honored to see the banners; I think they make a very powerful statement. I also believe that they will promote conversation."
Marbella Pleitez, an economics major who took part in the project, underscored the importance of the banner effort.
"Most of us want change on campus, and this is a representation of what we are," Pleitez said. "We are not the majority in our classes … We have to redefine what diversity means on this campus. These banners will be symbolic and historical."
What Latinx Heritage Month means for students
Vela said the banners' impact will be felt for years, acknowledging a community that is heavily represented on the USC campuses.
"The importance is of representation is enormous," he said. "Students, faculty and staff have been sharing how energized they are. They feel pride, orgullo, of being here at USC and seeing their culture acknowledged and represented."
"It adds imagery and energy to campus," USC graduate student Xavier Hernandez said. "It's monumental because it lends us a voice; it gives a moment and space to a culture that often feels silenced."
Latinx Heritage Month was officially established in 1988 as National Hispanic Heritage Month. It runs from Sept. 15 — the day five Latin countries (Costa Rica, Guatemala, Honduras, Nicaragua and El Salvador) declared their independence — through Oct. 15.