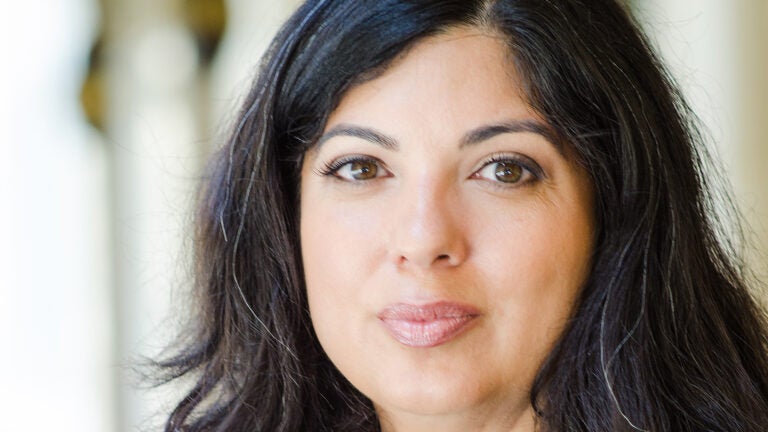 USC professor records the Latinx voices missing from the COVID conversation
Laura Isabel Serna is committed to making sure that Latinx stories become part of the pandemic's historical record.
Professor Laura Isabel Serna is a cultural historian whose work has focused on media culture in Mexican immigrant communities within the United States and in Mexico, as well as their intersection with consumer culture and gender. She is an associate professor of history and cinema at the USC School of Cinematic Arts and the USC Dornsife College of Letters, Arts and Sciences and the author of Making Cinelandia: American Films and Mexican Film Culture. The book is a historical account based on deep research in U.S. and Mexican archives of film culture in Mexico during the late 1910s and early 1920s.
Serna recently spoke to USC News about her current focus: an oral history project about the experiences of Latinx communities during the COVID-19 pandemic.
Tell me about your new project documenting the lived Latinx experiences of the COVID-19 pandemic.
This project is a labor of love. I'm very passionate about oral history and about putting the experiences of working-class Latinx people into the historical record.
It's called "Voces of a Pandemic" and it's a collaboration with the Voces Oral History Center at the University of Texas at Austin and other institutions across the United States and in Puerto Rico. They're collecting oral histories of different communities and recording their experiences during the COVID-19 pandemic.
Voces has a YouTube page and they are loading every interview that they have permission to load. Some people have asked not to have their interviews uploaded. Some of them are audio only, and some people use pseudonyms because of their immigration status.
I wear two hats. One is as a scholar of race and media, with a focus on the 20th century — roughly 1900 to 1950. I also have this historian identity where I'm really interested in the history of working-class people.
Why do histories of working-class people have special significance for you?
My family has a collection that is archived at the Chicano research library at UCLA. It's a collection of thousands of photographs that belonged to my grandmother, a working-class immigrant from Torreón, Coahuila, Mexico, who died in 2007. There are photographs from as far back as the 1890s and a lot of religious ephemera, objects, textiles and decorative items.
It's so rare to have a collection from a working-class person — someone who's not famous; someone who didn't become a political activist and who wasn't an artist. But their experience is a window into what everyday life was like for people who maybe went to high school or middle school, who were laborers.
The reason the pandemic oral history project is important is because of the way the news is covering it. Latinx people are part of the COVID-19 statistics, but generally you don't hear their voices — the voices of people who are meatpackers in the Midwest, the voices of street vendors, the voices of educators. In 20, 40 or 50 years when people go back to write the history of this moment, it will be so important to have a rich description of both the challenges and resilience and of how the pandemic unfolded for people, the majority of whom didn't get to work from home.
Can you describe some of the oral histories you've collected so far?
One of my first interviews was with a pastor who works with Spanish-speaking communities. He described helping people navigate death and grieving in a radically changed atmosphere.
Another interview was with a USC graduate student who lost her grandfather. It shed a lot of light on the experiences of first-gen students in higher education. Her father also had COVID and was in a rehab hospital for a long time. It was very difficult for her to balance the demands of her program and what was happening in her own family and her community. It was really moving to talk to her.
What are some things that you hope that historians will write about this moment when it comes to Latinx communities and the different COVID-19 challenges faced by different populations?
This may be a repeated lesson in the long arc of history, but there's definitely this idea that certain people deserve to be sheltered and cared for, and then other people are there to serve them.
The populations that we now refer to with this umbrella term "Latinx" but in the Southwest are mainly Mexican and Mexican immigrants, and they have borne an unequal distribution of grief because of socioeconomic status and disenfranchisement.
It offers lessons about what happens when people are not allowed to be full participants in civic life. Some populations — like those my colleague Juan De Lara works with, including warehouse workers — are seen as expendable and somehow less deserving of care than other populations. I'm not interviewing farmworkers, but they are another category of people who continued to work without a lot of protections — and with the added burden of the climate crisis — so that we can eat.
There's an intersection of racialization, socioeconomic status and notions of citizenship and who belongs that I believe will be highlighted. It's a little bit hard to tell from our vantage point now what lessons people will draw from this time in the future. One thing I'm sure of is it would be a shame if your only information sources for what it was like during COVID were articles in The New Yorker magazine.
I don't mean to minimize certain experiences. I have a child and went through the experience of parenting, working and homeschooling simultaneously, which disproportionately fell on women. But it's also a very different experience from people who are still working in warehouses, in retail establishments and in the fields.
Even though you're at the beginning of this journey of collecting stories, there was already evidence of a disproportionate burden on Latinx people getting sick from COVID-19, being hospitalized and dying, including studies by USC researchers. Was that enough to tell you this moment needed to be documented and archived?
Oh, yes. There was a moment when I thought, "Oh, the pandemic is going to be over, and then people won't want to talk about it." But the pandemic's not over. So here we are. We're still talking about it.
USC students who would like to add their stories to Professor Serna's collection can email her for more information.