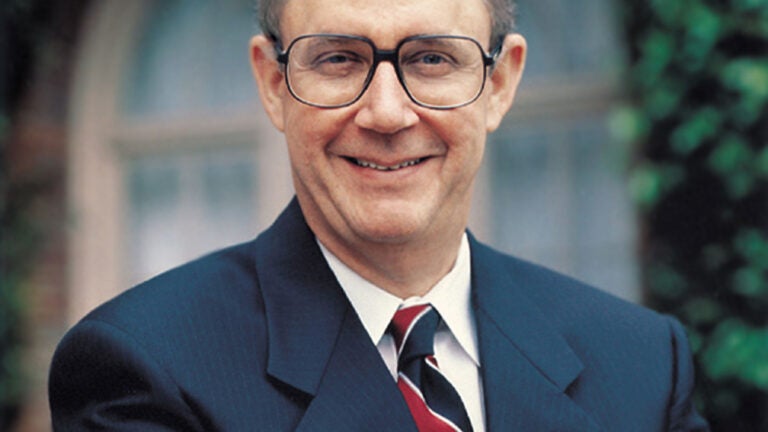 Steven B. Sample's Leadership Legacy
USC looks back at the contributions and influence of President Emeritus Steven B. Sample.
Steven Browning Sample refused to settle for the status quo. As USC's 10th president, he dared to believe he could transform the university from the moment he was inaugurated in 1991. By the time he stepped down in 2010, the university had risen through the ranks of the nation's best academic institutions.
USC became a highly selective undergraduate university, recruited nationally prominent faculty, created a global presence and built partnerships in the communities surrounding USC's campuses. Under Sample, the university became the first in the U.S. to receive five gifts of $100 million or more, and it completed what was then the largest fundraising campaign in higher education, raising $2.85 billion.
Generations from now, those studying the history of our university will quickly find themselves learning the remarkable story of Steven Sample.

C. L. Max Nikias
When he died March 29 at age 75, he left behind a legacy that forever transformed both the reality and popular perception of the University of Southern California.
"Generations from now, those studying the history of our university will quickly find themselves learning the remarkable story of Steven Sample," says USC President C. L. Max Nikias. "So many of USC's successes, so much of our university's current stature can be traced back to Dr. Sample's dynamic leadership, keen foresight, and extraordinary prudence. Dr. Sample stood over our university—and led our Trojan Family—as it began its singular transformation, and for this we should all be grateful."
John Mork, chair of the USC Board of Trustees, praised Sample's grasp of USC's unique assets. "From the very start he understood the entrepreneurial zeal of USC and fueled our desire to be excellent. If there were a tag line for his leadership style, it would be 'Never let up.' And the results were nothing short of spectacular."
Sample liked to start speeches with the rousing statement, "Isn't it a great day to be a Trojan!" followed with his signature opening joke and news hand-picked for his audience — a research discovery, a transformative gift, a decisive sports victory. From his first day as president in 1991, it was, seemingly, always a great day to be at USC.
Fellow longtime supporter and USC Trustee Steven Spielberg credited Sample for helping make the university home to USC Shoah Foundation — The Institute for Visual History and Education, which documents testimonies from survivors and witnesses to genocide, and for supporting the growth of the USC School of Cinematic Arts into "the greatest cinema school in the world."
"While he left behind very big footprints, he gleefully encouraged others to fill them as President Nikias has done and will continue to do," Spielberg says. "I'll miss Steve, but just walking around campus, you can feel him everywhere."
A University On the Rise
Sample made improving undergraduate education the university's highest priority, overseeing the revision of the curriculum and creating new majors and minors to provide "breadth with depth." During his tenure, USC rose dramatically in the college rankings, the number of freshman applicants more than tripled and the student body grew increasingly diverse.
Faculty members saw endowed chairs and professorships rise from 152 to 403. George Olah, an organic chemistry professor, won USC's first-ever Nobel Prize in 1994 and Elyn Saks, a law professor, won a MacArthur Fellowship in 2009.
USC's international outreach grew exponentially during the Sample years, particularly in the Pacific Rim, and USC became a leading destination for international students.
Sample's global vision was lauded by educational leaders such as Molly Corbett Broad, president of the American Council on Education: "Steve Sample had the idea and was a major leader among all of the presidents in American higher education to recognize the growing importance of the Pacific Rim. He led the effort to create linkages between American universities along the West Coast of our country to institutions and universities in Japan and China and Taiwan and Hong Kong and Australia. It was a remarkable achievement."
"I consider Dr. Sample to have been one of my most significant and formative role models."

C. L. Max Nikias
Strengthening Community Ties
A cornerstone of Sample's administration was building alliances and transforming USC's neighboring communities. He launched the USC Good Neighbors Campaign, asking faculty and staff to contribute funds to community programs, such as the USC Neighborhood Academic Initiative, which prepares low-income students from the surrounding areas for admission to USC and other universities.
Students also embraced Sample's passion for community service during "Friends and Neighbors Days" held throughout the year.
In honor of his civic achievements, he received the Distinguished Business Leader Award from the Los Angeles Area Chamber of Commerce and the Heart of the City Award from the Central City Association of Los Angeles. Recognizing USC's ambitious community partnership programs, the Time/Princeton Review College Guide named USC "College of the Year" in 2000.
At Sample's retirement, he and his wife, Kathryn, gave USC a statue of USC's mascot, Traveler, which overlooks Hahn Plaza. Steven and Kathryn Sample Hall is named in their honor, as is a special Renaissance Scholar endowment. He stayed a part of the university in other ways too, serving on the USC Board of Trustees and co-teaching the popular undergraduate course "The Art and Adventure of Leadership" with late management expert Warren Bennis.
"For Kathryn and me, the presidency of USC has been far more than just a job," Sample said in 2009. "It has been a calling, an all-consuming passion to move this university ahead farther and faster than any another university in the United States."