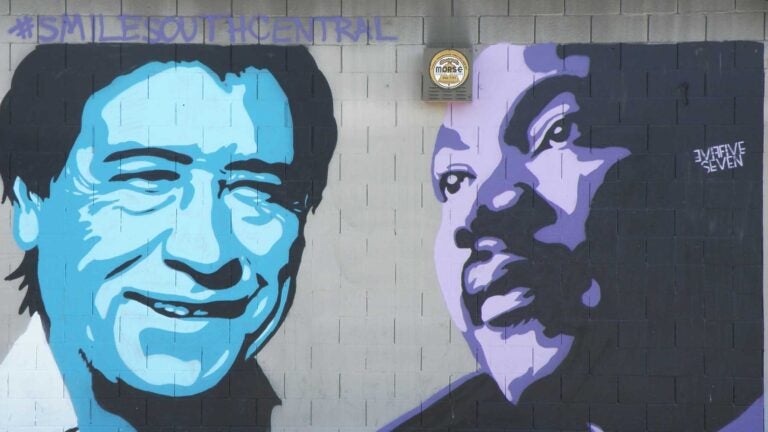 Takeaways from the transformation of South Los Angeles
USC Dornsife report examines the area's evolving identity and the coalitions that are leading social, economic and political improvements in the area
South Los Angeles and its people have been in a state of transition for more than a century.
The mega-neighborhood of 28 communities that spans 50 square miles has emerged from the same soil that farmers once cultivated for wheat and or to pasture their cattle.
Bound by Interstate 10, the Alameda Corridor, Baldwin Hills and the Imperial Highway, South L.A. is also the site of an immense demographic shift, from a majority of African-Americans to Latinos — the impact of which is documented in a recent report, "Roots|Raíces Latino Engagement, Place Identities and Shared Futures in South Los Angeles," by researchers at the Center for the Study of Immigrant Integration (CSII) at the USC Dornsife College of Letters, Arts and Sciences.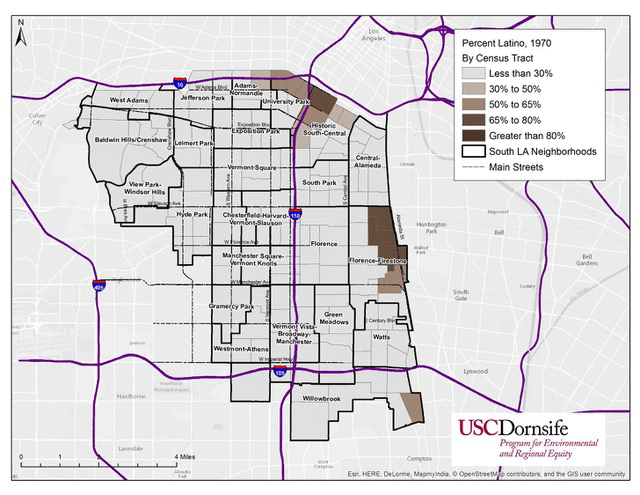 South L.A. is home to an estimated 800,000 people, according to U.S. census data.
The integration of Latino immigrants in the region has exposed points of conflict and commonality for both populations on a range of issues — gentrification, crime, employment, education, basic needs and government services.
The Roots|Raíces research project was born out of relationships with community groups and leaders in South L.A., said Manuel Pastor, a co-author of the report, co-director of CSII and professor of sociology, American studies and ethnicity at USC Dornsife.
"The idea of this report came from civic leaders who were interested in a positive reframing of the South L.A. narrative," Pastor said. "It is time to tell a different story. The new narrative recognizes not just the poverty, history and tensions of the past, but the area's evolving identity and the successful black-brown coalitions that are leading significant social, economic and political improvements in the area."
Although the report focused on the South Los Angeles area, the researchers said many cities around the country that lost industry but gained population are experiencing similar, multi-ethnic demographic shifts. The researchers hailed South L.A. as a potential model. "It represents the future of other American cities," Pastor said.
"Similar population changes have taken place — or are presently taking place — in other U.S. cities, such as Oakland, Jackson, Miss., and Orlando, Fla.," he said. "The results of our effort to assess the impacts and lessons of these transformations can help Los Angeles and other cities develop and implement strategies that engage residents, reduce conflict, connect them with organizations and services, and provide support that improves equity and opportunity."
Detailed census data
In building this report, the researchers conducted an in-depth analysis of detailed U.S. census data sets and interviewed 100 residents and 20 civic leaders about life in South Los Angeles.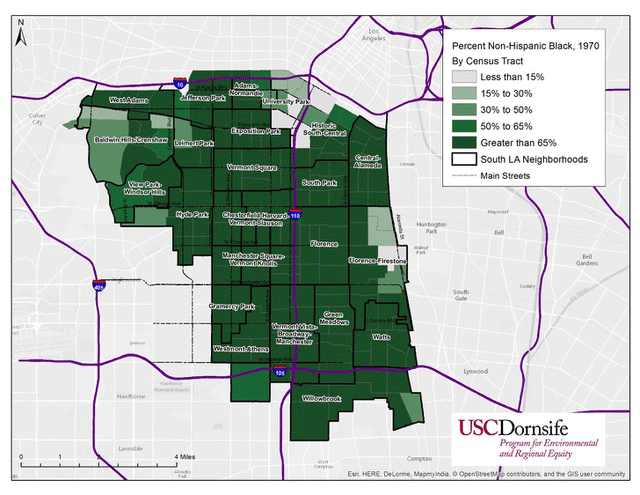 Since 1970, the South L.A. population that was once 80 percent African-American has become two-thirds Latino.
"Much of the demographic change happened in the 1980s and 1990s, particularly due to an influx of immigrants from Mexico and Central America, and an exodus of black residents from a historically disinvested neighborhood," said Pamela Stephens, a data analyst and a co-author of the report.
Home prices in South L.A. were much more affordable for immigrant workers than those in other areas of the city. Latino homeownership rose from 22 percent in 1980 to 33 percent from 2009 to 2013. Black homeownership declined when the housing bubble burst in 2007.
Newly arrived Latinos would "shut in and shut out," focusing on their jobs and families. Their perspectives on African-Americans were heavily influenced by anti-black stereotypes in their home countries; thus, they maintained distance from their African-American neighbors. This tendency was also driven by a response to high crime and excessive policing, the researchers wrote.
Residents interviewed
Researchers interviewed 100 residents of three areas whose trending demographics illustrated and symbolized the transition of South Los Angeles. One such area was Central Avenue — an area bordered by the 110 Freeway, Interstate 10, Alameda Street and East Slauson Avenue — which includes the Historic South-Central, South Park and Central-Alameda neighborhoods.
A second area was Vermont Square, which, including the Vermont-Slauson neighborhood, is bordered by South Van Ness Avenue, Martin Luther King Jr. Boulevard, South Flower Street and West 54th Street.
The third area was Watts, roughly bound by Central Avenue, East 92nd Street, Alameda Street and the Imperial Highway that is parallel to Interstate 105.
Through their interviews with younger Latinos, the researchers found that second-generation residents have a different perspective on their community because they grew up with African-American neighbors, classmates and teammates. They affiliate with both African-American and Latino experiences, and they strongly identify with neighborhoods in which they grew up.
Our interviews with South L.A. Latino residents revealed such rich complexity and nuance.

Pierrette Hondagneu-Sotelo
"Our interviews with South L.A. Latino residents revealed such rich complexity and nuance. Far from a simplistic story of ethnic conflict, we heard of residents' daily negotiations, accommodations and transformations," said Pierrette Hondagneu-Sotelo, a co-principal investigator, study co-author and sociology professor at USC Dornsife. "We found that 'place identity' can be as important as 'race identity' and both should be considered to move toward common goals."
"We also discovered that the second-generation Latinos who grew up in South L.A. have had significantly different experiences than their Latino immigrant parents, and their perspectives and commitments will help shape the future of South L.A.," Hondagneu-Sotelo said.
Racial tensions at times in this recent history of South L.A. have defined the relationship between blacks and Latinos, but both groups have much in common, as they cope with issues such as jobs and access to education.
"The need for an independent Latino voice in South L.A. is important, but we also need to understand that Latinos and African-Americans in the neighborhood have a lot of common struggles, including poverty, economic inequalities, underperforming schools, environmental inequality and over-policing," Stephens said.
Investments in leadership
Civic engagement is key for communities to develop their voice, political unity and representation, but the researchers found a significant issue that may be hindering the Latino population in South L.A.
"While nearly two-thirds of South L.A.'s population is Latino, just over a quarter of South L.A.'s voters in 2014 were Latino," Stephens said. "We recognize that there are many ways to be civically engaged beyond electoral means, but expanding the voting capacity of South L.A.'s Latino community is a means to building their political voice."
Political representation matters for both Latinos and African-American residents, the researchers wrote.
"Organizers and civic leaders alike are especially sensitive to the palpable sense of black loss because, as interesting as the Latinization may be to outside observers, the sense that black L.A. is being erased is real and can feed resentment," they wrote.
"The fault lines in gentrification may not be between African-Americans and Latinos, but between homeowners who are likely to gain from rising home prices and the renters who are likely to lose investment opportunities in home buying and who face rising rents," said report co-author and USC data analyst Alejandro Sanchez-Lopez.
Such challenges could unite, rather than divide residents, he said.
"Multi-issue campaigns can bring residents together so that they have a stake in their communities," Sanchez-Lopez said. "The second generation has a unique possibility to change the narrative."
Other USC co-authors of the report were Vanessa Carter, a senior data analyst, and Walter Thompson-Hernandez, a former research assistant.